Hi everybody, Looking through the window truly gloomed, weather wet and the sky making you feel to tuck yourself under the duvet and do nothing. But, Go out into the streets and the shopping complexes you will feel the festive spirit every where, makes you feel happy and doesn't depress you any more. That is Christmas, looking around you even though I don't have Christmas I enjoy it so much.
Buying gifts, writing cards to friends is such an enjoying thing, My kids especially my second one enjoys it so much, she has bought gifts for her friends and packed with such care., I really enjoy seeing her excitement. This post had to be up yesterday, suddenly things happened so had to post pone it for today. Swathi of Zesty South Indian Kitchen asked us to Bake one of the three different cakes two suggested by Suja of Kitchen Corner try it and the other one by Archana of Tangy minds.
I chose this Chocolate Brazil nut cake immediately after I got to read the doc sent by swathi, do you know why, because for one I love nuts and Brazil nuts too..., kids love chocolate.., what else can you ask for...
Long back, when I came here my Husband used to get me so many things which I wouldn't have seen tasted or seen in India. One of them was these Brazil nuts, I did not like them at all when he bought, after few months one day when I was sitting with my friend she was having some nuts to eat and and offered me few of them I started eating one of it, and it tasted really nice, that was when I asked which nut was this and she said it was Brazil nuts, I was surprised that it tasted so nice and then my thoughts went to my H and felt sad that I had not even bothered to taste it but said I didn't like it 🙁 .
These Brazil nuts have very buttery taste and delicious to eat, I started eating them often and one day I read that they are high in calories but cholesterol free.., any-ways I thought whatever I am eating I will eat it in limited quantities. Sometimes you won't realize this when you like something very much right ?.
Ok, let's get back to this recipe..,
This cake recipe was from Faye Levy , Chocolate Sensations, HP Books Inc, USA, 1986, p 22-23. for the original recipe. as I tweaked it a bit for making it eggless.
I Changed the quantity of the flour as this basic recipe calls for 6 eggs, replacing 6 eggs is not easy, the volume of the cake and sponginess of the cake is because of the eggs, the quantity of the flour used in the recipe is just 1/4 cup with lots of butter, If I am to keep the quantity of butter I need to change the quantity of flour by increasing it to get the cake consistency. so I made some changes I increased the flour, lessened the butter because Brazil nuts have their own oil content in it. Let me stop this here and tell you how I made this cake....
EGGLESS CHOCOLATE - BRAZIL NUT CAKE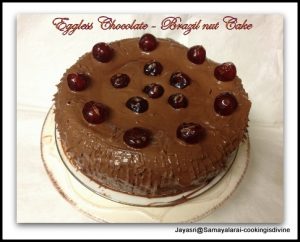 Do not look at my photos nor my frosting :).., still trying out sort out my photo problems..
Eggless Chocolate Brazil Nut Cake

INGREDIENTS:
FOR THE CAKE
1 & 1/2 Cup (7 oz / 198 grms ) Brazil nuts
6 oz (170 grms ) Semi Sweet Chocolate Chopped ( I used Hershey's Chocolate)
1 Cup soft Brown Sugar
1 & 1/4 cup All Purpose Flour
2 tsp Baking powder
1 tsp Baking soda
100 grms Butter
233 grms Apple ( peeled skin & seeds discarded)
1 tbsp Apple cider vinegar
1/4 tsp cream of Tartar
or substitute Apple sauce instead of apples and vinegar
CHOCOLATE HONEY FROSTING
1/2 cup Whipping Cream
6 oz Semi Sweet Chocolate very finely chopped
6 tbsp unsalted butter
3 tbsp Honey
1/4 cup Brazil nuts chopped to Garnish ( I omitted)
I used few cherries for Garnishing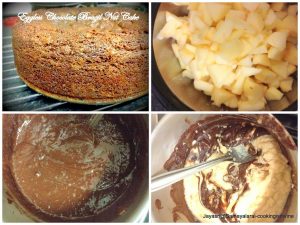 METHOD
Line a 9'' cake tin with parchment paper, and butter the sides and flour them and set aside until needed.
Toast Brazil Nuts in oven for 10 minutes and rub against each other to remove skin as much as possible.
Using 2 tbsp of sugar grind Brazil nuts to powder in intervals, if you continuously grind it, the oil in it makes it very greasy.
Now to this powdered nuts add All purpose flour mix them well together and with the help of a sieve, running your hands or spoon in it get a good perfect powder and keep aside the larger nuts which doesn't go through the filter.
Preheat the oven to Gas Mark 4 / 180 degrees...
To this powder add Baking powder, Baking soda & cream of tartar and set aside.
Meanwhile peel the skin and core of 3 Apples chop them into fine pieces, grind them into a smooth batter with 1/4 cup of milk and set aside. Do not keep it for too long as it turns dark in colour.
In a double boiler melt chocolate, in a simmering bowl of hot water, to this add butter and mix well until you get a smooth consistency and to this batter, add the apple smoothie to it and cook for few minutes. ( 2 to 3 minutes) , switch off the stove, allow it to cool, to this add apple cider vinegar.
In a large bowl take the dry Ingredients and Sugar, mix well together, make a well add the liquid batter and fold it in until well incorporated.
Pour this batter into the prepared tin and bake until well done, a skewer inserted should come out clean
I baked this cake in Gas Mark 3 as my oven temperature becomes too hot at Gas Mark 4 so check out your oven for suitable baking temperatures. I baked my cake for 50 minutes.
REMEMBER : Check out temperature and timing to bake your cake according to your oven, as ovens vary..
Take it out of the oven on to a cooling rack after 10 minutes remove it from the tin
WL
FOR FROSTING:
In a bowl bring cream to boil, remove it from the stove and immediately add the chocolate pieces let it melt and until smooth, to this add butter, Honey and beat it until it forms peaks. Apply this frosting to the completely cooled down cake.
I did not garnish it with Brazil nuts but just topped it with cherries..,
You will have to wait for the tasting sensation..., I am waiting for my kids to tell me how it tasted..., tune in tomorrow check out this space for an other piece of information., I thought it tasted too much of nuts, when I pulled out a little piece from it.., will eat a bigger piece and tell you how it tasted.... ok... until then c you soon with an other recipe tomorrow...
take care....
I am sending this Kalyani's event Monthly Mingle Chocolate and fruits..