Hi everybody, It's been a long time I blogged, I was in a blogging break, I just don't know I did not have that spirit to post anything, as I was so engrossed in my daily routine and I am still settling after coming back from Bangalore, something changed in me I suppose, I used to fall asleep by half nine and get up as early as 4 or half 4, which was so unusual of me, I always sat late in the night posting recipes, googling all the lovely food sites. I just decided today, if I don't do this I might stop blogging altogether and I have in-numerous number of posts which are still in drafts!, may be the weather out side is given me the kick I suppose just today, sitting here and looking through the window, I feel happy when I see the lovely sun shine through my life (window) :), everyday it was still cold and raining and so pathetic just like my mood, that doesn't mean I have stopped cooking I always enjoyed doing it and will certainly do it, until my scapegoats get tired of my cooking. Let me stop here and not make your life depressing reading this crap :).
Coming back to the recipe I have this little (5ft 9in) monkey at home who loves her chocolates and anything baked with it , she is always in for it, when I made this she hugged and kissed me, and was a very happy person, I made 3 to 4 differentbrownies during Mar-April before I went to India, for this Brownie event I saw
here
, which is long gone, and I never sent any of my recipes to her, when I saw this chocolate event today, I thought I will post 2 of them and send it across, before I am too late, which I have made it again.
This brownie was an eggless one and was fantastic, I should say, so moist in texture and not to worry too much about calories too. I have used my favourite flour here, which I have been using in all my bakes and turns out to be a winner.
EGGLESSS CHERRIES AND CHOCO CHIP BROWNIES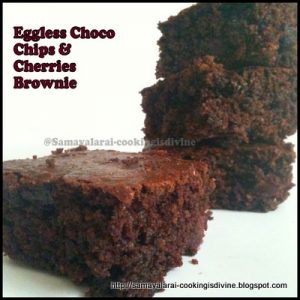 INGREDIENTS:
1 Cup Rye Flour
1/2 Cup Plain Flour
2 tbsp Wheat Germ
3/4 th Cup Sugar (If you like it more sweeter increase it by 1/4 cup)
2 tsp Baking powder (BP)
1 tsp Baking Soda (BS)
3 tbsp Hot water
1/2 Cup milk
1/2 Cup silken Tofu
1/4 Cup Cocoa
100 gms Choco chips
1/2 cup chopped Cherries
100 gms Butter melted




















METHOD:
Preheat the oven 15- 20 minutes before baking brownies, at Gas Mark 4/180degrees/350 F.
Grease a rectangular 11 x 7-inch Baking tray, as you can see I did line my tray and believe it or not it just came out so well, when I removed, which you can see for yourself.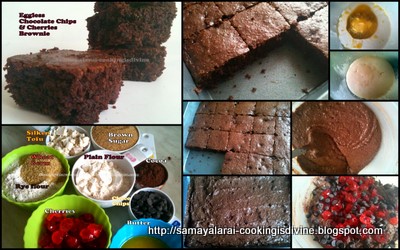 First of all sift all the flours, Baking soda, Baking powder and cocoa together, so they all blend together with one another, sift 2 to 3 times, while sifting the wheat germ may stay in the sieve, not to worry mix with the flours and carry on like mixing the same way or using a spatula, keep mixing all the flours a few times :)). until well incorporated.
Melt the butter, when it slightly cool blend it with silken Tofu and milk in a food processor or like me in a mixie, smooth and nice.
Take a large bowl, pour in the blended Tofu, milk and butter mixture into it then add the well sifted flour mixture to it in a nice circular motion adding little by little, do not try to mix too much, BP and BS will give a airy texture to the batter, if you do it steadily, then once the batter is ready add chocolate chips and chopped cherries, I felt the batter was slightly thickening so I added 3 tbsp of hot water to it and made it into a smooth batter (pouring consistency).
Spoon the batter evenly into the prepared tin and level the surface.
Bake in the oven for 25 to 30 minutes or until firm or until it is done, to check insert a skewer into the centre and see if it comes out clean, If not return the tin to the oven for a few more minutes.
I always check only after 20 minutes and will not open the oven door too often.
Remove from the oven and leave it to cool completely, Cut into squares or whatever shape you like and you can take them out and serve them with melted chocolate ( white or brown) just for decoration (of course for the taste too :)).
I did no such thing I just cut them into squares and put them in a box and left a message for the kids to check it out and give me a feed back, which I knew that it was left with few pieces (for tomorrow so they said).
which I packed for my friends! and they loved it too..
you give it a try and give me a feed back.
will c u soon with an other post…. take a look at my lovely sinful delectable brownies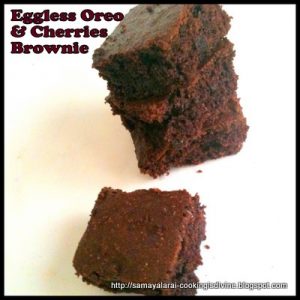 TO MAKE IT VEGAN:
Use Soya milk instead of ordinary milk, vegan Butter or any Oil, vegan choco chips or you can omit it.


I am sending these Brownies to Only series of Pari's event guest hosted by Harini of Tamalapaku's only Baked event.