''The Lunch trolley came rattling along the corridor, and harry bought a large stack of cauldron cakes for them to share.'' - Harry Potter and Goblet of Fire - J.K.Rowling.
Cauldron cake? In the first series of Harry Potter, these cauldron cakes were in the Hogwarts express! These cakes consist of devil's food cake cupcakes dipped into a rich chocolate glaze and filled to the brim with marshmallow filling.
A year has gone by cannot believe it at all, so I say every year, wondering how did it go? where did it go? what did I do ?.  Every Important day, Festivals etc.., I never come out to blog about it, nor write any post which should be something interesting to people who might come here to read about, that's just a thought though.  Every year I keep thinking I will write something that might be Interesting, catchy, cheeky, etc.., but dear God I am happy I am not so talented.
I decided eventually I will write and recollect all my 2012 posts the best ones or the worst ones.  Oh! no, I really don't have that much patience, reminiscing about the things of past year. Personally, I haven't done much,   Well, coming to the year 2012 has been had its own ups and downs.  I have been very happy with my kid's progress, only me I have been having a lot of ups and downs with my health. well, let me not get into my everyday moaning, This will be my last post of the year Hoping that this year will be really a Happy one, for each and everyone of you, bringing you all the joy and things which you wish for, Hope the world sees better things in future, Lots of things which has saddened lives of lot of people happened hoping that they never get repeated again.
Wishing you all a very Prosperous and a Very Happy New Year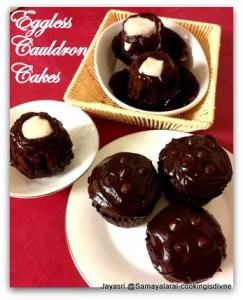 I was enchanted by the beauty of these cakes. They looked awesome, the more interesting thing for me in that was the Marshmallow fluffs.  I was so interested in making them.  I just googled and googled and then I remembered that I had a photographic recipe of the marshmallow making in my phone!, well went and checked into that as well, and at last, I made my own Marshmallow fluff.  Honestly, I really don't know how good it is, neither it is anywhere near a fluff but anyway I am going to post it. Well, it was very sweet that much I know as they sticky, gooey and I kept licking and washing my hand few times.  My daughter said it was sweet, and she doesn't mind finishing off.  well, I have to update you about it tomorrow.  well, now you know that I made these cakes just today morning for New Year.  well, I got so tired of all the things, and I hadn't checked I had no more chocolates left and I couldn't make the handles for the cauldron. So here are my cakes without the handles :)), and I also got a bit lazy to do the exact way to fill up the fluff. Oh! no I was wrong I did it perfectly the way it had to be filled up, read in between the lines of the recipe.
1 cup Cake Flour and 1/4 cup All purpose flour
1/2  Cup Sugar**
1/2 Cup Cocoa powder
pinch of salt
1/2  cup oil
1/4 cup water + 1 tbsp Instant coffee powder***
1/2 cup Milk
3/4th tsp Baking powder
1/4 tsp Baking soda
2 tbsp Buttermilk
Bittersweet chocolate 250 gms
FILLING:
Eggless Marshmallow fluff Homemade
1/2 cup Vegetable shortening
1/2 cup confectioner's sugar
2 tsp vanilla extract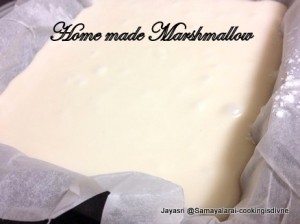 FOR THE DEVIL'S FOOD CUPCAKE
Preheat the oven to Gas Mark 4 / 180 degree. Take all the dry Ingredients and sift them well enough at least thrice., and In another bowl take all the liquid Ingredients together.  Make a well in the centre pour in the liquid Ingredients until everything is thoroughly incorporated, bake for 10 minutes on Gas Mark 4 then reduce the temperature to Gas Mark 3 and bake for another 10 minutes.
Remove it from the oven and cool it on a wire rack.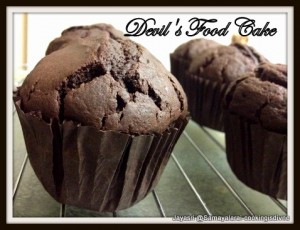 Melt chocolate in a double boiler, stir until smooth. remove from heat, with the help of piping bag, Pipe out handles for the cauldron draw another line on top of them once the first one gets dried out. so that the handles are stronger.
TO MAKE THE FILLING:
Beat together all of the Ingredients under the filling until light and fluffy.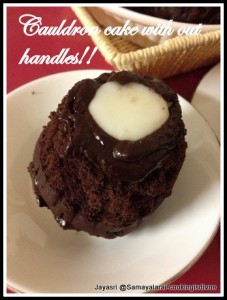 TO ASSEMBLE CAULDRON CUPCAKES
Dip in the cupcakes in the chocolate glaze and place them upside down stick choco chips to make a stand for them until they dry up.
Core a whole in the centre of the cupcake and fill it with the Marshmallow Filling.
Then pipe a line around the filling and place the handles on top and serve it...
NOTES:  I changed a few things like I increased the oil, otherwise the muffin is very dry in texture.  ** I have marked star against sugar to tell you the cake was not sweet enough increase with another 1/4 cup for normal sweetness or increase by another 1/2 cup for a very delicious cake.
To my surprise the muffin rose so wonderfully high I was surprised, that is why I took the photo and posted it.
well, my cupcake misses its handles...
Enjoy....
** will post my recipe for marshmallow filling.
This is my last post for Bake-a-thon event by Champa and check out my friends priya, preethi, srivalli, veena and sumana.