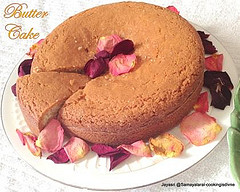 Hi everybody, Hope you are all doing well, Day by Day weather is getting colder and colder, I thought we might be having snow as the temperature are dipping down and down, A bit scary for me, and I hate the heaters, I keep bringing it down and my family hate me for that, I hate the heater as I end up having headaches.., even though sometimes I like winter I don't like the heaters. One more thing I get scared of winter is the Bug which goes around when everybody gets sick and goes around in circles :)), almost every year I get stuck with flu and suffer too much, so this time I decided I will get a Flu Jab and escape from this problem, funnily after taking the flu jab within 4 days I was down with Laryngitis and viral fever and that too I got complete down the day my mom went back to India!!.
Anyways Flu which bugged me for a long time kept me away from blogging and I missed to post few of my recipes for the Events which I was part of it, I have to thank all of them for understanding my problem and allowed me to post when I recover and here I am ready to post one by one and hope you will enjoy as did my friends and family.
Gayatri of Gayatri's cook spot had asked us to make a Butter Cake for the Eggless Baking Challenge and I thought this was a chance to post a cake which I used to do before when I used to use lot of butter, I have cut down a lot these days on butter, but as this cake is a butter cake you can't go back on it right ?, This time I changed a bit from my usual Eggless butter cake recipe, which also turned out really well, My other cake I will post someday soon the usual recipe I always make. Hope you like this , Bake it, eat it, enjoy it, and write to me about it. Here is how the recipe goes…
I have decided to post my event recipes from today continuously for 4 days. I want to do this so I can post my other recipes soon, as I have been baking quite a lot, and want to post them all stay tuned for these bakes…
INGREDIENTS:
1 and 1/2 cup (220 gms) All Purpose Flour
1/2 (100gms) Butter
2 tsp Baking powder
1 tsp Baking soda
1/4 tsp Cinnamon powder
2/3 rd cup granulated sugar
1/2 (150 ml) cup Condensed milk
1/4 cup milk
1/2 Cup warm water*
1 tbsp Vinegar
1 tbsp Vanilla extract
20 gms Corn Starch
Topping:
1/4 + 1tbsp butter
2tbsp Brown sugar
1/2 tsp Cinnamon powder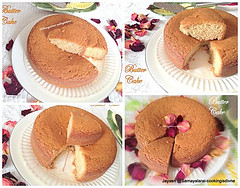 METHOD:
Sift all the dry Ingredients ( All purpose flour, Baking powder, Baking soda and corn starch ) together and keep aside. (except for sugar)
Preheat oven to Gas Mark 4 / 170 degree
Line a Baking tin 9"
Take a Large bowl add melted butter and sugar cream them well together, In a blender ( I used my Indian mixie ) Blend condensed milk with milk, add it to the creamed mixture, mix them all well enough.
To this add vinegar, vanilla extract and warm water and combine them all.
Now add the dried Ingredients to the combined liquid ingredients little at a time, and make sure there are no lumps in the cake batter.
Pour this batter into the prepared tin, Bake it for 35 minutes depending upon your oven, check if it is baked perfectly by inserting a skewer or tooth pick, when it comes out clean cake is done.
Remove it from the oven and cool it on a wiring rack for 10 minutes then release it from the tin. Allow it to completely cool down and enjoy…
Gayatri had asked us to do cinnamon topping. which I did not do, I have given the topping ingredients you need to melt, mix well and top it on the cake when it is still warm.
My kids didn't want that topping so I added cinnamon powder to the cake batter itself.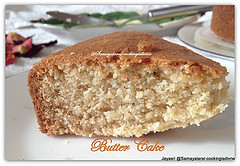 Thanks Gayatri Enjoyed it, Thanks for giving me time to post…
Check this link for the round-up of all the Eggless Butter cakes
NOTES: This cake was lovely to taste, but I thought it was a bit dry.
This cake also goes to my 3rd day of Bake-a-thon started by Champa of Versatile Vegetarian and my other blogger friends are doing this with me are Srivalli, Priya, Preethi, Sumana and Veena