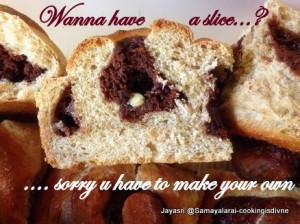 Yup!, can't believe, can you ? I didn't too..., until it came out of the oven beautifully, Brownie that was what I was planning to bake, these pull apart breads, Aparna got us into We Knead to Bake..., made us Bread Bake-o-holics, bake more breads.., One of the Group member Niv was going on a baking spree just like me, the third bread she baked kept going on in my mind, I think the cinnamon kept going  on and on in my head ended me up baking this bread.
When I baked it and told my kids does anyone want to try out my bread they were making faces, My son went Amma (mum), Please do you think it will work.., and I said I think it has worked he threw his arms up in the air and made faces.  As it was late in the night and I wanted my bread to cool down I just left it at that, next day morning, I left a little note on the kitchen table your bread for lunch box is in the bread box, they were quite huge, I was wondering if my kids would take it in the their lunch box..., but to my surprise out of the six two were gone. So I knew 2 of them in their Lunch box, I couldn't resist, oh! did I tell you the brownie filling was left over which I had baked when the bread was in its second proving stage, Those two little brownies were sat their sadly, feeling bad I suppose that they couldn't go into the bread!!, well, I ate one of them and thought Mmm.., It is yummy..,  Fingers crossed I was waiting for them to come home, I really torture them when I bake, and ask them hundred things about the bake, they get so tired.  I thought of texting them, but decided no let me see their face then I would know the truth, as sometimes they do not want to hurt mum and say so-so and I know I should not post this :).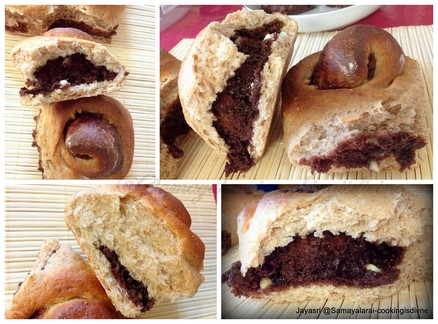 Well, the result, My daughter entered and I immediately asked her, how was your bread today..., she said it was so-so mum, I was totally dissappointed, then came my darling son, entered and as always first thing he tells me is how the bread was each and every time I bake a new one for his Lunch box, he is such a Mama's boy that's what my girls call him :)), they are so jealous.., well, whatever it is.., he said mum you bread really worked, the brownie bread was delicious.., down came my daughter screaming oh! R you are such a spoil sport I wanted to tease mum and keep it going for sometime, you spoiled everything, huh!*&%$..., and all said and done and both having argued, she told me, Mum you nailed it, It is really so delicious.., and even my Friend who dropped by too., loved it... Success.., I decided I am going to make it with more variations in future and turn it out much more interesting.., Oh! I know you are all curious to find out how I baked it right ? this is how... go read it and try it and tell me about it...
EGGLESS VEGAN BROWNIE PULL APART BREAD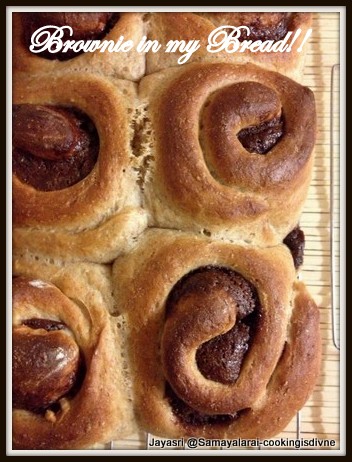 INGREDIENTS:
FOR THE DOUGH
2 tbsp of warm water
1 tsp sugar
2 tsp Yeast
3 cups of Whole wheat White Bread flour ( nearly 375 gms (plus extra around 50 grms)
1 tsp salt
1/4 oil (butter if you prefer 50 grms)
50 grms sugar
1 and 1/4 to 1/2 cup milk**

VEGAN EGGLESS BROWNIE
100 grms Plain flour
1 tbsp Carob powder ( cocoa powder)
1/4 cup oil / 50 grms Margarine
200 grms soft brown sugar
75 grms chocolate chips
1 tsp vanilla extract
2 tbsp Potato flour
6 tbsp water
2 tbsp water
pinch of salt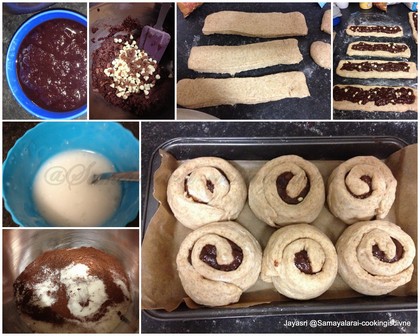 METHOD FOR MAKING THE BROWNIE BATTER
FOR FILLING IN THE BREAD
100 grms All purpose flour / Plain flour
2 tbsp Cocoa powder (Carob powder)
1 tsp Baking Powder
1/8th tsp Baking soda
200 grms soft brown sugar
1/4 cup oil / butter / Margarine
2 tbsp water
75 grms white chocolate / dark choco chips
1 tsp vanilla extract
pinch of salt
2 tbsp Potato Flour
7 tbsp of warm water
1/4 cup fudge chips

METHOD FOR THE BROWNIE BATTER
In a bowl take the flour, baking powder, baking soda, pinch of salt and cocoa powder, sift them all well together.
In an another large bowl take warm 7 tbsp of water dissolve potato starch in it completely and beat it well together, it becomes smooth and fluffy, ( I made this in a little bowl and then took it to the large bowl).  to this add sugar, vanilla extract, melted butter / Margarine / oil, blend them well together.
To this above liquid mixture, add the dry Ingredients incorporating all the flour well blended, if it is too dry add one or two tbsp of hot water and keep the batter ready, to this add chopped white chocolate / chips and fudge chips and keep it ready
METHOD:
FOR ASSEMBLING THE BROWNIE IN THE BREAD
In a large bowl take yeast and 2 tbsp of warm water with tsp of sugar and leave it in a warm place for few minutes, you can notice bubbles forming up this shows that the yeast is active.
To this add all the other Ingredients said above under the Dough, mix them well, use a food processor or your hand and make it into a pliable dough, make it into a chappati dough consistency.
Once the dough is ready, Knead the dough  for at least 10 minutes until it very pliable, smooth and soft, this helps in the gluten formation. Lightly oil the bowl and leave the dough covered for at least 1 and 1/2 hours or leave it until it is doubled in size.
Preheat the oven to 180 C / 350 F / Gas Mark 5*
Make the Brownie batter when you keep the dough to raise after an hour.
Oil a tray and sprinkle some flour and tap it down so there is no extra flour on it or place a parchment paper in the tray.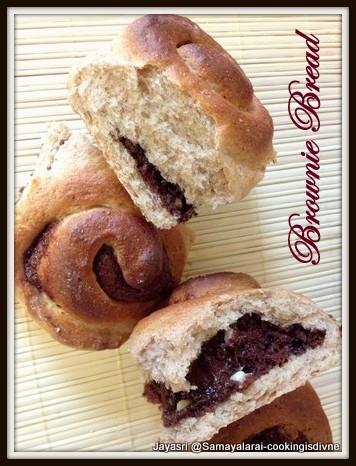 Once the dough is proven deflate the dough dust the kitchen work surface with flour, flatten the dough into a square as shown and the filling can be made in  two ways.
1.  Spread the brownie  filling  on to the flattened dough and  cut it into 6 lengthwise strips and roll them into a circle, pull one of the bottom side and cover it completely and lay it on the baking pan, cake tin, or on what ever you are baking it in.
2. Or as I did,  once you have made it into a square, cut them into 6 equal parts, fill the brownie batter on each of the strip and roll them up as said above and cover one of the side by pulling dough and place it on the baking tin.
Once all the rolls are ready, place them with a few inch gap on the tin, cover it again with a tea towel or with a cling film for an hour or until it rises ( I usually do not allow it to rise too much as the first time round).
At this time for the second raise, I baked the remaining brownie batter in little cases, for 15 minutes.
Brush the top of the bread with milk and bake it in the middle rack for 30 to 40** minutes or until the top is golden brown in colour or check it with a skewer when it comes out clean.
Take it out of the oven and leave it on a cooling rack for 10 minutes, release the bread from the loaf tin immediately after 10 minutes*** and leave it directly on the wiring rack to cool down completely.
NOTES
* As I have always said my oven temperature is very high so I bake them at Gas mark 3
** My bread got baked by 40 minutes
*** I remove my bread immediately after 10 minutes the bread will be still very warm because of this the bottom side becomes soggy if left in tin for a long time this is my experience so I always take it out and leave it on the the wiring rack this helps the bread cooling down without a soggy bottom, sometimes I turn out  the bread place it in the loaf pan again and bake it for 5 more minutes this makes my bread has a crusty bottom as well :)).
You can add Honey, Maple syrup, Jaggery instead of sugar too..
If you want to Make it with Eggs try substituting 2 Eggs for potato flour, but then give more gap between the rolls as it might raise too much.
1. You can use Vegan butter
2. You can otherwise omit the chocolate chips, find daity free chips
3. In place of milk you can use Oats milk, Almond milk, soya milk or Just plain water
If you ever try these variations leave a note here so I would be delighted to know how it turned out. This bread goes to WKTB#1, of Aparna of My diverse Kitchen and it is also yeast spotted.