Eggless baking is such a wonderful thing, It's quite a challenge and the end result makes you feel so happy that you have achieved something isn't it ?, Everybody asks me why do you want to make everything Eggless, especially my children they think that the end product isn't very soft and fluff up as it does which has a recipe with Eggs in it!, Mmm.., Sometimes yes, but these days baking too many Eggless cakes, Muffins etc., My children have started to Enjoy it a lot, and a wonderful thing is when they say 'Amma it's amazing, well, when I bake something I usually try to bake with something Nutritious in it and less fat content in it, Nutritious as not using lot of Plain flour, try alternative flours, add lot of fruits and nuts etc., less fat as H has a sweet tooth (in extremes and his daughter) and worried he eats lot of sweets! So, here is my version of Blueberry Muffins..., I had some Blueberry's long back I had made these muffins with different flours, I did not take any photos then, Hoping I have written the recipe somewhere in my pile of books, my kids loved it and kept asking me to Bake them again, well, I am happy as they just finish it off, if not monitored and so with restrictions they have to take it to school one each day! I will allow them to eat 2 to 3 at one go only when it is fresh out of oven and later on try to control it! It isn't that bad isn't it ?.
Once again coming back to the recipe! (hoping not to go way out of it again....)...
EGGLESS BLUE BERRY MUFFINS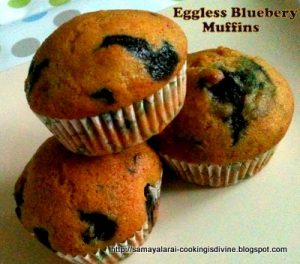 INGREDIENTS:
140gms of Plain Flour/APS
140 gms of Fine Corn Meal
1 Apple (weighed 100 gms)
1/4 Cup Oil
1 tbsp Flax seed Powder
1/4 Cup Milk
3/4 th Cup Granulated sugar
1 tsp Vanilla essence
1 and 1/2 tsp of Baking Powder
1/2 tsp of Baking Soda
1 cup (150 gms) fresh Blue Berries
2 tbsp of Warm water (if required)
METHOD:
Preheat the oven to 180 degrees/350 d F/Gas Mark 4
Spray 12 case Muffin tray with vegetable oil/cooking spray or butter them or line them with Muffin cases
First of all wash and dry the Blue berries and keep them aside,
Mix both the flours and sift together may be two to three times until well combined
In a mixie /Food Processor/hand Grinder or what ever you use to grind!,
Take apples (without the peel), Flaxseed powder and oil, Grind them into a smooth paste
Pour this into a large bowl, then add milk and Sugar give it a nice whisk for just a minute,
Then add Baking powder and Baking Soda, mix well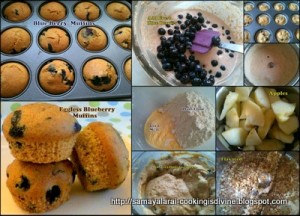 Then add the fresh Blue berries to the bowl, combine together
Then add the flour in three to four parts, in a nice circular motion, incorporate the flour completely into the bowl, until they are well combined do not mix it too much, be careful so the air pockets created by all the Ingredients should not get destroyed but the flours should also be well combined, do it slowly and steadily
Once everything is incorporated fill the Muffin cases around 2/3rds full with the batter and bake in the preheated oven for 25 to 30 minutes or until well risen and golden or a tooth pick inserted comes out clean.
I always turn the muffin tray around after 20 minutes for an even bake.
I did not do any frosting as I always make muffins and cakes for my kids to take it to school..
Take an other look at my lovely muffins..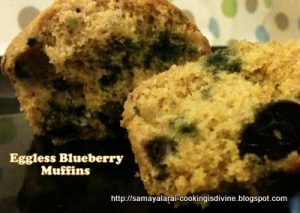 Thanks to my daughter for this click she wanted to show me how soft and nice it was! isn't it beautiful.. Mmm.., they all loved it hope you try it and love it too...
I like to send this to Akila's Dish name starts with E event, and also to Cooking with fruits event by Smitha