Hi, everybody, Its been such a tiring day, the sun was in his peak, I did not want to go out anywhere!!, I think sometimes I fell I prefer winter!!, But, when I think of my plants, cleaning, and Laundry I might as well have sunshine!!, well, we never get satisfied with anything, that's the truth!!, A hard core truth.
My kids were in London past one week, with my friends (howz that ?), H also went with them, so I was alone, they are coming back today and I wanted to bake something !!, My hands have been itching from one week, didn't know what to cook ? what to eat ?, Life was so boring, then I thought of Asha of foodies hope, long back had written that as she would be cooking only for two, she wouldn't be very regular in posting recipes !! someday, I am going to be like that !!, what am I going to do, as whatever I cook or bake, my first critics are my kids !!, they tell if it was good or bad and I never eat what I bake just a bit sometimes !!. Because of this my eldest gets into an argument with me, she says she hates me because I do not eat what I bake, I keep telling her that they are either too sweet for me, or has butter or oil in it !!, This keeps on everytime I bake something !!, The only way I could stop her is I just keep my mouth shut, she can only max screem at me, and walks of !! :), she is so sweet she is my best critic and loves to try anything and everything, bless her!!.
I bought 2 avocados, thinking I will make Glucomole, As my daughter was pestring me to do so.., and cut it in half, but, it was too hard still, she just got upset and left it their, and then my hubby suddenly planned to take the kids to London, The one which was cut got ripened the next day, which I made into Avocado pulkas, the other one was also ripe and I was wondering what I am going to do with it!!, Flash !! came an Idea of baking a muffin, then I remembered Madhu's Quinoa event and Lo!!, here I made them into small cakes with my new tins!!, My friends who visited during the day, had a cake each and said it was absolutely gorgeous!!.
The best thing was even though the cake was heavy when I cut opened it, it was so tender, soft and beautifully textured, I was so amazed (only thing I did not like was the smell of Avocado baking!!!). I sure want to tell you guys you must try it definitely.
UPDATED : I had a friend telling she tried these but they were sticking on to the tin, so I tried them again, and I have updated the recipe... with more pictures hope it is helpful, I inserted the cherries inside the cakes to show that I have tried them again and has turned out perfectly well, This time I had no Quinoa flour so I slightly toasted the Quinoa in a pan and powdered it in my Indian Mixie and made a fine powder/flour out of it and that is what I have used it.
EGGLESS AVOCADO-QUINOA CAKES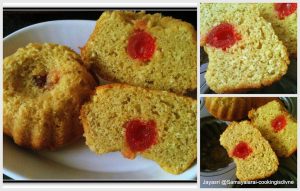 1 Medium sized Avocado (125 gms without peel)
1/2 cup Quinoa flour ( 90 grams)
1 Cup APF /Maida/ Plain flour
50 gms Butter (melted)
1/2 cup Plain yogurt (home-made curds)
1/2 Cup Milk
1 cup Caster sugar
1/4 cup Dessicated coconut
1 tsp Vanilla essence
1/2 tsp Baking Soda
1 tsp Baking powder
1 tbsp Flax seed powder (organic soaked in 3 tbsp of hot water)
1 tbsp Custard powder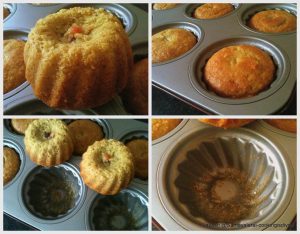 Preheat the oven to Gas Mark 4/ 180 degrees.
Mash the avocado with a spoon nicely into a pulp and keep aside.
(Or otherwise chop the Avocado blend it in a mixie (food processor) to his add, Yogurt, Flax seed mixture and blend them again).
In a clean bowl sieve in All purpose flour, quinoa flour, Baking soda, and Baking powder until they combine well together
To the above mix add Custard powder and dessicated coconut mix well and keep aside.
In an other clean bowl, take the well mashed pulp of Avocado, melted butter, vanilla essence and plain yogurt and beat it well, it looks quite frothy.
(or as I said earlier use the blended Avacado mixture and add melted butter, vanilla essence and mix well together until they are well combined)
Then to this liquid batter slowly fold in the flour mixture little by little until it is completely used up or completely incorporated into the liquid ingredients, if it is little bit hard to handle like little bit stiff add a tbsp of milk and make it into a semi-solid state.
Grease the tins and pour the batter and bake the cakes for 30-35 minutes or until a toothpick inserted comes out clean.
Remove from the oven and then allow it cool before removing from the pan, as you can see it comes out clean, and I just topped it with cherries.
Take another look at my lovely Gorgeous cakes...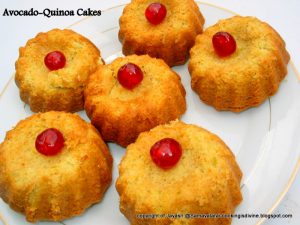 I am sending this to Madhuram's Whole grain Baking event- Quinoa, at last I think I made into her event. I would also like to send this to
Champa's Bake-of-event
, and would also like to send this to
show me your whole grains
from Divya of Dil se