EGGLESS APPLE, CINNAMON AND OATMEAL COOKIES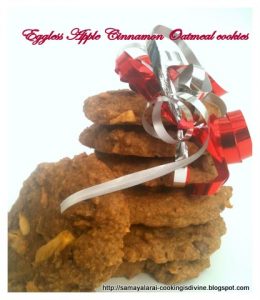 Hi everybody, how have you all been doing ?, I was down with fever, cough and cold just like the English weather, Drastically weather here has changed to a wet, cold days already, I feel so uncomfortable thinking of all those cold days ahead, but never thought so soon!. My plants do not know how to cope with this silly weather which keeps changing just makes me miserable.
This recipe I made is a last minute decision, I was still looking through her blog wondering what shall i bake, I loved her site and her writing, The first thing I thought about her was hats of to her, with three boys Oh! my God!, how does she manage, I have one son and he is so naughty, these boys don't seem to know how to sit quietly for just a minute. what else do you want to know about her ?, Her hubby is a
Chef
and they have a resturant which is already a talk of the town!, maybe someday I might visit them!, check it out here for full details and you would really enjoy, The couples are a gorgeous pair.
Bloggers of course you would definitely want to visit her, she has got lot of giveaways and lot of things happening in her little corner as she calls it.
I told lot of things about her, let me introduce you to her she is
Cara
from
Boys made me do it
, you must be wondering what is all this about, well, it is this Monday! SRC Reveal day, Oh! yes it's already a month!,
Angela
who is co-hostess of
The secret Recipe Club
assigned me to this blog. Amanda, the fabulous women started this club which has grown like a wild fire is not able to manage on her own has now got co-hosts to help her with this project, She is such a sweet heart, is ready for any help needed, I want to thank both of them to have allowed me to enjoy this lovely theme with them.
Coming back to the recipe, I chose this as my kids love cookies, and this was a healthy version except for the butter, and I love oatmeal, My kids wanted me to try this so here I am with this recipe...
I have halved the recipe, If you want to check the
original recipe
is here.
She adapted this cookies recipe from her friend
Krystal
who in turn adapted from
Joy the Baker
.
APPLE CINNAMON OATMEAL COOKIES EGGLESS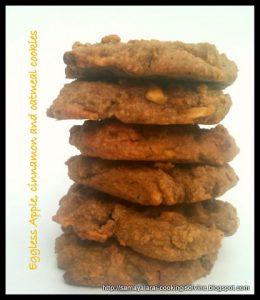 INGREDIENTS:
1 Cup Oats ( old fashioned quick cooking oats)
1/2 cup
2 tbsp Wheat Germ
1 Apple (I used Royal Gala)
1/2 Cup Brown sugar
1 tsp Vanilla essence
1/2 tsp Baking soda
1/2 tsp Baking powder
1/4 tsp salt
1/2 tsp Ground cinnamon
a generous pinch of nutmeg
10 gms Walnuts
20 gms Chocolate chips
1 tbsp Lemon Juice
1/4 cup Butter
1 Egg ( I just omitted it)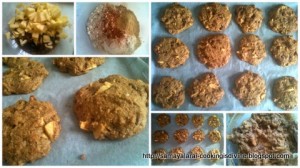 METHOD:
preheat oven to 350 degrees/Gas mark 6
In a large take all the dry ingredients, baking powder, baking soda, salt, two flours, cinnamon, and nutmeg and mix well together.
In an other bowl, beat sugar and butter until fluffy and creamy,( If you are using egg add at this point and beat well together to light and fluffy and do not add lemon juice and apples at this stage add them at the end with nuts and chips but do not forget to add lemon juice to apple and set it aside until use), then add lemon juice and finely chopped 1 apple mix well together, this is important chop the apples and mix immediately so the apples don't loose colour!
Then to this mix add chopped walnuts and chocolate chips.
Line two baking sheets with butter paper and with a spoon spread the dough on to the sheet with space apart,
and bake them for 15 to 20 minutes I baked mine to 20 minutes as I wanted it to be bit on the crispy side. Even then it wasn't too crispy but tasted great.
VERDICT:
My kids loved it and I felt happy as they were healthy and I had used fresh fruit in it, What else do you need in it 🙂