This Recipe I learnt from a Bengali friend Mimi, whom I met in my sister's house, she taught me how to make this delicious egg Recipe, she also told me that if people who don't like eating egg can always replace this with Aloo or Potato and said that is called ALOO DHUM CURRY. This is a photo I took when she had brought this for the party. It's her cooking and i am using this to post this recipe.
Here i have written in the way she described it to me, I have not tried it yet, just tasted it and it was really awesome, You can try this curry using all the ingredients needed with your own proportions.
EGG CURRY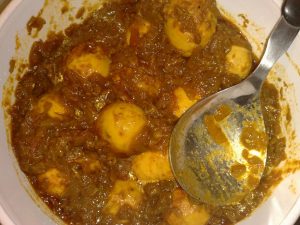 Ingredients :
7 to 8 Eggs
4 to 5 Medium sized onions
5 to 6 Tomatoes (puree)
1 tbsp Ginger- Garlic paste
1 tsp Turmeric powder
1 tbsp Garam masala powder
1 tbsp Bengali masala powder
5 to 6 Tbsp of oil
1 tbsp Chilli powder
METHOD:
First hard boil the eggs & peel out the skin, Take a Kadai or wok, heat oil say 1 to 2 tbsp & then add turmeric powder, In a low flame, fry the boiled eggs in them till they are nicely coated with turmeric and turn into orange colour as you can see in the photo , take them out & keep aside.
Using the same oak, heat another 4 to 5 tbsp of oil, fry ginger-garlic paste till they turn into brown in colour then add the onions & fry them until they are transperent, she asked me to add a bit of salt when frying onions so onions become soft as soon as possible.
Then add the tomato puree and keep on stirring until the oil leaves the sides of the wok, (for this kind of gravies you have to add more oil).
Then add a bit of turmeric powder, chilli powder, Garam masala powder & *Bengali masala powder 1/2 tsp and a tsp of sugar so it gives a caramalised colour & taste, salt to requirement.
Now add the hard boiled eggs, but before adding them you have to make a little slit in each of them as you do not want them to splutter up.
Allow them to cook for some more minutes, If you want it to be more like a gravy then add little water to it.
Add an other or remaining 1/2 tsp of Bengali masala powder, mix well and now it is ready to serve as a side dish with your choice of chapati or nans or breads.
NOTE: * BENGALI GARAM MASALA POWDER: consists of cardamom, cinnamon and clove in 2:2:1 ratio, she said they always keep this ready like the usual garam masala powder & use them in almost all of their dishes.
Mimi was kind enough to tell me this recipe over the telephone, with her little son not feeling well, who is just 6 months old, we completed between 2 to 3 phone calls :), I want to give this recipe a try with Aloo or Potatoes as my husband & me do not eat eggs. I will not say we do not eat eggs at all, as lot of bakery products like for example cakes use egg in baking. I love cakes very much!!!!!, well thank you mimi for the recipe once again.