Lemon is my favourite fruit, When I think of Lemon I think of Indian Rice Variety, a simple delicious, flavorful, authentic spicy Lemon Rice and the next thing I can think of Honey and Lemon Tea (Chai), Mmmm..., delicious healthy refreshing drink.
When the recipe to bake, called for Lemon - the first thing that came to mind was spicy flavorful Muffins, then I decided nope let me bake really delicious sweet Muffins.., with Honey in it.
Then as always my mind went to bake Eggless Muffins, but decided to try both ways and made both Egg and Eggless Muffins.... so here is how it goes....,
EGGLESS LEMON AND HONEY POUND MUFFINS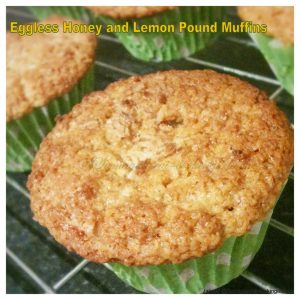 Recipe source: minimally adapted from Taste of Home
Makes 6 Muffins
INGREDIENTS:
1/4 cup Butter
1/4 cup Golden Brown Soft sugar
1/4 cup Honey
1 tbsp Fresh Lemon Juice* (see notes)
1/4 cup Yogurt/Hung curds
1/2 tsp Vanilla extract
1/2 cup All purpose flour
1/4 + 2tbsp Ground Oats* (see notes)
1/4 tsp salt
1/4 tsp Baking soda
1/2 tsp Baking Powder
2 to 3 tbsp of Sweetened Coconut
To Glaze*:
1/2 cup Confectioner's sugar
1 and 1/2 tsp of Lemon Juice.
METHOD:
Keep all the ingredients ready and measured.
Line your Muffin tins ( 6 Muffin cases)
Preheat the oven to Gas Mark 5/190 degree Celsius ( Just 6 to 7 minutes before baking)
Sift all the Dry ingredients together (flours, BP, BS, salt) and keep aside.
In a large bowl take melted butter, sugar and honey, cream them together to this add vanilla extract then Fresh lemon juice and Hung Curds/Yogurt give a swift mix.
Immediately start incorporating the well sieved flour in parts so it is well combined.
Do not Over Mix the batter, as it is Eggless baking mix it swiftly in an even circular and cut motion quickly
Scoop in the batter into the Muffin cases and top them with sweetened coconut, give them a little press and bake them in the oven for 15 to 20 minutes or until the toothpick inserted comes out clean.
FOR GLAZING*: You can glaze the muffins by mixing the ingredients in the glaze until smooth and nice and pipe them over the muffins and serve them ...
MY VERDICT:
* Actually I added 2 tbsp of Lemon Juice thinking that I will more lemony taste in it, was my little mistake I think, the muffins did not rise very well, as I always get my muffins well raised!, that was a bit of disappointment, but still it tasted great with that lemony taste in it, and I felt it was more sweeter..., If you have a sweet tooth you will love this...
*As I am using my new oven (GAS), I am a bit confused about the tempratures, the temperatures indicated in a recipe seems to be too much for my Gas oven, The actual recipe asks for you to bake at Gas Mark 6, I did not bake it at that temperature as all my baked turn golden brown quickly so I have little concern, so please do check your oven temperature while baking....
*The Oats which I have used in this recipe is porridge oats, I just simply Grind them to powder and use it in my baking.
* I did not glaze my muffins, I just skipped it as the Muffin itself was quite lemony, you can use some cream cheese frosting or butter cream or what ever you like to eat it with....
* The cake was delicious, there was this sweetness and tanginess in it, it wasn't too moist, when it was baking my daughter called out to me and said Mum it seems to go like a cookie, it is spreading out than going on top, that was when I thought I have used more Lemon Juice, so next time I will try it with just One tbsp if you try this please write to me and tell me how it turned out.
* As it was not too moist I thought you could increase the fat content a bit more, or I thought next time I will use 1 tbsp of Flax seed powder with 3 tbsp of hot water which will compensate on the fat content for the muffins.
LEMON AND HONEY MUFFINS WITH EGG and HERSHEY'S CHOCOLATE



Wow that looks Gorgeous isn't it ?
Once I made the Eggless once, I had to make these again, As I always cook or bake only in the night and I had only made 6 of them, I had a bit of a situation.., My friend who stayed with me over the weekend, who never likes eating anything sweet at all gave me a big surprise, I just gave a teneey weeney bit of my Eggless muffins to taste, ate the whole muffin instead and a few minutes later asked me If she can have an other one!, I was totally taken aback (she is pregnant, I thought may be that is the reason), as she doesn't like to eat eggs was very happy with my Eggless ones so the four left was eaten by my family. That's it all gone so I decided on baking more muffins this time with Eggs though, so here is my Muffins with Eggs, this time I shared with my neighbours..
Makes 6 Muffins:
INGREDIENTS:
1/4 cup Butter
1/4 cup Sugar (soft Golden brown sugar)
1/4 cup Honey
1 tbsp Fresh Lemon Juice
1 Medium Egg
1/4 cup warm Milk
1/2 tsp Vanilla extract
3/4th Cup + 2 tbsp All Purpose Flour/Maida
1/4 tsp salt
1/4 tsp Baking Soda
2 to 3 tbsp of Hershey's Chocolate broken into little pieces
METHOD:
Same as above method, Added one Egg with the liquid Ingredients gave a brisk whisk then added the Lemon Juice and Milk. Just added broken bits of Hershey's chocolate pieces and then Incorporated the flour into the wet mixture, poured them into the cups and baked them at the same oven temperature for 15 - 20 minutes or until the tooth pick inserted in the middle comes out clean.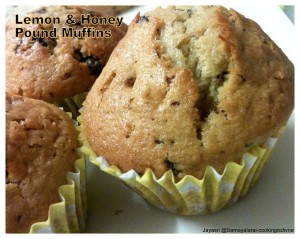 The Muffins were soft and delicious.., My kids loved it, waiting for my neighbours verdict will update when received..., till then... take care....
Muffin Monday is an initiative by Baker Street. A culinary journey of sharing a wickedly delicious muffin recipe every week. Drop in a quick line to join her on her journey to make the world smile and beat glum Monday mornings week after week.
Check out her blog for Many more variations and mouthwatering Muffins from my fellow blogger friends....