Hi everybody
Hope you all remember to post recipes from RAKS KITCHEN ending in 6 days, and we are going to run with an other blogger soon..
I keep making this manchurian now and then which is a healthy version from the deep fried one, I got this Idea of making this version when I was trying out this recipe from
Alka's Sindhi Rasoi
for Tried and tested event, (which I haven't still posted!), she says to fry the Gobi's till golden in colour, I just couldn't fry it in oil, (when you have border line cholesterol you need to keep a watch on what you are eating right ?), that's when this idea stuck I fried them with very little oil, that is why they don't look so golden like hers! (soon I will try to post it), From that time if I get tempted to eat Gobi Manchurian , I will always make this way, but if I have family and friends around, I will take to the deep frying way!, As kids also don't mind eating it this way (they just love the chinese spices), so I could say this is a healthy dish comparably right ?
So how did I do it ? here it is...
DRY GOBI MANCHURIAN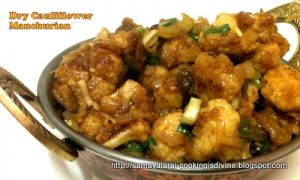 INGREDIENTS:
Cauliflower one whole medium sized one
1 bunch (8 to 9 stalks) Spring Onions
1/4 Cup Grated Cabbage
1 (medium) Carrot
1/2 fresh Green peas Pre cooked ( you can use frozen too)
1 large Capsicum/Green Peppers
2 to 3 Green chillies
3 to 4 finely Chopped Garlic pods
1'' Grated Ginger
1/4 bunch Coriander leaves
FOR MARINATING FLORETS
1/4 Cup Corn flour
1 tbsp rice flour
1 tbsp Plain flour
Salt as required
MARINATING SAUCE FOR THE FLORETS
1 tsp of soy sauce
1 tsp of vinegar
1/2 tsp of chilli powder
1/2 tsp salt
FOR THE SAUCE
1 tbsp of Dark Soy Sauce
1 tbsp Vinegar
1 tbsp Hot chilli sauce
2 to 3 tbsp Tomato Ketchup (depending upon the sweetness you like)
1 tbsp Tomato puree
1 tsp Pepper powder
METHOD:
First of all chop the and cook the Cauliflower florets for 5 minutes, this way any a kind of cleaning is done as it is difficult to clean the florets ( Dad always said florets have hidden worms in them, cooking florets in water will kill them), I do not how true it is but I have always done this.
Drain the water and let them drain on a kitchen when you get your things ready for sauces.
Take the sauces for the florets and put them in a large bowl then add the flours to it, with little water make it into a paste, do not add too much water then add these florets to it mix them well, I asked you not to add to much water because the florets will still have water in them even after they are drained if it very thick add a little bit more water, and leave them to marinate.
Now peel and chop the carrots to Julienne strips, the same way cut the cabbage and capsicum/Green Peppers and keep them aside.
Chop Garlic finely and grate ginger and keep it aside
chop spring Onions too.
Now Take a wok add around 2 to 3 tbsp of oil take few marinated florets at a time and in a high flame fry them continuously so they get coated with oil and gives a rustic finish and the paste gets uniformly coated to the florets and have a nice crunchy effect, keep adding 2 to 3 tbsp of oil every time and fry the florets quick and fast for this entire florets I might have used around 6 tbsps of oil at the most as I remember. After frying them like this keep them aside no need to keep on a kitchen towel as it is not deep fried.
(when you start doing this if your wok has lost its teflon coating like mine, it might stick to the pan the first time but afterwards it will be fine.).
Now get the wok back on to the stove, heat 2 to 3 tbsp of oil then add chopped green chilles, ginger, garlic, shredded cabbage, carrot, peas (precooked), Capsicum/Peppers, all at one go into the wok, stir fry them in a high flame, so they get cooked and still be crunchy!, for around 5 to minutes.
Bring the flame to low, Then add all the Sauces under the sauces heading (Increasing or Decreasing to your taste , as I like more pepper powder in it, I usually lit bit extra for the taste), After adding them give it a go by tasting and adjusting to your requirement, Now Increase the flame again and stir fry for another 2 minutes so the sauces get incorporated into the veggies now add the florets into the wok, mix thoroughly, then add chopped spring onions and chopped fresh coriander leaves and serve immediately with your favourite sauces.
Enjoy.., healthy and gorgeous to taste with no compromises... a wonderful Gobi Manchurian....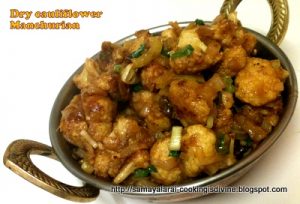 c u soon..., take care
I am sending this to fast food not fat food of Priya, Alphabet recipes - A Appetizers, and vallli's Kid's delight - street food.