You must be wondering, why have I clicked these photos and put them in my blog, well this photo I clicked from my sister's garden in Pune, India. will update when I make them……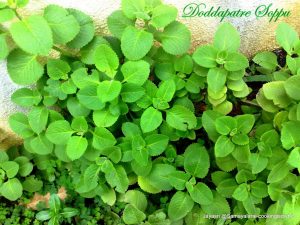 This is called in different names in different Languages:
Doddapatre Soppu in Kannada
Pannikkurukku in Malyalam
These Leaves have very high medicinal value and is very good for health, it is good for the digestion, using it once a week is really good for our stomach. When my kids were very small that is around 3 to 4 month old,
old, my sister-in-law's mum used to make a kashaya with few more ingredients, This kashaya we used to give our children a fortnight once, cleanses the body of any stomach ailments.
This has a cooling effect, so using it in summer is more common

It also helps in sore throat, common cold*.

It also helps in constipation and acidity problems**

This is said to help in skin ailments and skin related problems.
My sis-in-law has a daughter who is just 11 days elder to my twins !!, so they grew up as triplets and it was fun and hard work when they grew up, now our little monkeys are 12 year olds !!, God ! how the time passes by.
I was telling you about we giving

kashaya

to our kids so the 5 Ingredients I used to give was –
Doddapatre Leaves (Coleaus Aromaticus) – 3 to 4 leaves

Beetle leaves (vethalai / viladele) – 1 leaf

Ginger ( 1/2 inch )

Garlic ( 1 pod )

Thulasi ( Indian Basil ) – 10 Leaves
Take a Girdle/Pan/Tawa put it on the stove in a low flame, wash the leaves ( Beetle leaves, Thulasi, Doddapatre ) dry them and toast them on the Tawa lightly it slightly changes colour, take them out immediately, Roast Garlic directly on stove, with rest of the ingredients grind them out using pestle and mortar or in an Indian mixie into paste.
Boil this paste with 1 cup of water, reducing it to 1/2 cup, Filter the juice and add 2 to 3 tbsp of Honey and make the kids drink it through Olale ( a kind of silver or Indian cutlery used to give medicine in olden days ) or you can use spoon or any other method.

These little green leaves are nice to eat, just like that !!, My daughter used to pluck leaves wash them and just eat it, you can also eat it with a little pinch of salt and pepper on them, They are not only good for health, but has a wonderful taste too !!.
Well, Taste depends upon individual taste buds, we like it in our home, maybe you might also like it when you try them.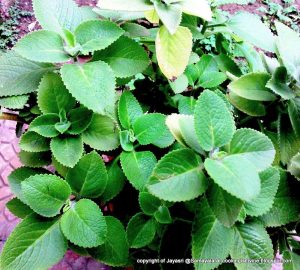 Thambuli (Yogurt based sauce ) can be made with many different vegetables and leaves and in different ways but this one is called Doddapatre Thambuli. I do not have a photo to show how the recipe looks like as I was not able to make one then !!, I have brought a stick of this and have put it in my garden here in UK hoping I will grow one like this soon in this summer !!, I have to wait, watch, care & water to get it set and going. Well, time only can tell me !!, But, I couldn't resist, to wait until I cook this recipe so here I am passing this recipe that I adore so much, I thought it must be known to everybody and to who are new to this try this out……, Of course most of my blogger friends must have already posted a recipe about this, But few of my very own friends and relatives who look into my blog will definitely go through the recipe I believe. I do not know the English name for this but the Botanical name to this plant is Coleus Aromaticus is all I know. Here is recipe for this Thambuli, You can also make different other dishes from this, let me start with this now.
First of all I would like to say that this dish I learnt from my aunt Shantha chitti very long back when I was in my school days, One day when I had been to her house she served this with hot rice, eating it, I just loved it immediately, and my passion for cooking was always ready to question her about how and what she made it with, That's it she took me to her garden showed me the plant, she even made me eat one of the leaves and gave me a cutting of the plant, so I could grow in my home and Thambuli whenever I want!! . We still have a big shrub of that plant in my mom's house !!.
1 cup of Doddappatre leaves ( 10 – 12 Medium sized Leaves )
1 tbsp of fresh grated coconut
Wash all the leaves well, then roast them in a wok or tawa, so the raw smell disappears,
I do not roast them too much because I feel the medicinal value of it may be completely lost. So It depends on how you like it, This has to roasted just like you do with your mint leaves.
Then with all the other ingredients grind Doddapatre into a smooth paste,
Then add Yogurt (Plain curds) and salt according to your taste
Then heat a tsp of oil and mustard seeds and season it
Serve it with hot rice and even with chapati it goes very well.
Now when I am writing this I feel like eating it , I am drooling over it now, I envy people who have this grown in their houses could always enjoy making this. I too have a small shrub in my garden in Bangalore. well, I am hoping I could grow one here too!!
Some more Tips on cooking this:
You can substitute with green chillies, instead of pepper corns
But if you are using it for some reason like for common cold or indigestion for medicinal use then do not using green chillies, Coconut and Yogurt.
If using for Indigestion use pepper corn, cumin and yogurt
If using for common cold dry roast pepper corn, cumin and Doddapatre leaves then grind into a smooth paste, add it to milk and honey and drink it warm / hot gives such a relief.
If you don't like the taste too much, add more fresh coconut I have used only 1 tbsp you can use around 1/4 cup and grind.
You can also make Bajjis – in this Dip each leaf in the Gram Flour Batter chilli powder and salt, and fry them in oil, and enjoy.
Updated:
The Photo I have updated is what I made when I grew it here in UK, now again I lost it as the weather became cold :(, I have tried bringing it many times but in vain.
This is such an easy Herb to grown, just take a thick stalk and plant it, it grows tremendously.