This is my hubby's favourite tiffin, This is most easiest and quickest, breakfast you can muster up within minutes!!, I love this with lot vegetables, nice and hot and with cup of curds, pickle, mm.., love it!, But !? before marriage I hated it so much and we all still call it concrete, and even BBB (bisi bele bath) is called as concrete in our house!!, It just doesn't make you hungry for long time, When I make it my hubby never forgets to box it and keep it in the fridge so he can take it to office next day!!, Mum always made with upma rava, but when I got married my MIL always made upma with Bansi Rava, I sometimes don't even fry it before making upma, and it still does come out very well, A little and a great tip my uncle gave me before making upma is to fry the rawa with a tbsp of Ghee, and fry it very well, so the rawa gives a nice aroma, which is now is perfect for making upma. Now this way upma will not be sticky, I have always made upma with lot of variations:
Tomato and Onion or both saperately
Lot of vegetables (peas, beans, carrots etc.,)
Mum made upma with Chow-chow (Seeme badanekaayi) I love it, it gives a sweetness to the upma!!
With Capsicums
And this one of R's friend one day invited us to Tea, and his wife made upma with Dill Leaves!!, I had never thought about this!, it was great!!, R loved it, so now & then I make with dill leaves.
DILL LEAVES UPMA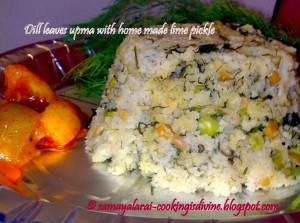 1 Cup of Rawa (Upma Rawa or Bansi Rawa)
salt as required
1/2 bunch of Dill leaves
1/2 cup of peas
6 to 7 Coriander leaves to garnish (optional)
1 sprig of curry leaves
2 and a 1/2 cup of water
SEASONINGS:
1 tbsp Chenna dal
1 tbsp Urad dal
1 tsp Mustard seeds
2 to 3 Green chillies
1/4 tsp of turmeric powder
4 to 5 tbsp of oil
METHOD:
Take a wok heat a tbsp of Ghee and fry Rawa nicely until it turns slighlty golden in colour keep the stove in a low flame, until a nice aroma comes out of the kitchen!!
Once the Rawa is roasted well take it out and put in a plate, and put the wok back on to the stove and heat oil, once it is hot add mustard seeds, Green chillies, chenna dal,urad dal and curry leaves until they change colour.
Clean Dill Leaves, and chop them finely, keep it aside.
Then add water and allow it to boil with the chopped Dill leaves and add salt, and pinch of asafoetida, Once the water starts boiling add Rawa slowly stirring all the way through.
Once all the Rawa has been added, mix well and close the lid for 15 to 20 minutes in a low flame, then well, it is done, and is ready to serve with a dollop of Ghee, pickle, curds, sugar, or chutney pudi, or what ever you like eating it with!!
METHOD 2:
Once the seasonings are done you can add rawa with out roasting it first and roast it now, all together, but if you are adding vegetables, Tomatoes or Onions you fry them first immediately after the seasonings and then add the rawa and roast it all together, even dill leaves you add rawa first and dill leaves with it and roast them together, Before starting to Roast, In a vessel Boil the required quantity of water, once it is well roasted add salt, mix well and add required quantity of water and mix well again, and close the lid for 15 to 20 minutes, and then it is ready to serve.
You can also add 1/2 a cup of fresh grated coconut and a squeeze of 2 to 3 tbsps of Lime/Lemon Juice (according to your taste), mix well and serve.
Mmm.., you will love it, even though my click is nothing to fall for, Well, You all know how to make a upma, but I thought as this is a food blog, and thinking someday it will useful to somebody (my Kids too!!), I thought of posting this recipe.
Even though we all follow the same method, I have always felt that each one of us make this defintely with our unique taste, like my mom, MIL, Sisters, Mannis, Maamis and me we all have different tastes to our upma !! how funny is that right !?..