Hi everybody, I know I am dead late in posting my Daring baker challenges, I made the pastry case two weeks back before the dead line, but was waiting for my H to come back home, so I could make some filling, the minute I saw this pastry case I knew what I was going to make for my filling, my craving for eating this has been on my mind for sometime, but never had time to make it.
This filling is sold in our
Iyengar Bakeries
in southern India and is called Dil Kush and Dil Pasand, I do not know why they gave this name, but I always loved buying and eating them. Hope people who know Iyengar Bakeries might know about this filling…, and I am proud to say I belong to this community of Bakers and is kind of family tradition, I have already posted two of my posts about the
Iyengar Bakery Sweet Bread
and
Khara Buns
and I have few in tow to post, wherein the recipes are original and my cousins who own Bakeries have kindly given it to me and I would like to thank them for it.
The 2010 November Daring Bakers' challenge was hosted by Simona of Briciole.  She chose to challenge Daring Bakers' to make Pasta frolla for a crostata. She used her own experience as a source, as well as information from Pellegrino Artusi's Science in the Kitchen and the Art of Eating well.
I have not been able to take step by step photos, but I took some clicks, it was so difficult alone managing baking and cooking together. I even made a short crust pastry without Eggs and a short crust pastry for a savoury case, I will post that one next time, As I want to post this at least now.
I usually try to stick to the recipe so I would know how it really turns out, the originality of the recipe is very important for me to learn.I made both the pastry dough so I could make two fillings the one with a little design on it was the one with all the flours in it, and the one which is white (?) I mean a Golden in colour is the one with APS flour in it.
PASTA FROLLA – CROSTATA
Pasta Frolla with Cake filling (In India it is called Dil Pasand)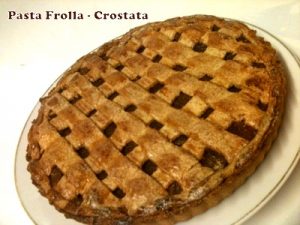 Pasta frolla with Mixed Fruit filling (In India it is called Dil Kush)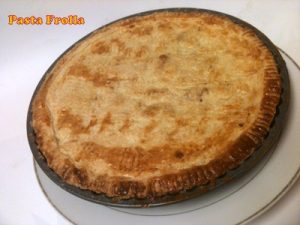 The filling in the

Dil Pasand

recipe is nearly as same as what they sell in Bakeries in India, I came to know that they add lot more things in it, as I could not get hold the real jist for the recipe I have tried to implicate it even otherwise, with the ingredients in hand , It turned to be having almost the same taste and thoroughly enjoyed it.
The filling in Dil Kush is perfectly the recipe given by my family and it just turned out absolutely the same I used to buy and love eating it.., Of course I couldn't find Tutti frutti here so substituted with all kind of dried fruits and enjoyed it.
Hope you all try it out and enjoy this lovely Indian Pasta frolla…..
If you want to make it exactly like Indian Bakeries just use All purpose Flour / Maida

How to make Pasta frolla…
VERSION I 
1/2 cup, minus 1 tbsp (105ml,100gms,31/2oz) Superfine sugar or a scant 3/4th cup (180ml,90g,3oz) of powdered sugar.
1 and 3/4 th cup (420ml, 235gms, 8 1/4 oz) unbleached All purpose flour
A pinch of salt
1 Stick (8 tbsp/4oz/115gms) cold unsalted butter, cut into small pieces
Grated zest of half a lemon
1 Large egg and 1 Large egg yolk , lightly beaten in a small bowl
VERSION II
1/2 cup of Superfine sugar
1/2 cup All Purpose flour
1/2 cup whole wheat pastry flour
1/4 cup Almond flour
(I used Rye flour)
1/4 cup whole grain Barley flour
A pinch of salt
6 tbsp Unsalted butter cold
1 Large egg
1/4 tsp Vanilla extract
Whisk together sugar, flour and salt in a bowl, Rub or cut the butter into the flour until the mixture has the consistency of coarse crumbs, I made this in a bowl as my work surface is too small.
Make a well in the centre add beaten eggs into it ( If you want you can reserve a tsp of egg mixture for glazing purposes later on and place in the refrigerator covered well ready to use).
Add Lemon zest to the flour/butter/egg with using a fork or spatula or something comfortable you like to use to incorporate the liquid to the solid ingredients, and then use your fingertips.
Knead lightly so the dough comes together into a ball.
Shape into a flat disk and wrap it into a plastic and place the dough in the refrigerator and chill at least an hour
version II  
The method is same as the above but a slight change is you need to first sieve all the flours together so they are well combined and continue with the above method.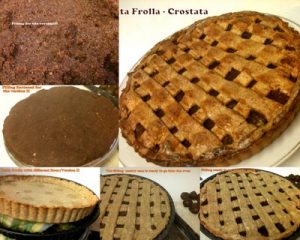 Now to make the filling and Baking the dough….
I made one blind bake and the other one just like that
Heat the oven to 375 degree F/Gas Mark 5/180 degree,
Take the pasta out of the fridge unwrap it and cut 1/4 of the dough to make lattice top of the crostata refrigerate the dough while we work on the tart base.To help roll the crostata dough keep the dough on top of the plastic wrap that we used to wrap it, this way we can transfer the dough to our tin directly after we roll.
But, I directly rolled on my work top lightly dusting the top of the dough and work surface, keep some flour handy to dust the dough as we go along.
If the dough is very firm press the dough with the rolling pin from the middle to each end, when it softens start rolling into a circle.
If you have used plastic wrap or parchment paper as rolling surface flip dough over the pan, centering it and delicately press it all around the corner well covered, peel away the plastic wrap.
I used my palm after I rolled it, then the excess dough hanging over the edges my tin was quite big and the whole dough filled then prick the dough with a fork in several places as I have done
here.
Then trim the excess dough hanging out as my tin was quite big I did not have much hanging out.
Take out the reserved pasta frolla refrigerated and cut them into strips you can design them into shapes or strips  as you love to decorate it make a lattice over the surface or decorate with the cut shapes.
You can brush the surface with reserved eggs.
Put the tart in the oven and bake for 25 minutes ( depending upon your oven), Bake it until Golden hue.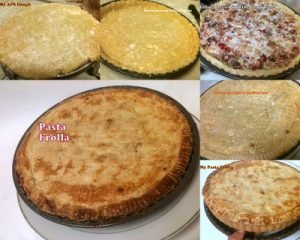 what is Blind Baking ?
Cut a piece of the parchment paper or aluminium foil large enough to cover the bottom of the crust extending over a bit at the edges of the tin.
You can use pie weight or dry beans to blind bake I used rice, place the crostata shell in the over and bake for 20 minutes
Remove weight and bake it an extra 5 more minutes until the border is golden if the crust may rise in the middle gently push it back with the back of a fork or spoon.
Allow the pastry shell to cool then spread the filling and bake it for further few minutes until the top turns golden in colour.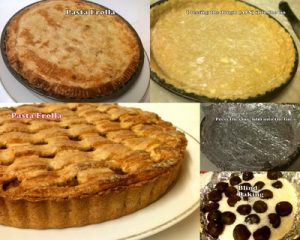 MY FILLINGS:
Pasta Frolla with cake filling:
I did not really get the recipe for this, but I came to know they use Jaggery and cake, ( use any cake you have in hand), what I did was, I took a pan and heated  a tbsp of milk I dissolved 1/4 cup of Jaggery, once it dissolved I filtered it then back to the pan to this I added crumbled 1 cup of cake ( I had eggless chocolate cake in hand) then added one powdered Bread crumbs, few powdered biscuits and some fresh coconut and fried it a bit some they all came together well like a nice ball, then flattened it out and filled it in the tart case, then placed the strips and in the gaps I filled it with some Home made mixed fruit jam and baked it in the oven until it cooked ( well, with lot of going around I baked it for a long time so is the colour! I kind of forget until my H reminded me I have something in the oven Oops!!).
Any way it tasted great with so many things in it! :))
Pasta Frolla with Mixed Fruit filling:
This I got the recipe properly My cousin said they use Tutti- Frutti, as I had no Tutti fruites (I have come to know that Tutti frutties are nothing but dried Papaya) I kind of used 20 gms of dried Pineapple, Mango, Apricots, Raisins, and lots of dried Papaya finely chopped.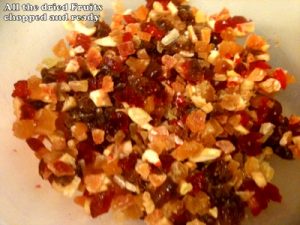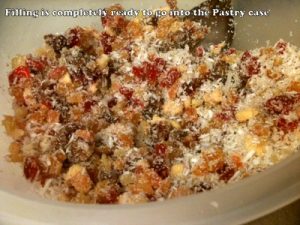 Then I mixed it with grated fresh coconut, poppy seed, 1 slice of powdered Bread crumbs and 3 tbsps of granulated sugar.Mix all this together and fill this into the tart case, In this filling I halved the dough made a complete round topping to go over the case and blind baked this.
Here are two more pics of my Pasta frolla……
DIL PASAND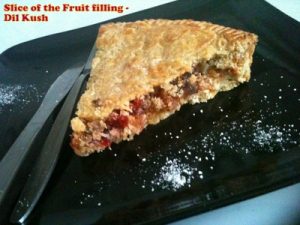 Hi Daring bakers sorry for posting this so late, but I loved this challenge and really enjoyed thank you so much, brought me lot of nostalgic memories.