"Do you have a kinder, more adaptable friend in the food world than soup? Who soothes you when you are ill? Who refuses to leave you when you are impoverished and stretches its resources to give a hearty sustenance and cheer? Who warms you in the winter and cools you in the summer? Yet who also is capable of doing honour to your richest table and impressing your most demanding guests? Soup does its loyal best, no matter what undignified conditions are imposed upon it. You don't catch steak hanging around when you're poor and sick, do you?" - Judith Martin (Miss Manners)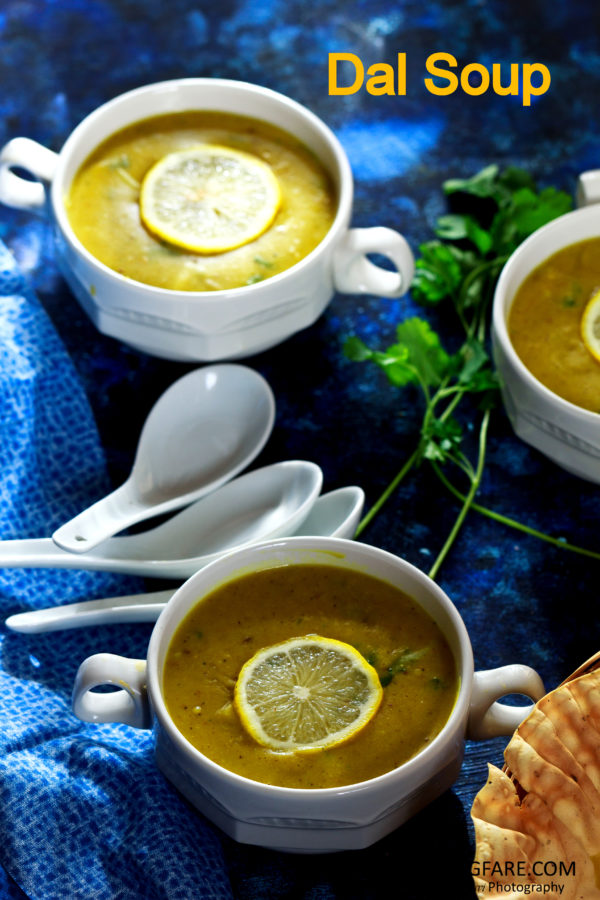 I would second what Judith says, don't you think so? Such a versatile dish any time of the day or any time of the year!  I love it hot or cold so refreshing and so relishing.  whenever I go to a restaurant I always order soup and I don't mind skipping the starters.  For me, masala papad and soup is a delight, my kind of comfort food which I immensely enjoy.
This soup was inspired by a Punjabi restaurant which I had visited back when I was in India.  This soup is so versatile that I make it often not just on cold gloomy days but when my family are down the weather and do not want to eat anything, as it's so soothing to the tummy.   I make this often when I do not want to cook anything and just love a very plain hearty meal serve this some crusty bread.  I would call this a meal in itself!!
This is very good during summers as well, as Moong dal/ Yellow split lentil/ Mung beans is known for its cooling properties.  In India, people adopt Ayurveda in everyday life.  According to  Ayurveda Medicine,  people have three Doshas, Each person has one of the three doshas in that way his body works they are Vata, Pitta and Kapha.  Moong / Mung beans are used as split as I have used in this recipe or as a whole with the skin intact or you get them with the skin half attached with and are called chilka.  You also get Mung flour which can be used in versatile ways.
According to Ayurveda, it is Tridoshic ( Vata, pitta and Kapha) it has all the three dosha qualities and is considered as Sattvic diet. Moong dal is said to be considered to have a cooling effect in your body when your body feels heated up. It is very easy to cook and can be eaten raw by soaking them for 2 hours and also can be used in salads.  It's easy to cook and easy to digest.  According to western perspective, it is said to be an alkaline food, it is high in protein content as well as dietary fiber is said to have low GI index and is considered to be good for diabetic patients.
In just one line what I can say is,  it simply tastes good!!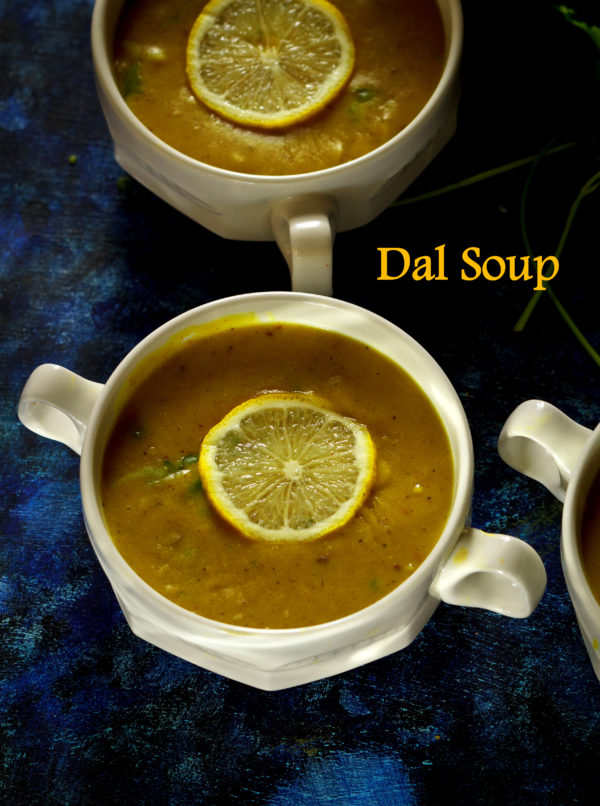 Dal Soup
This soup is very simple and easy to make, use it as a weeknight dinner! Light and refreshing.  The mild spicy and tangy taste makes you want for more.
Ingredients
4

tbsp

Moong dal

1

tbsp

Red lentil (Masoor Dal)

1

tsp

garlic

1

tsp

ginger

1/2

tsp

turmeric

1

green chilli

1/2

tsp

salt

(or as required)

1/4

tsp

Jeera powder

1/2

tsp

Ghee or OIl

2

tbsp

Onion

1/4

tsp

Garam Masala powder

(optional)

3

cups

water

1

Lemon
Serving
1/2

cup

cooked Basmati Rice

2

tbsp

chopped coriander to garnish

(optional)
Instructions
1. Wash and soak dal for few minutes. 2. Heat Ghee in a pan add chopped onions, garlic, ginger and slit green chillie. 3. Saute for few minutes, 4. Add the above said sauteed ingredients into a pressure cooker with the soaked Dal, jeera powder and Garam masala powder. 5. Add 2 cups of water and required amount of salt and pinch of hing.

6. In a low flame cook the Dal up to 3 to 4 whistles. switch off the stove. 7. Once the Pressure releases remove the slit green chilli, Blend the dal into a smooth puree. 8. pass it through a sieve so you get a very smooth consistency of the dal. 9. Add another cup of remaining water thin it down with the extra water you have, taste the soup and adjust the consistency and taste. 10. Boil the soup, switch off the stove. Slice the Lemon into thin round slices. Place a slice of lemon, add a tbsp of cooked rice. Pour the soup into the soup bowls.
Notes
Or you can just squeeze a tsp of lemon juice into each bowl add a tbsp of rice and pour the hot soup on top of it garnish with few coriander leaves, crushed black pepper and jeera then serve!! Serve it warm with papad or some crusty Garlic Bread.