This is an other Recipe from my good old book where I have written so many recipes, where I keep writing lots and lots of recipes collected from mom, aunts, mannis, family and friends, my creations, and my tweaked recipes etc., Here I go with my recipe..
DAAL KOFTA WITH TOMATO CURRY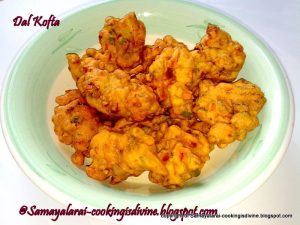 250 gms of Moong daal /Hesaru Bele

2 cups of mixed chopped vegetables (cauliflower,beans,peas,carrots,capsicums)

3-4 green chillies

salt to taste

oil for frying
METHOD:
Soak Moong dal washed and soaked for 2 hours, drain all the water completely and grind into a smooth paste without any water, if it doesn't grind add a tbsp of water and grind, it is important to add very little water, if you add more water it starts absorbing more oil.

Then cook cauliflower, french beans, carrots, peas and drain all the water from them do not throw the water but keep it aside for future use.

Then wash wipe and chop the capsicums and add them directly do not cook them.

To the finely ground moong dal paste add all the cooked completely drained veggies and capsicum mix well, with salt to taste and with little coriander leaves finely chopped.

Take a wok and heat oil for frying using a spoon or your hand drop small whole walnut sized balls into the wok and fry until cooked

Drain them in kitchen towel and keep aside.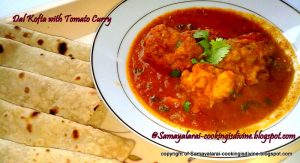 Ingredients for Tomato Curry
7 to 8 Ripe Tomatoes

1/4 cup /cottage cheese mashed (paneer)

2 medium sized Onions

1'' Ginger

5-6 cloves of Garlic

2 tbsp Red Chilli powder

2 tsp Coriander powder

1/2 tsp of turmeric powder

1 tsp Garam Masala powder

1 tbsp of tamarind juice or 1 tsp Amchur powder

few sprigs of coriander leaves to garnish

4 tbsp of oil
METHOD
Grind Onion, ginger and garlic into a fine paste and keep aside

Take water in a loarge bowl and put tomatoes into it and remove their skins once well cooked, this is called blanching, and then chop into one or two pieces and allow it to cool

Once they are cool grind them into a smooth paste

Heat oil and fry the onion paste till brown (that actually takes some time!!).

Add the ground tomatoes once they start boiling add chilli powder, coriander powder, garam masala powder, turmeric powder, Tamarind or Amchur powder and salt to taste.

Add the mashed cottage cheese (paneer).

Mix well and cook for further five minutes.

Add the water from the kofta recipe which you had kept aside when drained, mix well and allow it to boil for further five minutes

Now add the koftas and allow it to boil once or twice, add a little bit of Garam Masala powder and garnish with coriander leaves and serve hot with puris, chapatis, pulkas or Rice.
Here is my Books which I keep writing my recipes most of them are my mom's recipes, she never gave me her book, but, I started writing these books when I was doing my 10th!!, I always loved cooking, I used to cook for friends and family but not authentic south Indian but mostly north India dishes which had a strong flare then, and to sisters friends for their school and college leaving parties!!, My collections contain both authentic, my own creations and my tweaked recipes. I had some books on cooking I do not remember the names , but of course I had a book of Mallika Badrinath I think it was her Rice varities, which is all in my mom's house. May be some day I might bring them here, but I was thinking let me finish all the cooking from my collection of recipes and the most loved friend now is my Internet with lot of colourful pictures from my blogger friends, where my Book Marked recipes are becoming like great wall of china!!!!, Here are some of Bread, and other baking books I have collected coming here!!,
When I was going through my books I was so amazed to see that I have written recipes on baking doughnuts, toffee, bread pudding and what nots!!, where in I think I had no idea I might be baking these things, and I was going to live in UK and start a blog and enjoy trying so many baking recipes!!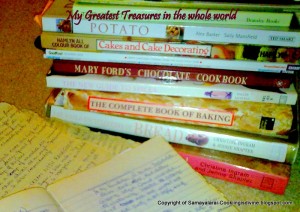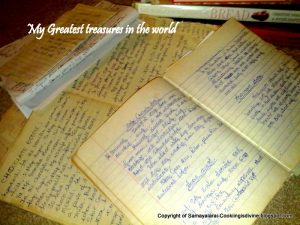 Those of you who love to participate in this can join in and link back your post to Jayashree's, I hope my lovely readers will keep this rolling on, if you have most loved books you enjoy reading and cooking from them it may be anybook.
Thanks friends I did enjoy this, as I always wrote in my reicpes that I got this from my book collection is now to display.