Curry Leaves Powder
The most beautiful, gorgeous and rich herb with amazing flavour and or shall I say to the Asian countries. The most aromatic herb I would say in my kitchen or should I say in every Indian kitchen.
Coriander and Curry leaves are a must in every Indian kitchen, I just can't live without them!.
First time when I came to UK I went and bought Coriander leaves for the first time, I was so shocked it was a small bunch, and costed a fortune (£1), for a few days I used to use it scarcely but couldn't stay away from it for a long time, even if it was very expensive.
But,
when I go to London, I act as if
I have won a bumper prize I pick up at least 4 bunches, and with that I get few greens which I never get it here. I envy people living in India are lucky they get so many types of keerais (green leaves), aren't they lucky ?.
Murraya Koenigi is the botanical name and colloquial name for this herb is called Curry leaves, Kadi Patta-Hindi, Karivepillai- Tamil, Karibevu- Kannada, Karapincha - Sinhala, Karivepaku- Telagu... Check out this website you can find the name of this leaf in 52 different Languages/countries.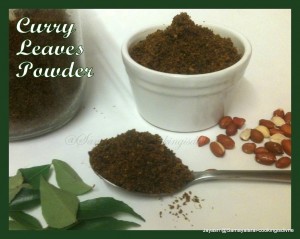 Curry Leaves has a great medicinal value, which is why it is widely used in Asian Continents, Curry leaves are also used in Ayurvedic medicine (alternative medicine), Curry leaves are rich in minerals, Iron and vitamins -
Check out the websites at the bottom of the post for lot more information on curry leaves.
From Wiki:
The leaves of
Murraya koenigii
are also used as a
herb
in
Ayurvedic medicine
. They are much valued as an
anti-diabetic
,
[2]
antioxidant
,
[3]
antimicrobial
,
anti-inflammatory
,
hepatoprotective
, anti-
hypercholesterolemic
etc. They also contain iron.
This recipe I got basically from Kusuma aunty, my sis's MIL, when she came to visit here, she served this and my H and kids loved it, I tweaked it a little bit and here is my version, Thanks to her this is our family favourite now....
I have measured the ingredients in gms
60 gms Curry Leaves
80 gms Garlic Cloves
100 gms Dry coconut /Copra
60 gms Tamarind
140 gms Peanuts
40 gms Dry Red Chillies (Badgi)**
Salt as required
1/4 cup Grated Jaggery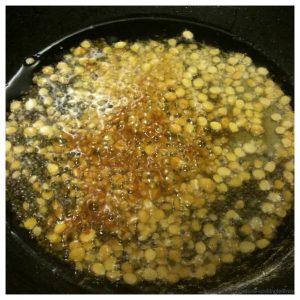 SEASONING:
1 tbsp Oil
1tbsp Channa dal
1 tbsp Urad dal
1 tsp mustard seeds
Take curry leaves and just pluck the leaves out, wash them and wipe them clean and dry them with a tea towel or kitchen towel. Once they are dry, Crush the Curry Leaves by grinding them in a mixie in 1 minute turning (Or shall I say in short bursts). just like the above click.
Take a wok or a wide pan add 1/4 tsp oil, once it is hot add the seasonings, once the dals change colour, to this add the Crushed Curry Leaves and fry them in a very low flame, keep on frying until they are nicely roasted, just like the above click.
It should not loose its colour, but should be dry.
Then peel the skin of the Garlic cloves fry them in the same wok for just 2 minutes then grind them in a mixie again with short turns and keep them aside. (sorry forgot to click this step next time I will update).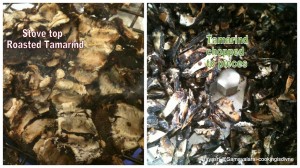 Then as always when I am using Tamarind I always roast them on stove top, once they are cool I cut them them little pieces so the mixie will not get into problems and them I grinded them, Just once then grind them with curry leaves and keep aside.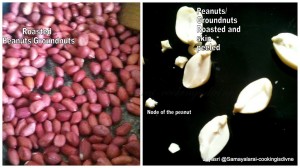 Then Roast ground nuts remove the skin once they are a bit cool, then as I have told in my earlier post, after the skin is peeled, break them open and remove the pod from each peanut, as they tend to give a bitter taste. just like I have shown above.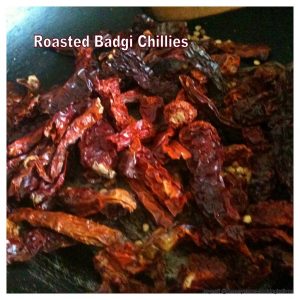 Grate Jaggery and keep aside (sorry no click will update soon)
Grate Dry copra/ Dry coconut, fry them 2 minutes in the same pan without any oil.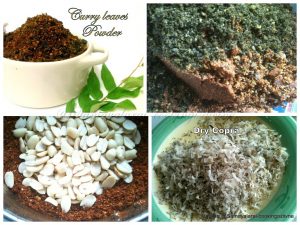 Once every thing is ready grind the roasted curry leaves with this grind Dry chillies, Roasted Tamarind, Roasted peanuts and Copra.
Once they are well grinded together with required quantity of salt, finely add garlic and Jaggery give one more turn in the mixie do not over do it, if you grind garlic too much it becomes like paste, so be careful.
Take them out from the mixie, mix them well in a big bowl with your hand or with a spatula so they are well combined together taste and adjust salt.
and your very Nutritious Curry leaves powder is ready to eat with hot rice and Ghee... Enjoy
I will post few more versions of my curry leaves powder I make...
Check out these links to know more about Curry leaves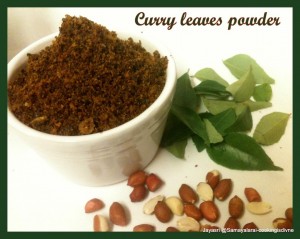 Kusuma Aunty's version wasn't too different, as hers was the basic recipe.., what I tweaked about this was I just added Groundnuts, as they have lot of proteins in them. If you want to skip it that makes Kusuma Aunty's recipe! 🙂 enjoy however you like....
http://www.prokerala.com/health/medicinal-herbs/curry-leaf.php
http://ayurvedichomeremedies.blogspot.com/2011/08/ayurvedic-home-remedies-medicinal-uses_14.html
http://www.diabetesmellitus-information.com/diabetes_herbs.htm
http://www.health-enz.com/herbs/curryleaf.shtml
http://www.diethealthclub.com/health-food/curry-leaves-health-benefits.html
http://jaiho-dubai.blogspot.com/2011/07/curry-leaves.html
http://www.diethealthclub.com/health-food/curry-leaves-health-benefits.html
http://benefitsofindianfood.blogspot.com/2007/03/curry-leaves.html
I am sending this to Walking through memory lane of Gayatri's event