Of course everybody knows how to make this pachadi, I make it in two ways, I made this method on Thiruvaadipooram, with rava kesari, lemon rice, Aloo curry, my children loved it all!  This is a very simple learnt it from mom, and is our all time favourite, when I started making it in my in-laws house my Brother-in-laws used to say, you could just give it in a cup it is delicious  to eat just like that !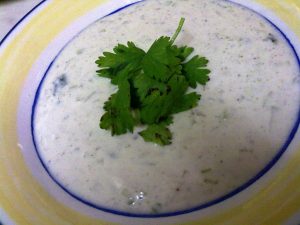 1 cucumber
2 to 3 sprigs of coriander leaves
a pinch of asafoetida
salt as required
2 tbsp of freshly grated coconut
2 flakes of Tamarind
2 tbsp of Roasted gram or chutney dal/daria dal
1 tbsp of Black Til seeds
Piece of Jaggery
4 to 5 green chillies
1 & 1/2 to 2 cups of Plain curds or Yogurt
1 tbsp of oil
1 tsp mustard seeds
1 sprig of curry leaves
Peel the skin ( if you don't mind having the skin then it is fine too) cut both the ends rub each piece against each end (I will tell you why in my notes)
Wash both the ends and now it is ready to cut,  chop them into thin pieces just you make for Kosambaris, and keep it aside
In a wok fry til seeds, till they start like popping up, then allow it to cool
with a tongs hold the tamarind flakes directly on to the fire and just roast it a little bit (i will tell you why in my notes)
In a mixer add all the ingredients , the Til seeds, washed Coriander leaves, Roasted gram dal, Tamarind flakes, green chillies, grated coconut, grind all these into a smooth paste in the last round add jaggery too.
Take this ground paste and mix it with plain curds or yogurt with a pinch of asafoetida and salt as  required.
Heat oil in a wok, add mustard seeds, once they start spluttering add sprig of curry leaves saute for a minute and add it to the pacchadi
1 cucumber 
3 to 4 green chillies
salt as required
pinch of asafoetida
sprig of curry leaves
3 to 4 sprig of coriander leaves
The method is almost the same only thing is I will not use all the ingredients in the above said method and here I do not chop cucuber into thin pieces but either I grate them or grind the whole cucumber with all the above said ingredients and mix it with curds or plain yogurt and then serve it with seasonings just as in the above method, If you want you can even add 1 tsp of chenna dal & urad dal in the seasoning.
Some cucumbers have a bitterness in them, so we need to take this out, that is why you have to cut both the ends, and rub each piece against the cut portion, then you would notice a white foam like thingy coming out from them, once both the ends are done wash them off and then peel and use the cucumber, these days the skin of cucumber is not peeled just to retain the goodness or the nutritive value or that it is edible too!!.
Long back when I was in India I saw in a TV programme that as Tamarind is not very good if used excessively, the alternate method what you can do is if you are using them like this as in chutneys, pacchadi directly, what you can do is hold the flakes to the flame heat them slightly on both the sides and use them in your dishes.  Like wise when I use them making powders and chutneys where I involve frying of the ingredients I fry Tamarind also in the wok.
Spiciness, salt, tamarind, jaggery, yogurt depends on how big your vegetable is!!, think how much you need according to that and use, as it may vary.