What so special ?, you must be thinking, why has she posted this ?, Of course everybody in India, know what koshumbari is, there is nothing special about it, But then why did I post it ? As my daughter said, ''because it is an authentic recipe which my mom, paati made and it will be their always when ever I need it, mummy post what ever you cook''. well, that is how my koshumbari has come to the blog!!, and of course my daughters are my photographers, they always arrange them and take some pictures and upload them to the computer ( but sometimes I have to keep asking them if they have uploaded so I can post !!). Well, what ever it is or however long time they take to do it, they always don't forget to take pictures before they eat and upload them, I must thank them for that. Thank you so much girls, I love you.
This is a simple salad, which is so delicious, you can just munch it any time. It is quite filling as well, you can do lot of variations with this recipe.
CUCUMBER-MOONGDAL KOSHUMBARI
INGREDIENTS:
1 whole cucumber
2 to 3 green chillies
4 to 5 sprigs of coriander
salt as required
A fist full of moong dal
a pinch of asafoetida
1 tbsp of oil
1 tsp mustard seeds
1 or 2 tbsp of fresh grated coconut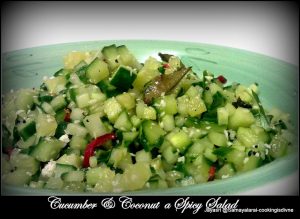 METHOD
First of all soak Moong dal for an hour or so, it becomes quite soft when you break with your nails it just splits, you would know it , It even swells up. Once it is well soaked, drain the water completely and keep it aside.
Cut the cucumber into thin slices just as shown in picture, you can use the skin too, if you don't mind eating it, and is definitely good for health.
Mix Moong dal, cucumber, grated coconut and finely chopped coriander leaves
Take a kadai heat oil in it and then add mustard seeds once they splutter add the chopped green chillies, once they slightly change colour, pour it on top of the cucumber mixture, on it add the pinch of asafoetida
Just before serving add the required quantity of salt and mix everything together and serve immediately.
You can also add a squeeze of (1 to 2 tbsp) lemon juice which is optional, and of course it gives a great taste to the koshambari
Note: If you add salt prior to the Kosambari it gives out water and you wouldn't be able to enjoy the real juicy taste of the kosambari. I am not saying it won't be nice later on but it tastes more delicious with the juice still in it, even today when all of us (my sisters and me) when we go to amma's house, we actually fight for the juice, so daddy would share it to all of us, that juice mixed with every thing tastes so nice we mix it with rice and eat, when my hubby saw this first time after our marriage, he was surprised and asked us how can we eat that, and he hates koshambari as they give out water. I don't do it as often as we used to do in mom's house, mom always makes different types of kosambari's and they are on her everyday menu list!!, like the pulkas, My hubby never eats any kosambari's !!, (Mom he doesn't know what he is missing - poor chap - says my daughter). Bless her, we love it and we enjoy it, whenever I make it.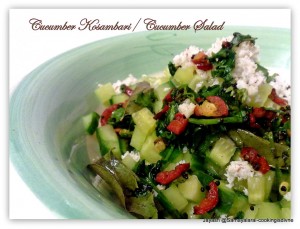 You all agree with me right ?, If you haven't tried it...., go ahead and try it out.. you will be hooked.