Kadag means Mustard, Aracha means to grind, Kootu means mixed together.
This recipe uses Mustard which is not roasted and quite a bit of coconut spiced with chillies mixed with veggies cooked to perfection.
This is another dish of my Mom-in-law,  this was one of her signature dishes.   In Bangalore,  we get fresh peas during November and December and the price are quite affordable in the season.  But these days everything has changed, peas and  Field beans (Averekaayi) being sold in all seasons, I used to wonder where they got it from!.
My Mom-in-law always used to make this when peas were abundant, She always loved to eat raw vegetables, when we both used to sit and open up the pea pods  she used to select the really petite fresh ones  to eat them, I used to laugh and tell her we need to buy more peas if this way it carried on, she just used to smile and  keep popping the fresh particularly the little ones saying  it was quite tempting, seeing her A (my eldest daughter) used to eat with her, both of them used to like eating raw vegetables like tender beans, knol-khol, raddish, carrot, cucumber, tapioca, sweet potatoes, onions, tomatoes, cabbage.  When I started writing I never thought I would be writing a long list of so many vegetables which can be eaten raw.  Let's get back to our Recipe then.
CUCUMBER AND PEAS IN MUSTARD GRAVY (KADAG ARACHA KOOTU)
Cooking time : 30 minutes
Prep time: 5 minutes
Serves : 5
Level : Easy / Beginner
Cuisine : South Indian
Spice level : medium
Recipe Source : Mother-in-law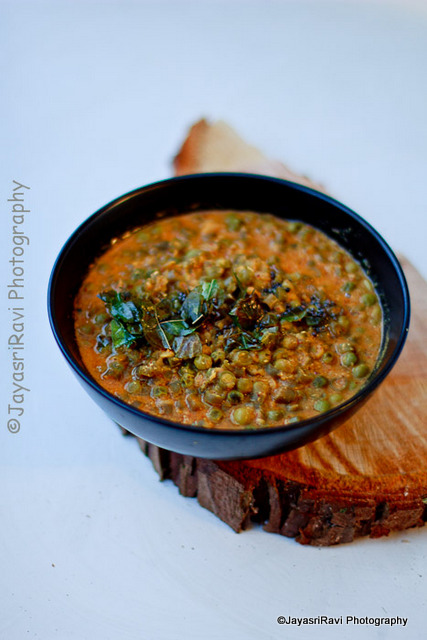 INGREDIENTS:
1 cucumber (medium sized)
2  Cups or around 300 grms (Fresh / Frozen) Peas
pinch of turmeric
1 sprig of curry leaves
1tsp Mustard seeds
2 to 3 red chillies
1 tsp channa dal
a pinch of asafoetida
1 tbsp coriander seeds
1/4 tsp pepper
1/4 cup pressed fresh grated coconut
METHOD:
scrape cut and cut cucumber into 1/2'' cubes with fresh or frozen peas cook them together with a pinch of turmeric, you can cook in a  pressure cooker or cook directly, see to it that they don't get mashed.
Take a pan with a tsp of oil roast all the above ingredients except for mustard and  coconut gratings, until they change colour or a nice aroma comes out of them
Grind all the ingredients together with mustard and coconut into a smooth paste and mix it with the cooked vegetables, add curry leaves and allow it cook for another few minutes, add salt to taste.
Temper with a tsp of oil 1/4 tsp of mustard seeds
Serve hot with Rice and  ghee it also goes well with Chapatis
It has a sweetness because of the peas and cucumber and takes it to a different level and I love this so much, give it a try and tell me if you like it, I would love to hear from you, I do get fresh peas here only in season and they are quite expensive as well. whenever I make it I use frozen peas but the petit pois of
Bird's eye
brand or sometimes I get it from
Waitrose
, These days I buy a lot of stuff from Waitrose I have fallen in love their fresh veggies and fruits.