Hi everybody, Here I come with a very Healthy snack, delightful for the kids.
From few days UK is delighted to see some shine, people here are becoming energetic, kids laughing and playing, everybody seems to be basking in the sun, which keeps cropping up now and then, Hoping that Summer is around the corner, lot of people are doing spring cleaning and Gardening, isn't it delightful. I love this country when it has it's summer, the beautiful, daffodils, the colourful Tulips, everybody's Garden is a sight pleasant to the eyes and warmth to the heart, everybody's Garden is a Photographic Scenery. I keep staring at all the Gardens I come across so Gorgeous with beautiful flowers. It's a shame, I will not be able to do any gardening for some days, I am going to miss that, and the minute I am back I am planning to do it in full swing, hope this time again I will get some crops to reap :)), My Garden isn't as delightful as I have described with other people, as the plants which are already their cannot be removed, and the soil is clayey, I use pots to do my gardening :(, haha.., I know I have few in my drafts which I haven't posted yet about my lovely little garden and few things I created with it!.
Coming back to the recipe, this again is from my draft, I made this a few weeks ago, when Kids come home from school they don't want to eat rice, they want something else to nibble as being a vegetarian your dinner/tea time will be definitely with rice/roti with accompanied some vegetables. I try to make something interesting sometimes, when I am in mood or they love to eat pasta/noodles etc., I think I was really in a very good mood I suppose, continuously I made three things that day, they were so full they skipped their tea. Here is one of them, A very simple recipe sinfully healthy and delicious.
CRISPY RICE STUFFED CROQUETTES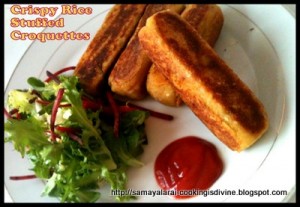 Looks beautiful and Gorgeous isn't it......., Let's see what's its all about then, go on read ....,
INGREDIENTS:
1 to 1 and 1/2 Cup Cooked Rice
1/4 cup of peas
A few spring onions
1 small carrot
4 French beans
A few sprigs of Coriander leaves
1 or 2 tbsp of Lemon juice
2 to 3 Green chillies
A few curry leaves (optional)
1 tsp Black Mustard seeds
1/2 tsp of Coriander powder
1/4 tsp of Cumin powder
1/2 tsp of Turmeric
Salt as required
2 tbsp of oil
FOR THE COVERING
250 gms of Potatoes ( Increase potatoes if you wish)
3 to 4 tbsp of Corn flour (Increase as you wish)
1/2 tsp of Chilli powder
1tsp of Salt
Extra Oil for toasting
METHOD:
It's a simple recipe, nothing extraordinary.
First of all wash your potatoes and pressure cook them to 1 whistle, this would have made them quite soft, once it is cool take out the potatoes, peel the skin off and set aside to cool, as it will still very warm inside. Meanwhile take 2 tbsp of oil heat it in a wok then add the mustard seeds, after they splutter add chopped green chillies saute them for a minute, till they change colour, then add finely chopped, carrots, beans and then the peas sprinkle a little water, close a lid and keep it in a low flame until it is well cooked, check now and again so that they don't stick to the bottom of the kadai, sprinkle water if necessary, Once you know the veggies are well cooked add the chopped spring onions, and all the masala powders mentioned above, Saute them for few minutes once they all soften up add Cooked Rice, mix well mash up the rice a little bit , then add Chopped fresh coriander leaves and lemon juice as per your taste with salt as required mix well and set it aside to cool.
Now your filling is ready. Next is your covering.. how to go about it, well reading the Ingredients I think you know what I have done.
I have just given a approximate on potatoes, Increase or decrease according to your filling you have made.
Once the peeled potatoes are cool, mash them nicely until soft to this add salt, chilli powder and corn flour to make it into a firm dough, use Corn flour as necessary, I did not use too much as I wanted the potatoes to retain their taste, too much corn flour might change the texture!, Using less corn flour might be a bit of a problem, as the dough might be little bit sticky and difficult to handle but once you know what you are doing it is easy to shape them up, but they might be quite fragile to handle, so do be careful.
Once the dough is ready make small rounds put a 2 to 3 tbsp of stuffing press the ends nicely so they don't break up anywhere, and join them as shown in the picture, roll it on a flat surface so the covering is equally distributed then fry it on a Tawa/Girdle with tsp of oil and roast them to a golden brown colour, serve them with few salad leaves and sauces of choices.
FEW VARIATIONS: If you want you can make it round croquettes and deep fry them in oil.
You can make a Maida/plain flour or Corn flour dip (ie, make a paste of one of the flours) Dip the croquettes into the flour and then roll it on bread crumbs and then either deep fry them or grill them on a stove top or grill them in a oven, change as you wish.
Some children are picky to eat rice, I think this would be quite an interesting one for them to enjoy.
If you do not want rice at all for yourself then just add more vegetables which would be a fantastic meal in itself.
Have an other look at my Crispy Rice stuffed Croquettes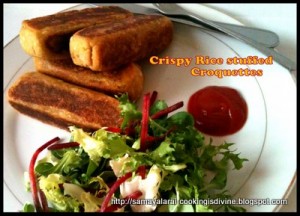 c u soon with an other recipe hope you all enjoyed it.
I would like to send this to Priya of Now serving who is hosting two event, One Fast food not fat food and her other event started by Pari of Food delicious - Only Fusion Recipe.