Hi everybody, I know I might more than one post today, I made some recipes past week for participating in the events and I am going to do it in the last minute as always!!, I really was googling a lot to do something to bake but that was not going to happen and this one was my daughter's love to this grain!!, She loves couscous so much, she wanted me try this out when she came back from school. So here is the recipe which I took from All Recipes that's a wonderful website with a large collection of recipes, I hope this is a typical African meal, As I was googling I came to know that Couscous is like a staple food of the Africans and they love it veggies and meats, and reading more about it I came to know that their are different kind of Couscous found and there is an art to cook this grain too.., that was quite interesting. Well I really do not know any art in cooking this but I used to cook it according to the packet instructions but these I have become an expert :), I just pour water without any measurments and it cooks very well, just like I cook Rice. Coming back to the recipe this is how it goes...
COUSCOUS CASABLANCA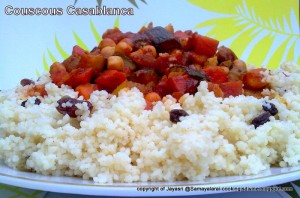 INGREDIENTS:
1 Cup Couscous
A fist full of Raisins
4 to 5 sprigs of fresh coriander leaves
1 tbsp Lime Juice
chilli sauce to taste
pinch of ground cinnamon
1 tbsp of Orange flower water (which I did not have!!)
VEGETABLE STEW
3 tbsp of extra virgin olive oil
2 Onions
4 cloves of Garlic
1 tsp cumin seeds
3 cloves
1'' Grated ginger
1/4 tsp of Turmeric powder
3/4th cup cubed Pumpkin
1/2 cup sweet potato
1 celery stick
1 Medium sized carrot
1/2 cup french beans
1 courgette medium
3/4th cup chick peas (soaked)
1/2 cup Tomato pureed
2 cups of Vegetable stock
HARISSA PASTE:
1 tbsp Coriander seeds
1 tbsp cayenne pepper
2 cloves of garlic
1/2 tsp paprika
1 tbsp Caraway seeds
1 tsp cumin seeds
3-4 tbsp of Extra virgin olive oil
METHOD
To make vegetable stew:
Take a wok heat oil, add the cloves, cumin seeds, ginger, chopped onions and garlic and saute for few minutes, then add the Tomato puree and then add all the veggies and cook till they are soft then add the vegetable stock and bring it to boil,
Meanwhile, In a wok add a tsp of oil and fry all the ingredients in the Harissa paste ingredients and saute for few minutes and when it is cool make it into a paste using the remaining oil.
Add this paste to the cooking vegetables and cook for further few minutes add salt to taste and put of the stove and garnish with chopped coriander leaves and keep it aside
Meanwhile when the vegetables are cooking start cooking couscous
To make couscous
Boil hot water around 2-2 1/2 cups . Take couscous and raisins in a bowl pour the hot water into it and close the lid and allow it to cook or you can just add required quantity of water to couscous and raisins and put it on a stove and allow it to boil. within few minutes it get ready quickly.
In a large plate spread couscous sprinkle cinnamon powder and orange flower water and pour some of the vegetable stew over it and keep the rest aside and serve it with chilli sauce on the side.
PS: As I was making this for the kids I just tweaked it a little bit which you will notice when you read the all recipes!!, I thought the chillies, chilli sauce and again Harrisa sauce is going to make the dish too hot for the curds to eat, what I made itself was quite spicy so said my kids so I had to provide one of them with cucumbers and the other with yogurt!!, but then they liked it said it was different and enjoyed and finished it!! Thank God!!, I was really keeping fingers crossed that it would be not too hot!!.
Now why did I make this!! I made this for AWED African this month hosted by Padmaja of Seduce your taste buds which was started by DK of chef in you, both have a wonderful blog you need to check them out!!, with lovely photographs to seduce your taste buds and bring out the chef in you into action!!!
Here is one last peak at my couscous casablanca!!!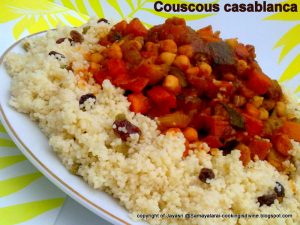 Dug in!! and hope you enjoy!! c u soon!!.....