Dosa's are one such Tiffin where in you don't have to worry that it might not turn up well, when you change the basic recipe, that is what I feel and I have always told my friends and family, I never am scared when I change my dosa recipe, the only time I get worried are Idli's, They are a challenge to cook!!.
let me come back to this recipe, when I got up in the morning I was wondering what shall I make when my kids come home, I first started thinking I will make something like a upma with cous cous, but ended up making this dosa!!
Cous cous
is a versatile alternative to rice or pasta, it is Durum wheat semolina, it can also be used in cold salads or with roasted vegetables, it is quite yummy and is rich in proteins.
Cous Cous Dosa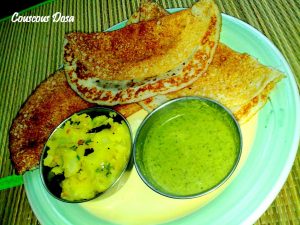 1 & 1/2 cup Cous Cous

2 cups Raw Rice

1/2 cup Moong dal

1/4 cup Chenna dal

1/4 cup Urad dal

1/4 cup Tuvar dal

1 tbsp Fenugreek seeds

1/2 Cup Rice flour
METHOD
Wash and soak Rice, seeds and dal saperately for 3 to 4 hours.

Soak Cous in enough water, you will be surprised to find it becomes so much that it keeps absorbing lot of water you can pour more water and soak it well say you use 3 times the cous cous in the recipe.

Then grind them all together as we grind for dosas

Add salt as required

Take them out and add Rice flour to it and mix well without any lumps,

Make dosas and check if they are coming out well and add water as required and cook dosas on the girdle on both the sides

These Dosas can be made immediately

You can even reduce the soaking time as the dals just require just 2 hours of soaking and then of course cous cous too, they are quite quick too.

If you soak early in the morning (6 am), you can make dosas by around 10 O' Clock.

Enjoy the very healthy dosas with sides of your choice.