Hi friends,
Back again, I have been very busy from past weeks, I have not been able to post my own Anardana Seeds recipes, So, hope Priya will forgive me, for my late entries and round-ups, I will not be able to post my round-up on this event till next week, as I am going to have a busy week ahead, If any of you have any entries for this event and not able to post it to me, you can always do it until the day I post my round-up, I am planning to post my round-up around 23rd of December, You can send any recipes just not only using the dried Anardana seeds but also the fruit/ Pomogrenate seeds, as I have received some with the red Juicy fruit Mmm.., Lovely recipes, thanks for everybody, who participated.
Meanwhile Check out Kavita's Seasoned and Dressed blog for the Cooking with Seeds - Ajwain event started by Priya.
Coming back to the recipe, I had made something like this long back which I will try to post someday soon :), I am kind of not want to post some of my recipes as the photos weren't good, today I just decided I have to do this, even it doesn't look as I made these particularly for an event - so why not share it and not bother about the clicks, I just take photos in the night and with my I phone or N5800 :).
When Priya announced her CWF-Quinoa event I knew I could post some recipes, as I try to use Quinoa in some way or other in my cooking, I am always running around, and so time being a big issue in my life, I get so tired and go to bed.
Ok, stop moaning and going straight to the recipe....
COULIBIAC WITH QUINOA, LENTILS AND VEGGIES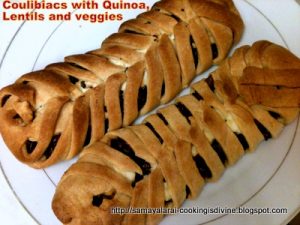 FOR THE PASTRY
250 gms All Purpose flour
1 tsp salt
1 tbsp Sugar
75 gms Cold butter
75 gms Vegetable Margarine
4 to 5 tbsps of Cold water
INGREDIENTS FOR THE FILLING
1/2 Cup Puy Lentils
1/2 Cup Horse Gram/Kollu
1/2 Cup Quinoa
1 Red Pepper
1 Green Pepper
1 Potato
1 Big Onion
2 to 3 Green Chillies
1 tsp Ginger-Garlic Paste
5 sprigs of Coriander leaves
2 tbsp Oil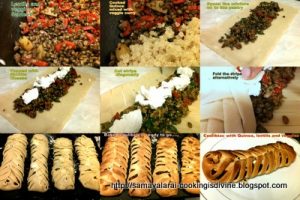 METHOD:
Making the Pastry:
Sieve the flour with salt and sugar then cut the butter into the flour with a knife, Rub it in quickly like bread crumbs with your fingertips, The secret of light pastry is in keeping your pastry cool, If we use our palms of our hand the butter will oil and make the pastry tough. Use water 1 tbsp at a time, you may need more or less water depending on the weather and the dryness of the flour, Knead it into a soft round ball, cover it in a cling film and keep it in the fridge until you require it.
To make the filling:
Wash and Soak both the lentils before you start making the Pastry, Once done with pastry, put these lentils in one cup of water in a vessel and pressure cook them till soft ( 3 whistles), Drain the water.
Cook Quinoa in 1 and 1/4 cup of water with a tsp of oil in a low flame, stirring now and then they cook very well and fast. careful that you don't burn the bottom. Take it out and spread it out so the grains separate out.
Heat Oil in a wok add Chillies fry and then add Ginger-Garlic paste and then the chopped onion and sauté them till transparent, then add chopped peppers and sauté them till soft then add the cooked lentils, mix well then add Quinoa and chopped Coriander leaves and Salt as required mix well and close the lid, keep it in a low flame for few minutes so the mixture absorbs the salt.
Now the mixture or filling is completely ready, Keep it aside. Give time for it to cool.
To Assemble the Pastry:
Make 4 parts out of it, Keep the other three parts back into the fridge while you work on the first one, Make the dough into a rectangle spoon the mixture in the middle as shown in the figure, then cut diagonal strips in the pastry on each side of the filling to create a plaited effect ( I have not done a very good job as my kids helped me do it, they got bored and messed it up a little bit !!), I did not trim of any extra pastry that is why that odd look at the end, Brush the Pastry with milk and Bake in a Preheated oven 200 degree C (400d F)/ Gas Mark 6. until golden brown in colour.
If you do not want to make the pastry yourself you can use ready made Puff Pastry, which I used once and it was really beautiful to look at than this.
My kids loved it, and everything was gone.., I felt quite happy as I made them eat not too much butter (like used in Puff Pastry), they ate lentils and Quinoa.
I love to send this to Priya's CWF _ Quinoa event started by Kiran thanks to both you, I enjoyed making and my family enjoyed eating it!!
This I would love to send to Hearth and soul volume #27 and Hope they like it.
I would also like to send this to MLLA #30 of Susan's hosted by Priya of Mharo Rajasthan's blog