Hi everybody, I do not know if my post will be accepted by priya as I am posting at the middle of the night, but I thought I must post this recipe as we all loved the dishes of Konganaadu which I picked up from Daily musings from indosungod, thank you very much for these recipes, only the beans poriyal was my creation, As I had used pavakkai, my little ones (big ones i mean!) don't like eating them but they know their cruel mom won't leave them !!, my friend Mr.H loved it, and my hubby loved the chutney the best, actually he kept the bowl with him for 2 days and we had to sneak it from him when we all sat to ate..!!, I love to participate in this cuisines as I have the opportunity to taste different flavours and types of food. well, as it is too late in the night I will just write the recipe down. I have just copied her recipe I might have done minute changes otherwise the recipe is same.
ARAICHA PAVAKKAI KUZHAMBU, RIDGE GOURD and CORIANDER CHUTNEY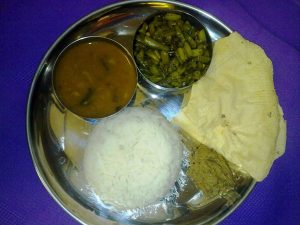 Ingredients:
300 gms Frozen Bitter gourd rounds or you can use fresh 3-4 medium sized bitter gourds cut into rounds as she says in her recipes.
1/2 Onion chopped roughly
3-4 pods of garlic (optional)
2 tbsp Jaggery (or as per taste)
1 red chilly split in half and seeds removed
1/2 cup of tamarind pulp
seasoning (1 tsp of mustard, cumin, methi, & 1 sprig of curry leaves)
PASTE:
1/2 cup pearl onion or 1 medium size red onion chopped roughly
2 tbsp corriander seeds
2 tsp cumin seeds
1 tsp pepper
2/3 red chillies fry the above in a little bit of oil and blend to a smooth paste
Optional 3 tbsp of grated coconut ground to a paste or 2 tbsp of pottukadalai (dalia) powdered or 6-8 almonds powdered ( I used pottukadalai 1 & 1/2 tbsp)
METHOD:
In a pan heat oil and add the seasonings followed by the red chillies.
Add Onion and fry till translucent. add the garlic and fry a little bit.
Add the bitter gourd pieces and fry till they turn soft, alternately bitter gourd pieces can be fried separately with a little oil and added here.
Add the ground mixture and salt and mix well and when it is boiling add the tamarind pulp close the lid and cook for 6-8 minutes
Add the jaggery and the optional coconut paste mixture and remove from the heat in 2-3 minutes.
Eat with hot rice and a dollop of ghee or a tsp of oil and enjoy it as we did.
RIDGE GOURD &CORIANDER CHUTNEY
Ingredients
Ridge Gourd peeled, deseeded and cubed
1/4 Onion chopped
handful coriander leaves
1/2 tbsp coriander seeds
2 Red chilies
1/2 tbsp Channa dal
2 tbsp grated coconut
a small piece of tamarind
salt to taste
METHOD
In a pan heat oil, roast the dal, coriander seeds and red chilies and set aside
Now add the onions and saute till translucent
add the ridge gourd and saute till cooked 1/2 a cup of water in

(here I used the whole ridge

gourd as I make chutney with the peel which I have already posted I did not waste anything from the vegetable so i cubed ridge gourd and cooked them in a small pan in a low flame and used it to grind the chutney and followed all the other steps

add the coriander leaves and saute for a second or two
Add the coconut, salt and cook for a couple more minutes till everything comes into one big mass.
Turn off heat, cool and blend.
This was very good, and we used it for 2 days as I had put an extra chillies which made the chutney quite hot !!
BEANS PORIYAL
I had some frozen beans which I decided to use as already said because of my kids and try to pasify them with a dry curry I thought I could push this pavakka dish in their plate, and it really worked out !!
Ingredients:
300 gms frozen beans chopped ( or substitute them with fresh ones)
2 tbsp of Rapseed oil
1 tsp of mustard seeds
1 tbsp of channa dal
1 tbsp of urad dal
1 sprig of curry leaves
a pinch of asafoetida
1 or 2 tbsp of green paste (see note)
salt to taste
2 to 3 tbsp of fresh grated coconut
METHOD
Heat oil in a wok, add mustard seeds, and dals and add the chopped beans with sprig of curry leaves and saute them
Once they are cooked add required quantity of salt and mix well and close the lid.
After 2 or 3 minutes add the green paste and mix well and saute them for another 10 minutes until they blend and the masala is absorbed by the beans .
Then add 2 to 3 tbsp of fresh grated coconut mix well leave for 3 minutes and serve.
NOTE: The Green paste is which I always have with me I use this in sandwiches and for making bhel and use it with my fresh grated salads sometimes. This is made with green chillies, coriander leaves, mint leaves & curry leaves. check my post on this.
I am sending this to RCI-Konganadu cuisine to Priya's easy and tasty recipes blog who is hosting this event.