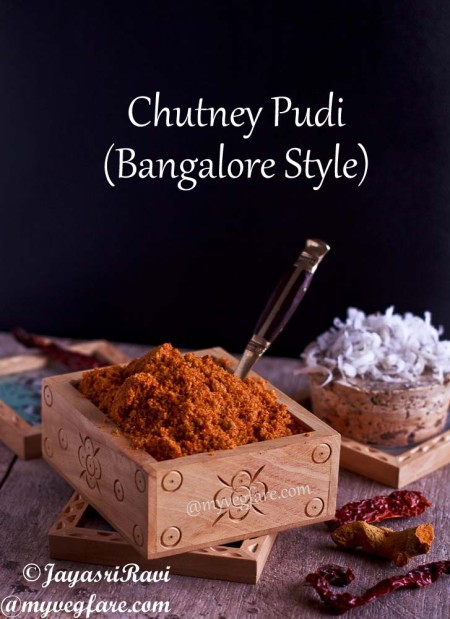 Absolutely yummilacious!!, You will never want to try one more recipe, divine taste, and gorgeous.., I could say a lot more to this chutney powder.  If you are from Bangalore, Karnataka, everybody would know of Subbamman Angadi in Gandhi Bazar and definitely would have bought this kind of chutney powder.  I can promise you this recipe beats that recipe. This is second version with this kind of chutney powder. The first one is here.  You would love that too..., But this one is outstanding.
Last time when I went home, I stayed in my sis home, her MIL who is also related to us in many ways!!, makes this chutney powder my kids had fallen in love with this.  She is a very good cook, and she thinks I am the good one, bless her, she asks me what do you do with this, with that vegetable and things like that :). Basically she is a fantastic lady, very helpful, very understanding and I could write a lot more about her. She has a special place in whole of the family and everybody loves her to bits.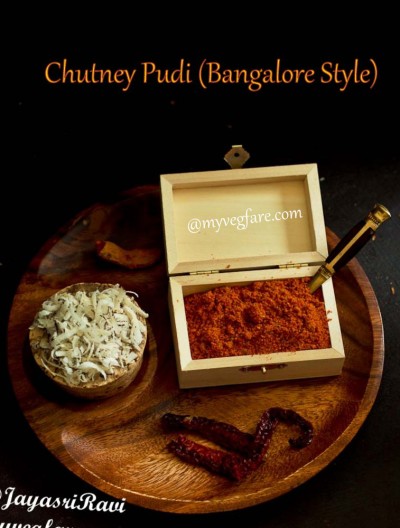 This post and this recipe is dedicated to her, she has a very special place in my Heart - I love you so much Leela aunty. The last time I was making this, I was chatting with Lata and told her I got tired of grating nearly a kg of Copra and my hands were paining, she asked me why are you grating so much, I said I miscalculated and I have ended up in making this Chutney pudi in Kgs!!. She thought I have gone completely bonkers.  Well, any way I made around 1 and 1/2  to 2kg of Chutney pudi I think, I did not measure, and it lasted more than 4 months.., I have to make it again, kids are demanding.., I got all the things only thing is I have to make it again (dreading to grate Copra though!!).
Here is the recipe details, hope you like it and enjoy it as we all do....
CHUTNEY PUDI - BANGALORE STYLE
Recipe source : Leela Aunty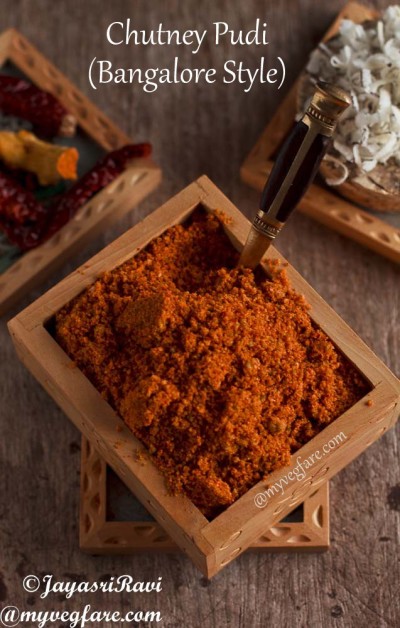 INGREDIENTS:
175 gms Channa dal (3/4 Pav)
115 gms Urad dal (1/2 + 2 tbsp Pav)
375 gms Copra/Dry Coconut
50 gms Guntur
50 gms Byadgi
12 gms Mustard seeds
40 gms Tamarind
1/2 cup / around 120 gms - Acchu Bella (Square Jaggery)
5 to 6 twigs of Curry leaves (around 1/4 cup)
2 gms of Hing/Asafoetida
1 and 1/2 tbsp Salt ( adjust accordingly)
Oil as required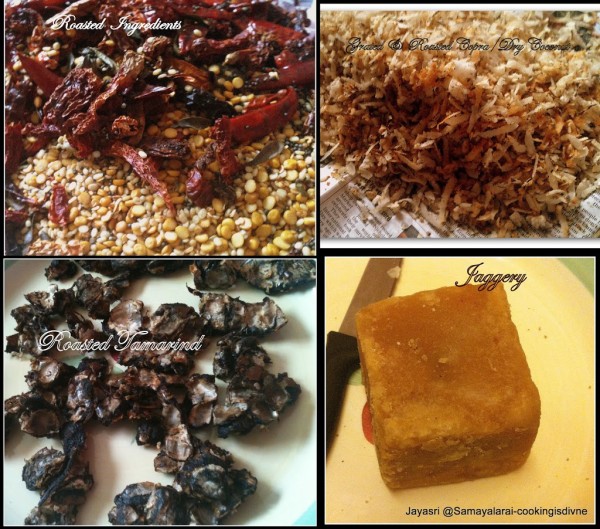 SEASONING:
2 to 3 tbsp of Oil
1 tsp Mustard seeds
METHOD:
In a pan with a tsp of oil, fry each one of the Ingredients separately and in a low flame.
When you are frying dals & mustard seeds, add Dry red chilies with them and fry this way, Frying only chilies will  give that spicy aroma, which is quite harsh, and makes your throat tickle and you might start coughing.
Frying chilies in portions with other ingredients makes it more subtle and easy to handle the Ghaatu (or harshness).
First of all add a 1/2 tsp of oil fry Channa dal to golden colour.
Next Urad dal with a 1/2 tsp of oil to golden colour.
Then fry Tamarind until they become too soft, when they cool down they harden up.
Then fry mustard seeds they too change colour to a darker colour and starts spluttering.
Then fry curry leaves
Then grate Jaggery and keep aside.
Grate Copra/Dry coconut and fry them without oil into a golden colour and keep aside.
Allow all the ingredients to cool down completely, this way your mixie will not get spoiled.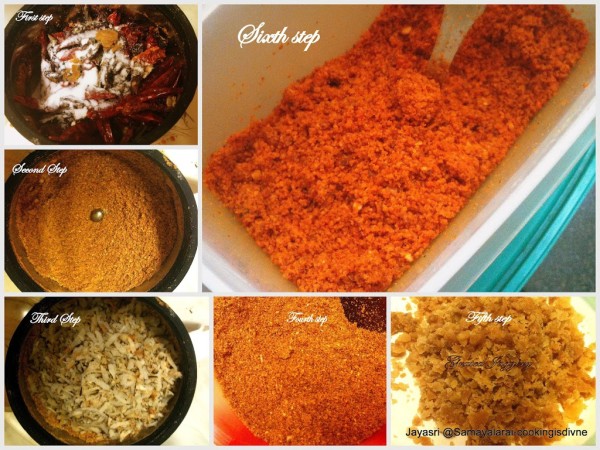 Now Mix them all together with Hing , and grind them in batches as it is a large quantity to a very coarse powder, then in the end with the last two batches Grind the ingredients first then with one batch add grated jaggery and give a little pulse just to ensure it is mixed, don't run it too much. Next  batch of the powder ingredients grind Copra with a pulse, that is quick movements, to the first setting for a minute, come back and run the mixie again for a minute this way it will not become too soft and too oily.
Take all the Grinded ingredients into a large bowl now add required quantity of salt, mix them well together with you hand so that every thing is well incorporated.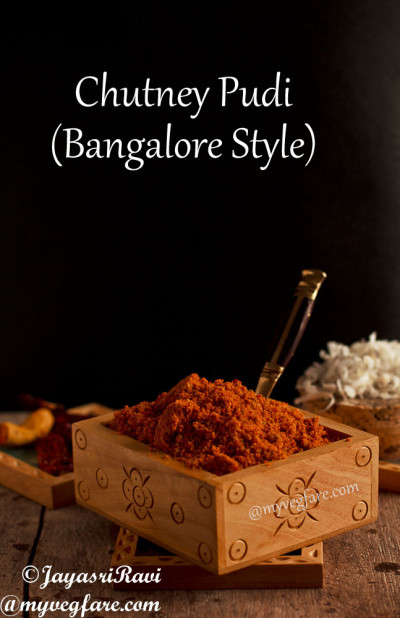 Taste and adjust Salt and give a thorough mix.
Heat a pan , heat oil then add mustard seeds when they splutter switch it off.  Give it few minutes so it cools down add this seasoning to the Chutney powder, Mix well again.
It is now ready to be served.
This Chutney powder is Semma tasty ( very tasty), goes very well with Idlis, Dosas, Chapatis, my fav is with Rottis (Akki or Ragi rotti).
You can even enjoy like my friend U who sits on my breakfast bar with my pickle and chutney powder in front of her puts little on her palm, and starts licking it up!!, she is regular customer for this powder especially!!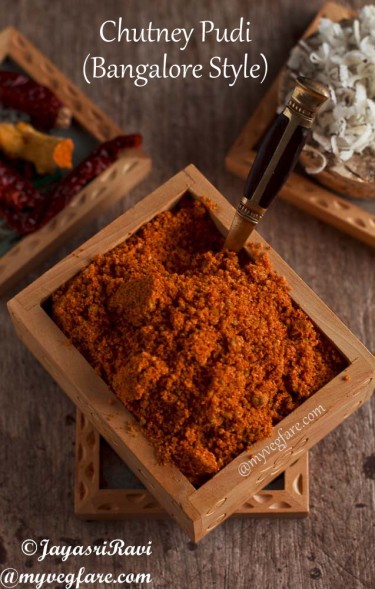 MY TIPS:
In Bangalore, you get powdered Tamarind, you can substitute that instead of Tamarind which is very easy process.
This Chutney powder is the second entry for my Blogging Marathon started by Srivalli, check out all my other friends who are running this marathon with me.., Hope my friends and you all enjoy this as much as we do...
adieu.., c u soon with an other recipe....
Take an other look at my Chutney powder and I will sign off...
An update for this post:
As everybody is asking me what are those two different chilies I have and always have used in many of my recipes, I would like to elaborate about them a bit..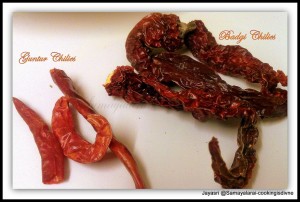 BYADGI CHILIES: It is very popular chili from Karnataka, It is grown in Byadgi town, in Haveri district of Karnataka. These chilies are crooked in shape and long, they give a deep colour to the dishes and mild in flavour.  These chilies have are not too spicy and gives a sweetness to the dish (don't get confused they are spicy too but not as spicy as the other varities - more like kashmiri chilies you can substitute kashmiri chillies )
GUNTUR CHILIES: These chilies are grown in Guntur, Andra pradesh, they are very spicy, you can see it in the left side of the photo.
So I usually combine both it to give the rich colour to the end product!!.., If are anytime in Bangalore get these Byadgi chilies and try it in your dishes you will notice the difference.  As I don't get them here I bring it from India!. You can only use just the Byadgi chilies and you will see the difference you find with the colour and the taste of the dish!
Try it out and tell me if you liked it....
As some of you have been asking me about Jaggery, I am doing an other update you can try using any other kind - I have give few links I found googling click on them.
Jaggery / Goor / Bella . I have found that you get in powder / block and some other forms. You just have to break them down. I measured the 1/2 cup jaggery which I had mentioned and weighed it was around 120 gms.  Hope this helps
Check out the Blogging Marathon page for the other Blogging Marathoners doing BM#15