Hi friends, I know I am a few minutes late for my Daring Baker's challenge posting !! :), that's me always late for everything, But, But, just a second I posted in the forum right on time!! exactly 2 minutes before midnight!!.
This month April 2010 Daring Baker's Challenge was hosted by Esther of The Lilac Kitchen, she challenged everyone to make a traditional British pudding using if possible a very British ingredients Suet!!!.
Well, well, well this was a difficult situation I was in and few more like me who are vegetarians and vegans, as Suet is made from meat!!, Even though here they sell a vegetable suet by Atora, I had never tried it and really did not know how it works, May be someday I might give it a try!!, But then Esther, was a wonderful host who wanted all of us to participate and was she flexible, yes!!, she was very !!!, she wrote that she wanted all of us to bake I mean Steam away or Bake or however you know how to make a pudding!!, and yes here we go we all had free reins so we could just make whatever we wanted!!
If you are interested on how the suet is made check out in Esther's blog or visit the main Kitchen where loads of our Daring bakers have contributed to stuning puddings to feast your eyes!!
I just wanted it to be atleast in something realtively near so I really wanted to Steam and see how the pudding tastes and looks!!, I was so surprised that it turned out very well..., Here is my pudding recipe...
This recipe after searching so many books I found this one, which attracted me for two reasons one by the look of it and the other was it had dates in it!! The most loved dry fruit by me....!!!,This book is a collection of Desserts and doesn't have an author.., whoever found this one won my heart and of course my family and friends who enjoyed it, especially my H who said, it was simply Gorgeous and had a generous second helping !!! as it was quite sweet...
Sorry once again I have to apologise the not-too-tempting-clicks!!, But they were really too yummy!!, you all must give it a try.
CHOCOLATE, ORANGE AND DATES PUDDING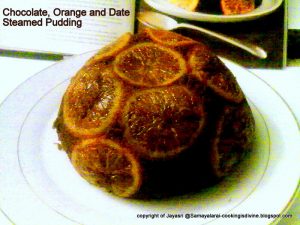 INGREDIENTS
:
100 gms Golden Caster Sugar
2-3 Seedless Oranges
200gms Unsalted butter, softened
200 gms Dark Muscovado sugar
Finely grated zest of 1 unwaxed Oranges
( I used 2 tbsp
)
3 tbsp of fine-cut Orange Marmalade
( I used home-made Marmalade from my previous recipe)
3 Eggs beaten
1 tbsp Orange-Flower water (Optional)
150 gms Plain Flour
(I used 100 gms Plain flour + 50 gms Quinoa Flour)
50 gms Unsweetened Cocoa powder
2 tsp of Baking Powder
150 gms ready-to-eat dates, chopped
Served 7 !!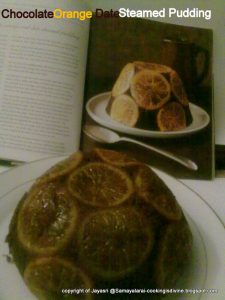 First make a sugar syrup, pour 150 ml water into a small sauce pan and add the caster sugar. Cook over gentle heat until dissolved.
Slice each Orange thinly into about 6 neat slices. Submerge them in the sugar syrup. set a disc of non-stick grease proof paper on top and simmer gently for 30-40 minutes. Lift the Oranges out with a slotted spoon and drain on a wire rack. Boil the syrup until reduced by half.
Line the base of the pudding basin with a disc of non-stick greaseproof paper. Place the best Orange slice on top of the disc, and use the rest of the slices to line the sides of the basin.
In a large bowl, cream the butter, muscovado sugar and orange zest using an elctric whisk, until light and fluffy.
Beat in the marmalade, then gradually beat in the eggs and orange-flower water, if using, mixing well between each addition. Sift the floour, cocoa and baking powder into the egg mixture and fold in. Finally fold in the dates.
Spoon the mixture into the basin, It should come about three-quarters of the way up the sides. Smoot the surface and cover with a disc of non-stick greaseproof paper. Take a large sheet of aluminium foil and fold it in half. Make a pleat in the centre. Press the foil over the side of the basin with the pleat in the centre. Press the foil over the side of the basin, tie around the top with string and trim away any excess foil.
The pleat will open out and allow the pudding to expand during cooking.
Stand the basin on a trivet in a large, deep pan and add enoough water to come at least 5 cm up the sides. Cover with a lid and simmer gently for 2 hours, topping up the water level from time to time.
Remove the foil and disc and insert a skewer into the centre of the pudding. If it doesn't come out clean, re-cover and steam for a little longer. Run a knife around the sides, turn out onto a dish and brush with syrup. Serve with what ever you enjoy!!!!.
VERDICT
: I just loved Steaming this pudding as I had never done this before, Every one loved it!!, I used my pressure cooker to steam this pudding, I did not have a pudding bowl, so I steamed it in a pyrex bowl!!
I served with my Home made Mascarpone cheese, which I had learnt it in previous Tiramisu (which I did not make !!, just made the cheese) Daring Baker's challenge.
Home Made Mascarpone cheese cre'me:
50 gms Mascarpone cheese
150 ml Double cream
50 gms Icing sugar
I softened the cheese, mixed it with Icing sugar and added the creame and thoroughly beat into a soft sweet cream.
Here are some more clicks of my lovely chocolatey, orangy dates pudding....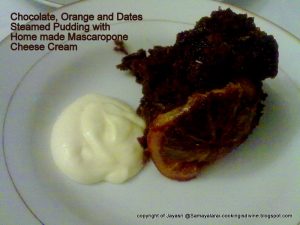 Digging into my lovely pudding and served with the cre'me, rather poured it on it!!, which was just out of the steamer and was quite warm... Mmm.....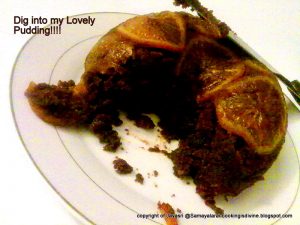 This was one nice click ( :)))) so I say!!, this was really how it looked like... Absolutely Gorgeous and yummy....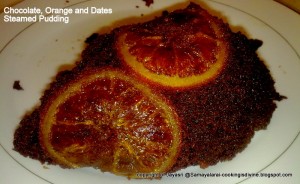 My kids were saying it just tasted like the Orange chocolates sold exclusive only in UK, which is just like the orange segments, as if you are peeling an Orange, So if you ever come to UK, do not forget to buy these Orangy chocolates.., as I heard from lot of people that you can get it nowhere!!
Enjoy!!!