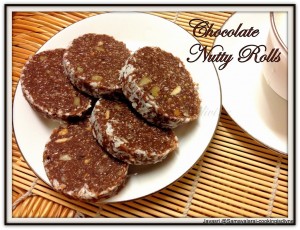 Hi Everybody, Hope you are all doing well, It's so cold and a very wet weather here, hope you all have a wonderful weather out there, It's been quite a long time I participated in Blog Hop Wednesday started by Radhika of Tickling palates, I have joined back again to enjoy this fun game. It's fun to be a part of this group, as I love trying new recipes from other blogs, this is a great opportunity to enjoy everybody's blog, this time I was grouped with Lazy cooks Kitchen by Simran.
She has a lovely blog with varied recipes, she is a good baker with lot of lovely designed cakes, she writes very nicely and I enjoyed browsing through her recipes. I selected this recipe as it was quite different and thought my kids would love it.., It's so easy to make and not too sweet, A simple and delicious recipe.
She calls it Chocolate Salami, I did not want to call it so, as it has a Non-vegetarian name, reading through lot of blogs, books and shows I have heard and read people asking why do you need to use fake meat, fake names if you are a vegetarian, so I don't want anybody saying so.
I have tweaked a bit in this recipe like I have reduced butter, added more nuts and used evaporated milk as I was short of condensed milk, Here goes the recipe hope you all enjoy trying so…
CHOCOLATE NUTTY ROLLS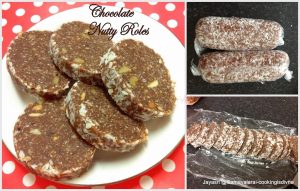 INGREDIENTS:
1/2 Cup Condensed Milk
1/2 Cup Evaporated Milk
100 grms Digestive Biscuits
3 tbsp Cocoa powder
1/2 + 2 tbsp Dessicated Coconut
1/4 Cup Sweetened dessicated Coconut
150 grms Nuts ( Mixture of Cahews, Walnuts, Almonds, Roasted Peanuts and Pistachios)
25 grms + 2 to 3 tbsp unsalted Butter
1 or 2 tbsp water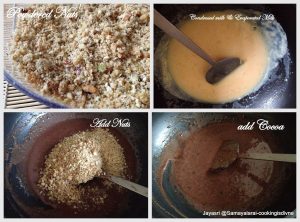 METHOD:
First of all chop all the nuts using a mixie / food processor or by hand.
Take a Deep Pan / Wok (thick bottom), add both the Milk and start heating it up in a low flame and stir continuously other it will start thickening at the bottom.
Then dissolve Cocoa powder in 1 or 2 tbsp of water (which I didn't do as you can see so I had to use the back of a spoon to dissolve it completely) add it to the cooking milks.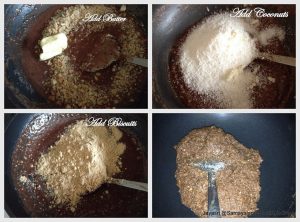 Then add Roasted and Chopped nuts to it and mix well,
Then add powdered digestive Biscuits and mix well and add Butter
Next add Dessciated Coconut and mix well it becomes thick by this time, add an extra 1 or 2 tbsp Butter and keep stirring for an other few minutes until it doesn't stick to the bottom and comes out clean Keep the flame low, this way you will not burn the mixture.
Take it out and place it in a bowl, until it easy to handle, but still warm.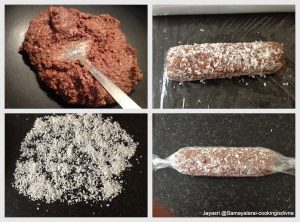 Then spread sweetened coconut on your kitchen slab, I divided the mixture into two parts, Roll each part on the spread coconut and roll it over so it coats completely.
Then spread a Cling film place each of the rolls and cover them completely and twist both the ends and freeze it for at least an hour
Take them out and cut them into discs and serve.
MY VERDICT:
This chocolate rolls were not too sweet, kids were not happy with walnuts, if you have a sweet tooth use condensed milk completely or other wise add some sugar which would bring out the sweetness. They were very tasty and delicious..
Check out Radhika's blog other bloggers Blog hop…