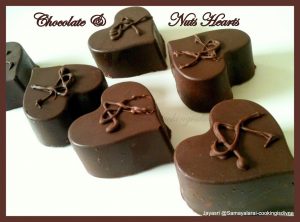 Hi everybody, can you believe I just made my assignment just now this month, I wanted to make it today, as today my dear girl turns 18 :), Yup.., My daughter is eighteen and I can't still able to digest this..., My Angel, My little girl is all grown up. I have been is so busy from morning , I still have to cook, I still have to make her favourite cake, Pulav, Manchurian and her Gulab Jamoons.., so now you know my menu for today.., that is all her wish and doesn't want anything else! , she is not a chocolate person.., but other family members are die hard fans of chocolate, So not to make them feel bad we decided to go for this one.., The only thing she wanted me to do was write her initials on everything i make for her today!, silly girl.., Anyway I have done as you can see. It was quite in a hurry I made all these, I was so tensed thinking last minute if I don't do this properly Amanda is going to kick me out of the club and a blog will be orphaned!, Oh! my No.., thanks to Heather this quick recipe turned out perfectly.., (not exactly there were little tiny holes though).
Sorry I need to get back to this posting right ? well, today is SRC .., The Secret Recipe Club of Amanda's has grown up to a very big family and has hostesses to take care of her little club grown to be a big one now.., This month I was assigned to It's Yummy to my tummy of Heather's from my Hostess Suzanne who blogs at Thru the Bugs on my wind shield.
Heather is such a sweet heart having two little kids she finds her way through cooking from lot of sources and a baker just like me.., she loves baking and shares it with her friends.., I wanted to try her pumpkin scones and few others but my daughter wanted me to try this out. I just couldn't say no to her as it is her day to day.., She has tried and tested lots of recipes.., hop on to her blog and check out some fabulous recipes you may want to try out!
Coming to the recipe.., it was a very easy one, only thing I had to restrain from myself was not trying to lick them of my fingers.., even though I am not a big fan of chocolate, I like dark chocolates the chocolates I have used here are 70% Cocoa Lindt chocolate and Swiss Milk Chocolates.
Here goes the Recipe hope you all enjoy just as we did and enjoy the whole group who have tried out many reicpes you might like to give a peek..., I made a little change or should I say addition to the recipe, just to make it more healthier., even thought it is not completely made of chocolate..
CHOCOLATES AND NUTS SWEET HEARTS


INGREDIENTS:
FOR THE CHOCOLATE COATING:
8 oz Semi Sweet Chocolate ( I used 70% Cocoa Lindt)
8 oz Milk Chocolate ( I used Swiss Chocolate)
1 tbsp Shortening
FOR THE FILLING
1/2 Cup Chunky Peanut butter
2tbsp Unsalted butter
3/4th Cup Nuts ( Pecan, Pistachio and Hazelnuts)
1/8th tsp salt (I just omitted)
3/4th Cuip Powdered Sugar
2 tbsp Honey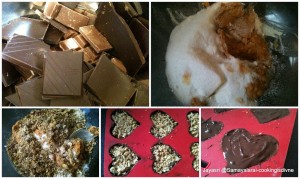 METHOD
First of all in a double boiler method or in a microwaveable method ( 20 -30 seconds) melt both the chocolates with the shortening, I used double boiler method as i was multi tasking. Keep a bowl with quarter of water say around 1or 2 cups and allow it boil, meanwhile chop or break into pieces your chocolates into an other bowl with the shortening then keep this bowl on top of the boiling water bowl, before keeping completely reduce the flame, it should be simmering, place the chocolate bowl and start mixing, slowly it would have started dissolving completely.., Meanwhile when this process is going on....
I took the extra nuts I used chopped them up and gave a toss on a tawa (girdle) with 2 tbsp of Honey and lightly roasted them for few minutes and kept them aside.
Meanwhile take an other bowl add peanut butter, butter, chopped and honey roasted Nuts and powdered sugar and mix them well completely well combined, Keep it aside.
Now take whatever desired pan, cup liners of any shapes and sizes you would want to make these and line them with melted chocolate paste.., She says coat them up completely so the peanut butter filling doesn't peep out.., for that she had refrigerated the liners for few minutes so she was sure.., I took her advice because mine was a lot more filling and the Heart shape I used were quite big.
So I coated them and left them in the fridge for few minutes when I took them out they were almost getting to dry, Now I spooned the filling up to the brim, and poured the chocolate over the filling, I still had lot of chocolate left over!, I think my coating of the chocolate was quite thin.., Just now when I was typing I realised, well it has not gone for a waste as I am using it for my daughter's birthday cake!.
Thank you Heather, Suzanne and Amanda for making this a success... , do you want to join click here