This was the most delicious bread I tasted after my Milk bread, I am not a chocolate person, people don't believe and my kids think I am weird because I don't get tempted by chocolates!!, The only time I get tempted for eating something sweet when I get my sweet cravings!!, The sweet I get here to eat immediately is chocolate and the only chocolate I feel like eating is snickers, as it has got some nuts in it!!, As I am  nuts over all the nuts in the world!!, I love nuts in Ice creams, cakes, sweets, chocolates etc., etc.,.
Coming back to the recipe and stopping me, talking nuts!!, This Bread I got it from collection of books, but there was no recipe in it!!, howzthat?, I was quite upset, I wanted to try this out and wanted to send it Jamie's  Bread and chocolate event, for her Monthly mingle started by Meeta, of what's for Lunch Honey. I started Googling for this recipe, I went through so many recipes but I got attracted to this when I stumbled across this blog, Two Fat Alas, started by Alana and Alex!!, they have a lovely blog, must see space!!,  Of course needless to say, the recipe I just adopted from their blog, was really good and girls we all loved it!!, many thanks to the recipe.
Babka, is said to be basically a sweet yeast bread (cake ?), I just couldn't understand, but this yeast bread is said to be from the border of Russia, somewhere from poland (minsk) I think, but, from where ever its origin is, it is absolutely a wonderful bread.
Alanna, says that when she had this bread first time, she got sick, then she says, it might be something else too!!, Because she says when she tried it again she was fine, when I was reading it, I thought she might have had felt might be because of too much of cinnamon powder in it, As we all Indians know when we use cinnamon we use it in very little quantities, for a lovely aroma, and a taste to the dish, So, thinking about this the only change I made to this recipe was I used just 2 tbsps, that is 1 tbsp for each loaf of Bread, That smell of cinnamon was completely filled the house, and I should say, even though I am not a bread person, I couldn't resist and kept eating it, and my kids loved it!!.
As always I couldn't  get a good photo of this bread, My kids clicked the one whole loaf and the other sliced!!
CHOCOLATE BABKA BREAD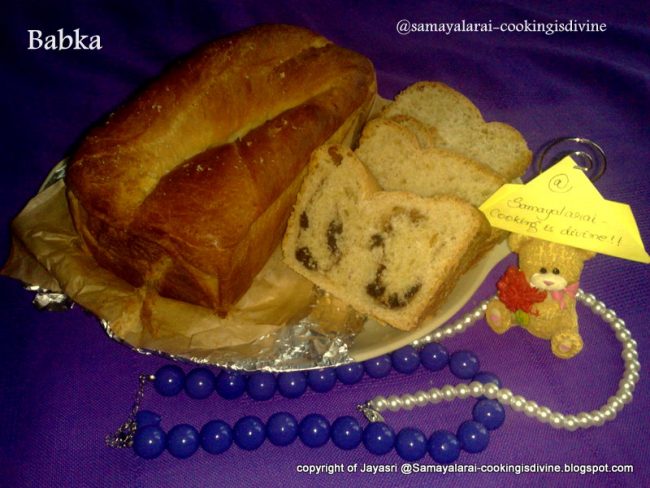 INGREDIENTS:
3/4 th Cup Warm Milk
1/2 Cup sugar + 2 extra tsp
3 tsp active dried yeast
3 1/4 Cup All Purpose Flour
2 Eggs
1 Egg yolk
1 tsp Vanilla
3/4 tsp salt
1 1/4 sticks Unsalted butter
5 tbsp Unsalted butter
8 oz bittersweet chocolate chopped
1/4 Cup sugar
1/4 Cup Cinnamon

EGG WASH
1 Tbsp milk
1 Egg yolk

METHOD:
Stir together warm milk and 2 tsp of Sugar in a large bowl.  Sprinkle yeast over the mixture and let it stand until foamy, it took around 1/2 an hour for me, Add 1/2 cup flour and beat together until combined.
Then Add whole eggs, yolk, vanilla, salt, and remaining 1/2 cup sugar and continue to mix together well combined, Adding little by little flour, Then mix the softened butter, little by little and continue to mix well, until the dough is shiny and soft.The dough will be very soft and sticky, and very soft to handle, I kept dipping my hand into the flour to really handle the dough, Then put the dough in a lightly oiled bowl, and cover it with a plastic wrap, and allow it to rise until doubled in size.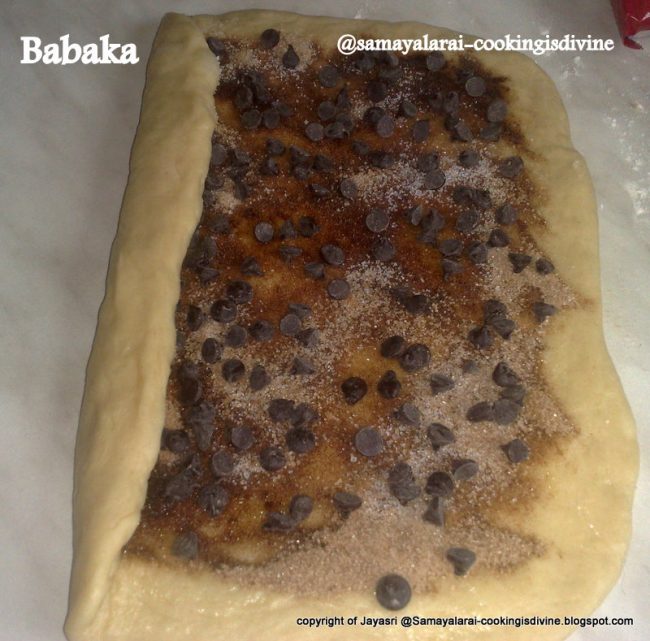 This is where my patience works, when I wrote about my Milk bread, I just left it in a warm place maybe 6 to 7 hours I think, until it was really double in size, One thing I have learnt in Baking bread is never messed with the process if you want it, how you want it to be!!.
Meanwhile, I lined two loaf pans with parchment papers, I took the well-risen dough and gave a punch, then divide it in half, Rolled out one piece into a 18x10 -inch rectangle, with the long edge nearest you, like shown in the picture below. Spread butter on the dough, leaving 1/2 -inch border all around. Sprinkle chocolate over the buttered dough, I used chocolate chips, then sprinkled with half of sugar and cinnamon. Starting with long side farthest from you, roll dough into a snug log, pinching to seal.  Twist entire ring twice to form a double figure 8 and fit into one of lined loaf pans.  Repeat with remaining dough, chill egg wash and loosely cover pans.
Allow the dough rise again, until it is above the loaf pans, then bake in an oven preheated to 350 for about 40 minutes, until the tops are a Golden brown, Allow it cool for 5 minutes in the pans, then remove when they are cool.
Alanna used an egg wash around the dough to seal the bread, and she asks to pinch the end, I mean to seal it well, so the fillings won't ooze out, check out the above link for the recipe and her write up and explanation too.
This bread goes to Jamie's
Monthly Mingle
event, Chocolate and Bread, started by
Meeta of what's for lunch honey
, and this is
yeast spotted
too...,I wonder if I am allowed in this mingle, as the rules say I have to post this with 2 other events, which I have not done!!, anyways I loved this bread and enjoyed and it is to you, Jamie.
First time I have successfully tried to put this logo too  🙂