Hi everybody, hope you are all doing well, I am quite happy too, I had a heavy rainfall just an hour back and suddenly I see sun shining in full galore now :), this is British weather !, When I came here first everybody would start talking to you with weather first!, I wondered and then I came to know why ?!, As my friend Emma said welcome to British weather, you can 4 different seasons in a day!, Oh! yes I did, yesterday it was so windy I thought I might fly off, It was such a ghastly, howling wind, when I got up in the morning it was pouring down, I was quite upset, now its replaced with sunshine and the wind. I really am talking too much about this right ?. let me stop and come to my recipe.
I had to post this 5 days back, basically I thought I will post it on the 8th which never happened, stuck with lot of things, to tell you the truth I had completely forgotten this team of bakers ''Sweet Punch'', it just happens isn't it, when your health keeps punching you often, I forget lot of things and priorities automatically change. when I saw the first post in my mail, I was very upset that I had forgotten and immediately set out to make this lovely biscotti, and decided I will post it the next day! and the next day slowly changed to 6 days!.
well, anyways here I am, I tweaked this recipe a little bit, just to make it more healthier, when ever I bake I try not to use plain flour as much as possible but not completely as because of its gluten content and use different flours as well, other wise recipe is just the same, If you have sweet tooth, I would suggest you can add more sugar, I really don't know if it works pretty well with plain flour, my kids said I could have added more sugar, but for me it was perfect.
Biscotti is an Italian cuisine : the Wiki gives you a detailed information on this....check out...
Biscotti (pronounced /bɪˈskɒti/, Italian pronunciation: [bisˈkɔtti]) more correctly known as biscotti di Prato (English: biscuits of Prato), also known as cantuccini(English: corners), are a twice-baked cake originating in the Italian city of Prato. The cakes are large almond biscuits, made dry and crunchy through cutting the loaf of dough while still hot and fresh from baking in the oven.


This is my first time with sweet punch and the september theme was ''Chocolate Almond Biscotti'' from Joy of baking, I had already made a biscotti with different flavours and eggless, I was into this as I love Joy of baking and my kids like these crunchy cakes and eat them as snacks when they come back from school. It's been quite sometime I made anything with egg, so I thought why not 🙂
CHOCOLATE ALMOND BISCOTTI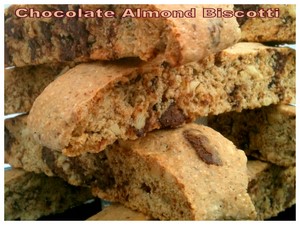 INGREDIENTS:
makes about 16 pieces
110 gms (3/4th Cup) Blanched whole Almonds
135 gms (2/3 cup) Sugar
2 Large Eggs
1 tsp Vanilla Extract
1 tsp Baking powder
1/4 tsp salt
100 gms Plain flour
60 gms whole grain Rye flour
65 gms Oat flour ( Morn flake powdered in mixie)
100 gms Semi sweet chocolate
(Original recipe calls for 225gms/ 1 3/4th cup Plain flour)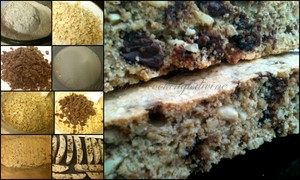 My daughter clicked this close up from iphone!
METHOD:
As I had no ready made toasted almonds, I soaked almonds in hot water for 10 minutes, then peeled the skin off and spread it on a baking sheet set the oven to 180 degrees/Gas mark 5 and toasted it for 8-10 minutes until light golden and fragrant, and set aside. Once cool chop them into pieces
Take a baking sheet and line the parchment paper.
Preheat the oven to 180 degrees/Gas mark 5/350 d F
In a bowl I took all the flours, salt and Baking powder and combined them well together and then sieved them twice, just to make sure they are well mixed.
In a large bowl, I whisked 2 Eggs and sugar until thick fluffy, the batter from the beater should fall in ribbons, at this point beat in vanilla extract.
Now add the flours, combine well then fold in chopped almonds and chocolate.
Transfer this dough on to the parchment lined baking sheet and form into a log, about 12'' long and 3 1/2'' wide, as you can see in my photo, I just dumped on to the sheet and with wet hands I pressed them down into that shape (that's what happens when you don't plan and bake late in the night!).
You have to dampen your hands to form a log as the dough is quite sticky!!
Bake for 25 minutes or until firm to touch, then remove it from the oven and let it cool on a wire rack for about 10 minutes.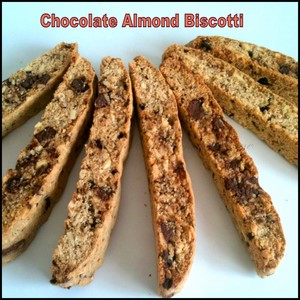 Meanwhile Reduce your oven temperature to 165 degrees/Gas Mark 3/325 d F, Cut the baked log into 3/4'' slices on the diagonal. Place these biscotti cut side down, on the baking sheet and bake further for about 10 minutes then turn them over again and bake for another 10 minutes or until golden brown.
Remove from oven and allow it cool and store it an air tight container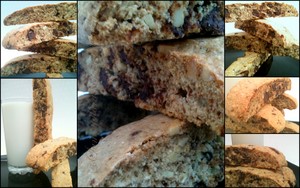 These are all the clicks my daughter took, I couldn't bin them as I told until you take photos no eating, she was so upset with me, she couldn't resist broke some pieces though, the smell was making them want to taste it :), they had no fat at all, such a guilt free recipe.
I had made a Biscotti long back, an eggless one, I will definitely post it soon check out...