Life has been a wee bit busy when kids came for their holidays in December, they did not want to go back at all, that's what Home is for you.  Its lot of things you get at home, no need to cook, clean, wash etc., they now know what they are missing.  Sometimes I feel sad for them but they have become very independent and am proud of them. In between I am trying to build my blog which seems to be taking a lot of my time.  Someday soon I will be completely ready with my site.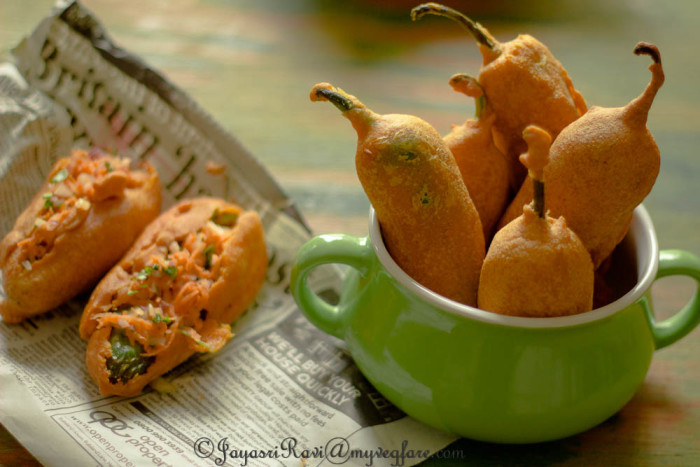 Today is a spicy treat from my veggie garden.  Well, I can't say if this is everybody's cup of tea, but if you love spicy food this is definitely a treat. You can also make it spicy or not too spicy if you choose but definitely something you would enjoy with your cup of chai ya coffee.  Most of the food I cook brings back memories which are sometimes nostalgic, some are funny & some bring a warm smile on my face like this one.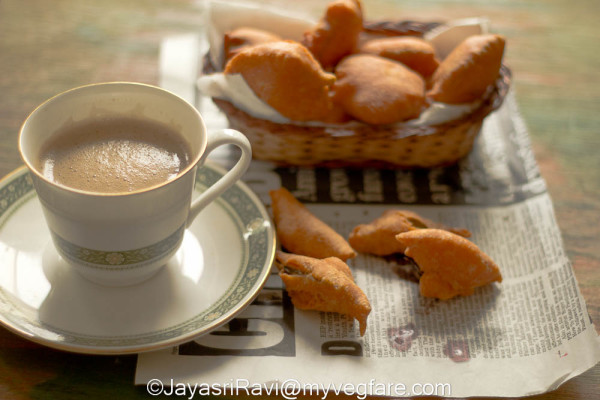 The  smell of the first rain drops on the soil which I call it the earthy smell, I would run out and inhale the smell it imparts, something nostalgic about it, brings out lots of memories.  When I was a little kid we used to make paper boats & later on when I had my kids I used to make pater boats for them to play with, we used to run  outside in the garden or on to the road, trying to find little streams or where we could see the  water flow so we could sail our boats and enjoy every minute of it, If there was a heavy down pour and our boats drowned or soaked we wouldn't mind or disheartened we would make more boats!,  I know it is bringing back your memories isn't it ?  Mmmh..
When I think of all Bhajjis & Bondas it reminds me of all those days in Bangalore, especially when it is monsoon, Ice creams is another delight I used to enjoy when it rained, what a combo.  These days fried snacks are a far away delicacy which I try not to indulge in. I have not been a big fan of fried foods, too much oil & my hunger disappears, I have always been a bit of health conscious not a health freak as I love eating but everything in moderate. I do care about oily food a bit more so deep fried is always a second thought especially when feeding my kids,  Now a days my teenage kids very rarely ask me for fried snacks, they like everything bake
In Bangalore, I used to live in Gandhi Bazar, there are some famous food joints their. But, all little joints are the best place to eat, have you ever tried? There is a little place at the end on DVG road, under a shop, I don't know if he is still there, he had a little joint and this man used to make amazing Bondas, Bhajjis, & Masala vadas etc.., I can't remember what other things he was making but he used to stay just for 2 to 3 hours and it would be so busy.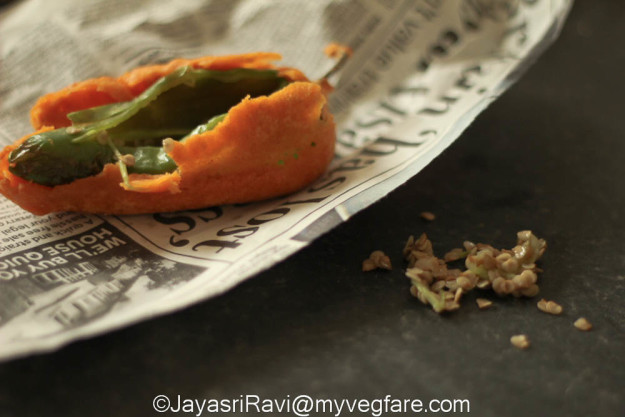 Those are the days which we used to enjoy so much. Once the rain stopped know tor if it was a cold winter evening, eating these was one of my favourite, the most I ate I think was when I was pregnant with my first child, I craved to eat very spicy chilli Bhajjis.  You can see I have made Bhajjis with Doddapatre (Coleus Aromaticus) & Costus Pictus , I don't know their common names  though , making bajjis you have to follow the same method, This same method you can use in  making  Potato,  Chayote, Ridge Gourd etc..,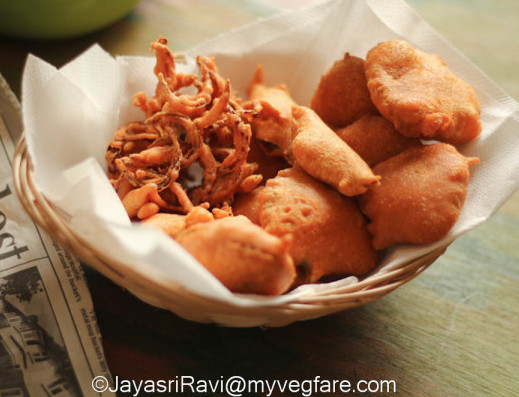 Chilli Bhajji / Molaga Bhajji / Menasinkaayi Bhajji
Absolutely addictive, spicy and tasty can't stop with one, of course not a healthy treat, as it is deep fried, Vegan, Gluten free.
Ingredients
FOR THE BATTER

Tempura Batter

1 Cup Gram flour

chick pea flour

1/3

Cup

Rice flour

2

tbsp

Corn flour

2

tsp

Chilli powder*

pinch

of Asafoetida

2

tbsp

hot oil

1

tsp

salt*

water as needed

Oil for deep frying as needed

VEGGIES FOR THE BAJJIS

6 to 7

Chilli Bajjis / Banana Peppers

6 to 7

Doddapatre

1

Onion

FILLING

Grate 1 or 2 Carrots

2

medium sized Onions

3 to 4

sprigs of coriander leaves

1/4

tsp

of Chilli powder

1

tsp

of Chat masala powder

2 to 3

pinches

of salt / or as per taste
Instructions
Take all the Ingredients for the batter in a bowl and add water as required, the batter should be in between Dosa (Pancake) & Idli batter consistency, It should not be thin nor thick.

I have said hot oil; when you are preparing the batter, heat oil in a pan, take 2 tbsp of this oil when it is hot add this to the batter, this makes the Bhajjis more crispier.

Dip the chillis one by one coat it well and drop into the hot oil and fry it to golden colour.

The same way wash the leaves wipe clean and dip them in the batter and deep fry.

How to make the filling (stuffing) for thesey chillies:

Slit open once the bhajjis which have come out of the oil, and drain in on a kitchen towel, Mix all the ingredients from the above said list, check the taste increase or decrease spices as per your preference, fill this filling in the slit open Bhajjis and enjoy.
Notes
Some things to Note:
The coating or the batter consistency is for just 6 to 7 Bhajjis, you can keep increasing the same proportion of ingredients to fry more Bhajjis
Adding Hot oil to the batter makes crispy Bhajjis.
I usually cut an onion in the end to mix with the left over batter which makes crispy pakoras