It was one of those Saturdays, I was really lazy to cook anything, I wasn't sure what I was going to make I had some soaked Chick Pea or Garbanzo beans, I decided I was going to use this and finish and get out of the kitchen soon, made this chick pea Dal and we ate it with lot of cucumber, cherry tomatoes and onion to go with the pulkas, all the four of us had a hearty brunch (breakfast + lunch) and I had a cup of nice strong tea and kids had an orange juice and enjoyed a movie which my kids wanted me to watch it was called pink panther !!, well, it was a nice entertaining movie.
But, now and then they keep watching the same movie saying all the time, mummy likes it !!, she enjoyed it, shall we watch again, I feel like crying now..., Once or twice is ok not the same thing again and again.., these kids have got a list of movies which they never get bored to watch, like the King Kong, Godzilla, Jurassic park series, Pink Panther I and II, Iron man, James Bond series.. etc., I sometimes scream, when it goes on and on again.
Sorry for bugging, let me come back to the recipe, this is a very simple recipe...and here it goes...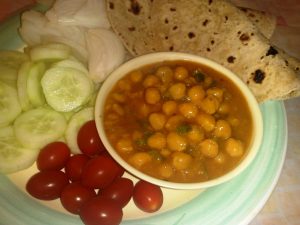 Ingredients:
1 cup pre-soaked chick peas (I used tinned)
2 medium sized tomato
1 medium sized onion
2 to 3 pods of garlic
1'' ginger
4 to 5 green chillies
1/4 cup green gram dal
1 medium sized potato
1/2 tsp turmeric powder
1 tsp coriander powder
1/2 tsp cumin powder
1/2 tsp chilli powder
1 sprig curry leaves
5 to 6 sprigs of coriander leaves
salt as required
5 to 6 tbsp of oil
I used already cooked chick peas in a tinned can but you can use pre-soaked chick peas, soak chick-peas previous day or 6 to 7 hours with a bit of Baking soda (optional) helps the peas to cook very soft and green gram Dal
cook the green gram dal with turmeric and potato with enough water so that the dal cooks well and mash the dals & potato nicely . (Don't forget to peel the skin of the potato).
chop the onions, tomatoes, green chillies and garlic pods, Take a wok pour a tsp of oil add the chopped green chillies fry, then add chopped garlic and onion fry until they turn transparent and fry the chopped tomatoes until it is cooked well grind them into a smooth paste with ginger and keep aside.
Take a wok heat 3 to 4 tbsp of oil and a tsp of mustard seeds when it splutters add the ground paste and fry nicely until the oil separates out.
Then add all the masala powders and fry for 2 to 3 minutes then add the cooked chick peas and the cooked dal and mix well
Allow it to cook well together so the masala powders are well absorbed by the chick peas & dal. Add the required amount of salt
Just remember if you have used salt when cooking the chick peas be careful when adding salt.
Add water if necessary as you would have used water of the chick peas too.
Make it into a gravy .
Then garnish with washed finely chopped fresh coriander leaves
Serve it with a touch of lime juice which is optional with pulkas or chapatis or nans
PS:
Here I would like to share a little tip, as I do not like to use too much of oil, I always fry the ingredients which I use to grind before hand so the water in them is evaporated and when I make the gravy I would not be needing too much oil. As we know if we add the smooth paste of the raw ingredients and then fry until the oil separates out it requires more of oil and also too much time consuming, but it makes the dish more tastier just like you eat in the restaurants.