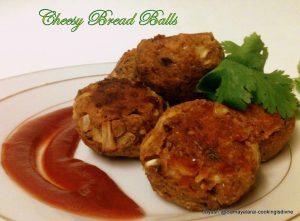 Hi everybody, Hope you all had a wonderful Yugadi, Gudi padwa..., I too had a lovely time, had friends and family around and enjoyed a good festival feast too.., that is why I late in posting today's Kid's delight - easy to make under 30 minutes.
I will go straight to the recipe today.., as always I made this in a hurry.., planned something and made something.., I thought of making burger or cutlet, and when I saw the time.., I knew I could never make it, my children will be here soon.., so I changed the whole concept, so here goes the recipe..
CHEESY BREAD BALLS


INGREDIENTS:
2 Cups Bread crumbs (I used around 8 to 9 bread slices)
3 Tomatoes
1/2 cup grated cheese
4 to 5 Green chillies
2 Medium sized Onions
5 to 6 stalks of Coriander leaves
1 stalk of curry leaves
Salt as required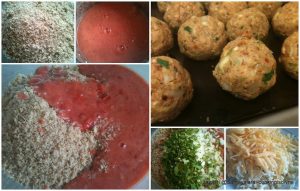 METHOD:
Preheat oven to Gas Mark 4
Piece Bread into slices and powder it in a mixie for equal crumbling, then grind tomatoes in the mixie, add chopped onions, cheese, chillies, coriander leaves and required amount of salt.
Mix them all well together make round balls place them on a baking sheet around 15 to 20 minutes I baked it a little more than that :), because I forgot, so they became more roasted.
Serve these Balls with Tomato ketchup...
I am sure your kids will enjoy..
My kids are teenagers.., so If you are serving it to little ones, add pepper powder or chilli powder 1/2 tsp, so it won't be very spicy for them to enjoy...
Check out the other bloggers running this marathon with me...
Check out the Blogging Marathon page for the other Blogging Marathoners doing BM#14