Healthy eating is a way of life, so it's important to establish routines that are simple, realistically, and ultimately - Arthur Agatston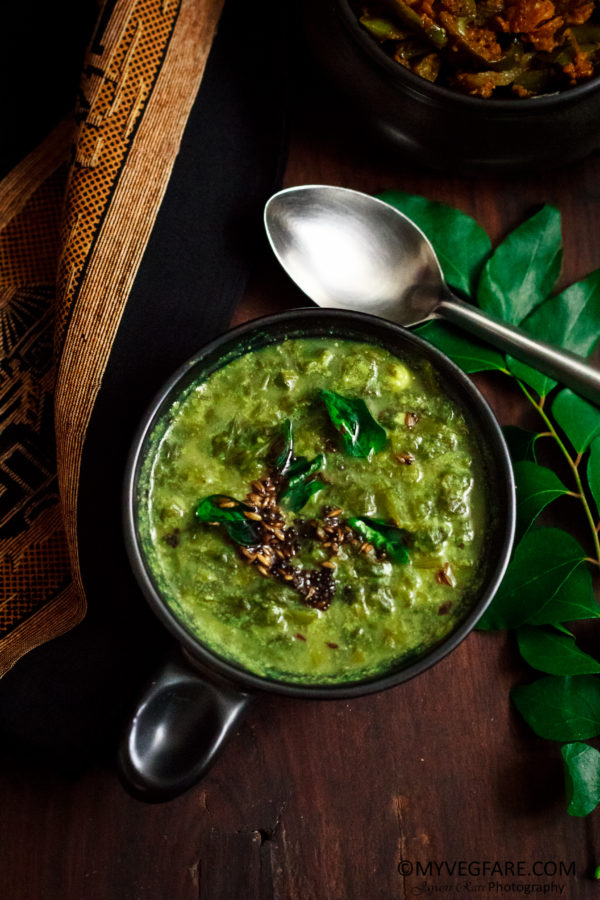 Eating greens are something I love, At least weekly thrice I use different greens in my cooking.  when I was in India, I used to use greens every day!  But, In India you get so many different varieties as I am in India right now I will try and introduce all the greens I used to use back in those days when I used to live here.  I miss them so much especially my hubby! Every day I used to just cook one of the varieties with a dash of salt and serve him!
This boy used to bring different kinds of greens in a big tokari / Butti (Basket oven with jute) tied to a cycle and a big wet cloth on top of it so the greens remain fresh until he sells everything!  He used to hang a bottle of water to the handle and sprinkle water now and then to keep it fresh.  Some of them use Gonicheela (Go-ni-chee-la) made with jute! Which stays wet for a long time and keeps the greens fresh.  My favourite which he always used to get me was Gongkura or Gonkura!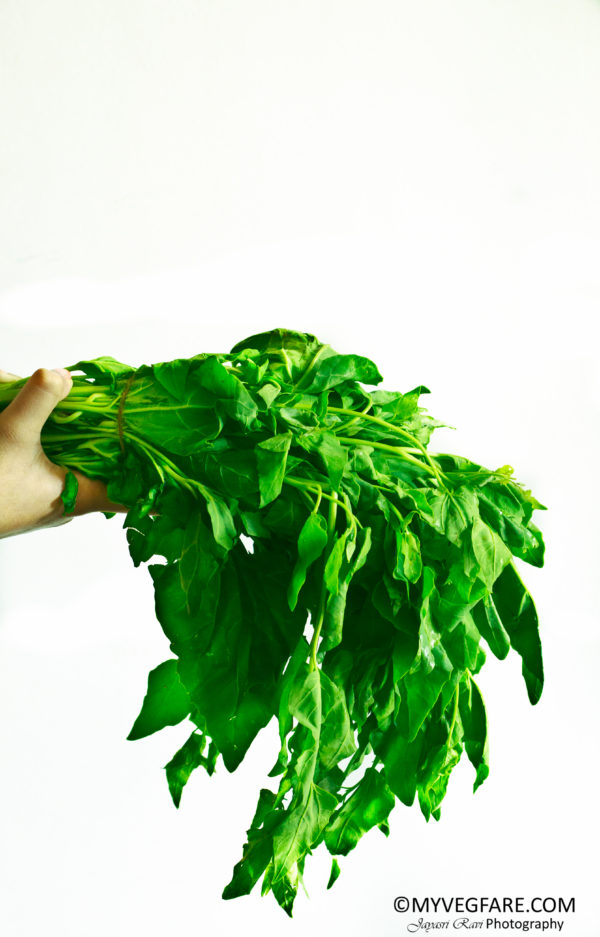 Today I am introducing you to these beautiful greens called Chakothne or Chakkotha spelled as Cha-ko-th-ne and Soppu spelt as so-oppu!!  Soppu means Greens!  I tried searching for an English name for this and the nearest I have come to is – It's called Mountain Spinach! When I read the Wikipedia article I thought it might be the same!  Anyways If you are in Karnataka try this green and I am sure you will love it.
Chakothne soppu or Mountain spinach are very low in calories and fats.  Its leaves hold a good amount of soluble dietary fiber.  It is rich in Nutrients like Vitamin – K, C, E, B Minerals – Iron, Calcium, Potassium, and Magnesium.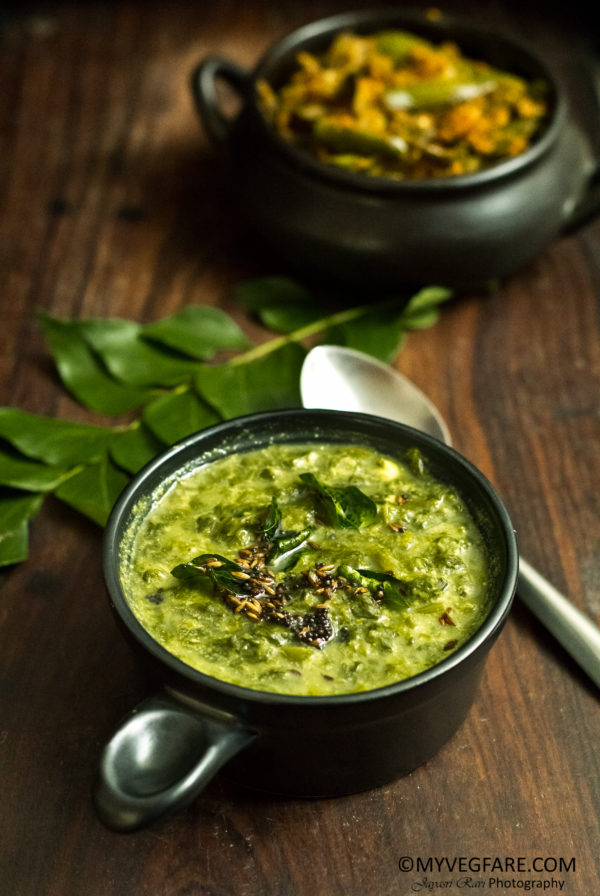 Chakothne soppu (Mountain Spinach Yogurt gravy) Majjigehuli / Morkuzhambu
The greens in this Yogurt gravy is so delicious and goes very well with rice or Raagi Mudde ( Finger Millet Balls)
Ingredients
1

Big Bunch

Chakkotha / Chakkothne

(Mountain Spinach)

2

cups

slightly Soured thick Yogurt

(curd)
Ingredients to Grind
3

tbsp

channa dal

soaked

3

numbers

Green chillies

3

number

Dry Red Chillies

1

tbsp

coriander seeds

(optional)

1

tsp

cumin seeds

1/2

tsp

turmeric powder

1/4

cup

freshly grated coconut

1/4

cup

Chopped coriander leaves

( 5 sprigs)

1/4

cup

water
seasonings
2

tsp

coconut oil

(or any other oil)
Instructions
First, you need to soak channa dal for at least an hour.

Meanwhile remove the thick hardy stem from the greens in the stalk below and rest of them give a good rinse thoroughly so there is no mud or sand stuck to them.

Then chop the greens finely and Cook the greens in ½ cup of water. I use my pressure cooker and cook the greens up to two whistles. You can also cook in a thick bottomed container but then you need to keep an eye on it and keep adding water as you don't want it get stuck to the bottom while cooking as the water evaporates steadily.

Grind ingredients mentioned under the Ingredients to grind to a smooth paste using the water mentioned in the list.

Once the Greens are cooked take them in a thick bottomed container with the water to this add the ground smooth paste, mix well, and allow it to boil. This helps in masala getting absorbed into the greens and the raw smell of the masala disappears.

Just keep an eye keep stirring now and then as it starts to thicken add extra water if needed probably ¼ cup or so then it won't get stuck to the bottom. The Dal and coconut helps in thickening quickly, so don't forget to monitor after 5 to 8 minutes add required amount of salt.

Beat the curd/yogurt, reduce the flame to sim pour it to the cooking greens masala mix well and allow it cook for few more minutes keep stirring. If you cook in a medium flame you need to keep an eye on the yogurt gravy if it boils too much the yogurt splits!!

To monitor this, you can notice small bubbles forming at the edge of the container that is when you switch of the stove and place it on to a heat resisting mat. If you leave it on the stove the heat of the stove may curdle the gravy and the real consistency of the Majjige huli will disappear.
Notes
Don't use too sour curds.
Don't forget to monitor the gravy when it is cooking after you add yogurt.
I have used a just ¼ cup of coconut you can use more and reduce the quantity of channa dal to ½ the quantity mentioned above.
You can use a combination of both the chilies or just use any one of them. Preferably green chilies are used.  If having health problems like IBS wherein you are allowed to use green chilies use dry red chilies.
You can substitute it with spinach as well.
Check this post for different kind of vegetables I use to make Majjige Huli / Morkuzhambu and don't forget to check the Notes.