Hi I am planning to post all my recipes from Raji's kitchen rather
RAKS KITCHEN
, hope you are also with me dishing out recipes from her kitchen, I know linky keeps giving me trouble, hope so it is rectified now!, one more day to go come on.... Love to see you what you have all done...
I have nothing to say much more about Raji and her lovely blog she is great blogger, with a lovely smile, and a good friend and of course with amazing pictures and lovely recipes...
I have tried so many of her recipes, as I am person who tries to look out for recipes from other bloggers for everyday cooking, when I get the vegetables I start looking for different recipes which I haven't tried out, I will be posting some recipes from her blog..
I did a little change in the recipe.., nothing extra.., just the method.
CAULIFLOWER - PEAS KURMA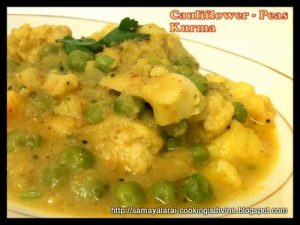 INGREDIENTS:
1 (around 600gms) Cauliflower Florets
2 (around 280 gms) Onions
2 (around 220 gms) Tomatoes
1 and 1/2 Cup Peas
1/2 tsp Turmeric
Salt as required
3 to 4 tbsp of Oil
Few Coriander leaves to Garnish
GRINDING:
1/4 Cup Coconut fresh
10 Nos Cashew nuts
1 Onion chopped
1 tbsp Pottukadalai/Daria/Chutney Dal
2 to 3 pods of Garlic
1 No. Cardamom
1/2 '' Cinnamon
2 cloves
4 to 5 Green Chillies
3 Red chillies
1 tsp Coriander seeds
METHOD: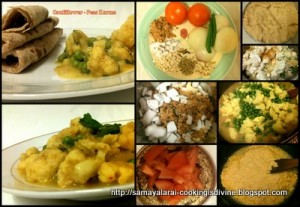 Grind Using all the things under Grinding and from the Ingredients heading the Tomatoes and Onions into a smooth paste.
In a large bowl cook cauliflower and Peas with little turmeric and salt until well cooked then drain and keep them aside until required.
Take a large pan, Heat oil then add the Ground paste and turmeric to it, fry until the oil leaves the sides of the pan and the raw smell of the onions and tomatoes disappears.
Now add the cooked Cauliflower and peas into it with required quantity of water and boil for few more minutes with chopped coriander leaves and a closed lid in a medium flame say around 10 minutes, until they are all well combined and the veggies absorb the masala.
Garnish with coriander leaves and serve with Chapatis, dosas, Ghee rice etc..
I am sending this to my own event Bloggers Marathon from Raks kitchen
It was so lovely thanks Raji for sharing this recipe...