This is another of my favourites, When I came to UK, I learnt this from one of my British friends, it is a very simple one and absolutely tasty, when I came here first I used to eat it lot of times, then I stopped eating it, as I had to consume lot of cheese which was not good for my cholesterol ! , I keep making this often because my kids & hubby like it very much, But Of course, I don't eat it much, But I nick broccoli's & cauliflower in it!,
CA

ULIFLOWER-BROCCOLI CHEESE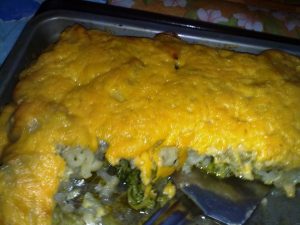 1 cup of cauliflower
1 cup of broccoli
white sauce
cheese
salt as required
pepper
1 cup milk
1 tbsp plain flour (maida)
1 tbsp Butter
salt or sugar as required (optional)
Cook both the vegetables, drain out all the water and keep it aside
Make the white sauce now, using the ingredients under white sauce, Heat butter in a pan in a reduced flame, when it completely melts
Add the plain flour (maida) to it 1 or 2 tbsps and fry it without browning it
Remove it from fire and cold milk gradually and sir constantly so that no lumps are formed
Put it back on a low flame and sir constantly till the sauce becomes thick & creamy
I increase the quantity of milk if I want to make it more or until the raw smell of maida disappears.
Add salt & sugar accordingly
Once the sauce is ready in a oven dish arrange the vegetables, pour the sauce over it
sprinkle little salt & pepper
Then sprinkle grated cheese on it so that it completely covers the veggies
And put the oven tray in the oven and bake it on gas mark 4 , The cheese melts and turns into golden in colour
Take it out and it is now ready to serve.
Note:
When using maida it should be cooked properly otherwise the raw taste of maida will spoil the sauce, And always remember to make this sauce in a reduced flame constantly stirring.
Variation:
You can use sliced potatoes cooked and arranged neatly on the baking sheet and then continue with the same process.