Hi I am back, so soon don't wonder, I had to put up this post today morning, but never happened for n number of reasons, mainly I misread shall I say as always read between lines and been sick from past few days, slowly recovering.
I love baking muffins and my kids enjoy it too, I try my best to bake healthy ones too..., As Anuradha gives a free hand in baking these muffins I was looking at it and thinking as an Indian!, Carrot and spices, Hmm.., well that got me into a new world so I baked two different muffins and changed somethings from the original recipe.
This recipe is basically adapted from Whole foods for the whole family by Laleche League international cookbook.
Coming back to the recipe, I have halved the recipe for two different types of Muffins, If you are after the Original recipe I will give it you in italics.
CARROT SPICE SWEET MUFFINS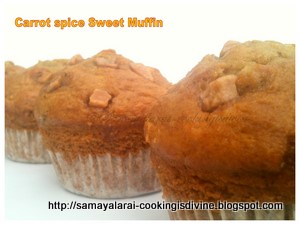 INGREDIENTS:
3/4th cup Whole wheat flour (Original Recipe calls for 1 and 1/2 cup Whole wheat Flour)
1/4 Cup Plain flour (I added)
1 tsp Baking Powder
1 tsp Baking soda
1/4 tsp Salt
1/2 tsp Cinnamon
1/4 tsp nutmeg
1/8th tsp all spice
1/8th tsp of Ground Ginger
1/3 Cup Brown Sugar (Original recipe calls for 1/2 cup Brown sugar/honey, I used both!)
1/4 Cup Honey
1 Egg
1/4 Cup Buttermilk/Yogurt
1/4 Cup Butter ( Original recipe calls for 1/3 cup oil/butter/apple sauce)
1/2 tsp Vanilla essence
Pinch of Cardamom powder
3/4th Cup Grated Carrot ( Original recipe calls for 1 and 1/2 cup carrot)
1/4 Cup Sweetened dessicated Coconut (I added)
1/4 cup Raisins
1/4 Cup chopped Cashewnuts ( original recipe just says chopped nuts)
Used some Fudge Chunks to top it.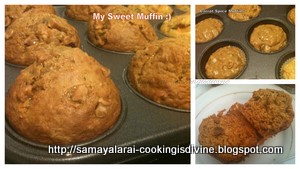 METHOD:
Preheat the oven to 400 dF/ Gas Mark 6/
Take all the Dry ingredients together in a bowl flour, soda, powder , salt, cinnamon, nutmeg, ginger and all spice, cardamom together and sieve.
In another bowl, mix together wet ingredients honey, brown sugar, buttermilk, Egg, vanilla essence, butter,  carrots, raisins, coconut and cashew nuts together.
Now Gently fold in the dry Ingredients with the wet Ingredients together until well incorporated.
Then fill up the muffin cases and bake for about 15 to 20 minutes or until a toothpick inserted into the center of a muffin comes out clean.
CARROT SPICE SAVOURY MUFFINS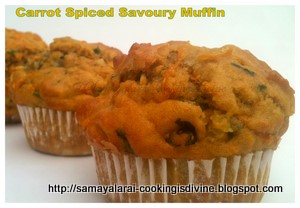 INGREDIENTS:
1 Cup Whole wheat flour
1 tsp Baking soda
1tsp Baking powder
1 Egg
1 and 1/2 tsp Salt (Adjust salt according to your taste)
1/4 tsp sugar
1/8th tsp Ground Ginger
1/4 cup Buttermilk or Yogurt
2 and 1/2 tbsp Oil/butter/apple sauce (I used Oil)
1/2 tsp Lemon Juice
1/2 Cup Grated Carrot
2 Green chillies
1/4 cup Onion chopped finely
1 tbsp Coriander leaves
1/4 tsp cumin powder
1/4 tsp Coriander powder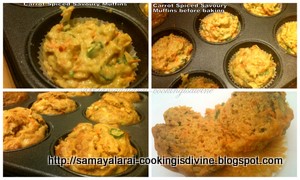 METHOD:
Preheat the oven to 400 degree F/Gas mark 6/
In a large bowl take the flour, spices, salt (adjust salt to taste as this is going to be a spicy muffin), Baking soda, Baking powder Mix everything well together and keep aside
In an other bowl, take all the wet ingredients together Buttermilk/yogurt, oil/butter/apple sauce, lemon juice, Egg then add grated carrots, onion and coriander leaves, combine well together.
To this above mixture gently incorporate the dry ingredients until just moistened
Bake for about 20 minutes or until a tooth pick inserted into the center of a muffin comes out clean.
That's it done
Enjoy this wonderful Indian spiced muffins as a breakfast or as an evening snack, My kids took one of each to school!.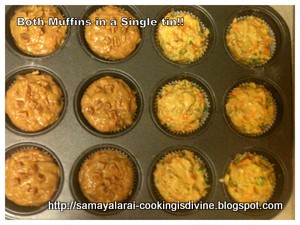 NOTE: If you want it Eggless Just omit the eggs in the recipe and Lo! you get Eggless Sweet and Savoury Carrot Spice Muffins!
C u soon with an other recipe tomorrow...,