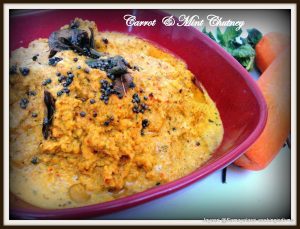 Hi everybody this is my first post of the day, Hope everybody is doing well, You know I have joined Blogging Marathon of Srivalli's, from last month, I put myself into this so I could be more regular in my posting, still I am unable to sort out and be more organised. Children are back to school and that would give me more time I think!. This is the 15th edition of Blogging Marathon, and this time I have choosen to do Chutneys, Spice Powders and Dry Saute's.
Coming to this recipe, I usually don't make lot of chutneys, As my children are not a big fan of them, I do thogiyals sometime to accompany some of the south India sambhars. I had loads of carrot at home and loads of mint leaves to.., so I thought why not make some chutney out of these two for my Idlis. As I have used Dal, I could call it thogiyal too..., well whatever it is called it tasted great...
Hubby when putting it on his plate a big scoop, asked me what it is I usually do not tell him when I make something different, even though he likes my changes in all the dishes I cook or bake. But, I don't know why I just told him that it was made of Carrot, he made a face, took some of it and put it back in the bowl, I was really disappointed, he shouldn't have judged without even tasting it, he said people make sweet out of carrots God only knows why you do all these things !!, then he went away, came back within a minute, and asked me again, you said you made this out of carrots, it's nice and you what he told me, well, Anyways if you add chilies and salt everything will taste nice. I was thinking of my Dad then, he is so adorable, he likes to tease my mom, she is always trying out new things and his standard dialogue is '' My mom always said, ''Ingu (Hing) Thengu (coconut) iddare (available) Mangammanu aduge Maadthaale (any stupid can cook)''!!, I think that was what my Husband meant :).., well, anyways this is my new addition in the family of chutneys.
I have loads of them in my draft but valli has told me not to post only chutneys for 7 days!!, so I have to restrict myself to may 3 chutneys!! (yup! you will have to see 2 more chutneys coming soon)..
Oh! my I wasn't planning to write such a long post..
Coming back to the recipe.. Here is how it goes , try it out and tell me if you like it..
CARROT AND MINT CHUTNEY/THOGAIYAL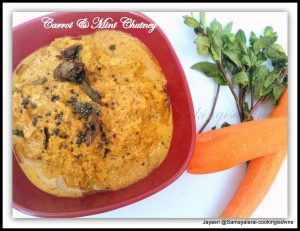 INGREDIENTS
190 gms carrot (after peel, with peel 243 gms)
2 tbsp Channa dal
1 tbsp Urad dal
1/4 tsp Coriander seeds
2 flakes of Tamarind
4 to 5 Green chillies
4 sprigs of Mint leaves
4 sprigs of Coriander leaves
25 gms Coconut
A pinch of Hing/Asafoetida
1 and 1/4 tsp salt
1 tsp of oil
1/2 cup water
SEASONING:
1 tsp of oil
1/2 tsp of mustard seeds
3 to 4 curry leaves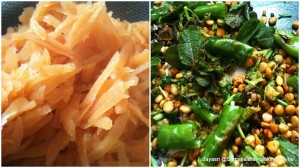 METHOD
Wash and peel the carrots and grate them, cook them in 1/2 cup of water in a low flame with a covered lid. Check it now and then you don't want the water getting completely evaporated (may be it takes around 10 minutes). They become soft.
Pour these cooked grated carrots on to a strainer with a bowl below so that you don't throw away the water. Reserve the water.
pick out the leaves from the mint and chop the coriander twigs with the stalk and keep aside.
Meanwhile heat a pan with a tsp of oil, add channa dal, urad dal, chopped green chilies and tamarind and saute them for a while in a medium flame for few minutes until the dals change colour to golden brown.
Now to this add the mint and coriander leaves and saute for 1 or 2 minutes just they wilt a little bit.
Take the ingredients out of the pan and put them on to a plate, so that they cool down to run them in the mixie.
Put the above Ingredients into the mixie with Hing and grind to a nearly fine powder, to this now add grated coconut, salt and cooked carrots, and run the mixie again ( it won't grind so first mix well and with going back and forth on the number one speed so that it is grinded )
Then start adding the reserved water a tbsp at a time to Grind it completely.
Then heat a small pan add oil, mustard seeds when they splutter add curry leaves and pour it on to the chutney. Serve it and enjoy.
If you grind it into a coarse paste it becomes Thogaiyal which can be mixed with Rice to eat.
If you add more water and you can make it into chutney consistency and can served with Idlis, Dosas and chapatis or any way you want to use it.


I am also linking this to
sravs spring seasonal food
Chef Mireillie's coconut event
EP series - Mint and Coriander
Healthy Diet vegetarian side dishes - vardhini's started by Priya
Check out the Blogging Marathon page for the other Blogging Marathoners doing BM#15