I love fenugreek leaves, If you haven't tried you must, I say so to lot of my friends here, when you cook them, the whole house smells so great!, My kids always notice the smell when I cook methi !.
It's a simple Dry Curry but I have used Dhaniyaalu Podi as the masala which gives such a great taste, As I have always said, I love the spiciness of Andhra dishes, the taste buds tickle, the nostrils flare, eyes start watering !, with a Glass of water in the left I just devour the delicassies of the Andhra delights!, Mmm.., when swapna's mum visited this was an other podi I learnt, earlier (long back) I had a posted a recipe learnt from her, which my friends and family tried and said it was great!!, swapna is right now in India and I am hoping she would get me more authentic delights from her mom's kitchen as promised :), and I will definitely pass it on to you!. When I visited them she made carrot dry curry with this podi, I just added methi leaves to it, and it was good, Now I add this masala podi with lot of my dry curries, which gives a wonderful aroma, which the family really enjoy, thanks to swapna and her mom.
CARROT AND FENUGREEK STIR FRY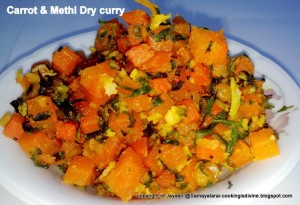 250 gms Carrot cubed
1 Small bunch of Methi leaves (fenugreek leaves)
1/4 freshly grated coconut
2 tbsp of oil
1 sprig of curry leaves
1 tsp Mustard seeds
1 tbsp chenna dal
1 tbsp Urad dal
1 tsp Turmeric powder
Wash, peel and chop the carrots into small cubes,
Take a wok heat oil add mustard seeds, once they crackle add the dals once they change colour add turmeric powder and then the chopped carrots and curry leaves, mix well sprinkle little water close the lid, Meanwhile wash the Fenugreek leaves chop them and add them to the wok, mix well and allow both the veggies to cook well, Unitl all the water gets dried, (do not add lot of water carrots cook very soon) . Add salt as required and Dhaniyaalu podi mix well and leave for another five minutes, with closed lid, so that the veggies absorb the masala powder then remove the lid add grated coconut mix well, and serve hot with chapatis or rice.
This carrot curry Participates in Healing food carrot an on going event in Suma's blog started by Siri
The Dhaniyaalu podi recipe I have already posted.