As the title says this Dosa is made with Carrot, I love making dosa and my kids enjoy eating dosas as well.  I keep changing ingredients and make different kinds of Dosas, but still, Dosa made with rice is the best what do you say?
I am posting this recipe to an event  Aparna of  Mydiversekitchen who is hosting the ''Food in colour'' events started by Harini of sunshinemoms, I hope this looks orange, as I am not a good photographer I tried my best when cooked it was looking orange in colour!!  This month the Food in colour event has come up with ''Orange''
Dosa has always been a comfortable meal to south Indians
CARROT DOSA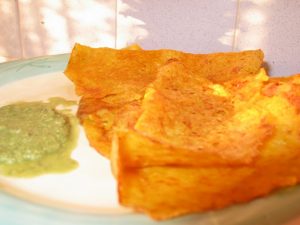 METHOD - I
Ingredients:
2 cups Rice
1/2 Easy cook rice/Kusublakki
1 & 1/2 cups grated carrot
1 tsp cumin/jeera seeds
Tamarind gooseberry sized
4-5 Red chillies
salt to taste
1 onion medium sized (optional)
oil to fry dosas
METHOD
Soak both the rice together for 2 to 3 hours.
Then grind them with all the other ingredients said above into a dosa consistency
Add salt at the end, & add water and make it thinner
Just like the consistency of a Rava Dosa
You can use carrot dosa immediately after grinding it.
you can  make dosas just the way you cook Rava Dosas, hold the ladle a little higher and spread it from the outer circle of the Tawa/kaavli, you cannot spread it like an ordinary dosa
They are usually very thin & crispy
If you want you can even add nicely chopped coriander leaves, curry leaves & thinly sliced chillies & serve it with plain curd/yogurt & chutni pudi.
They are now ready to serve.
you can store it in the fridge & can be used next day
METHOD: II
The other method is If you grind it with Urad Dal you can spread it like a dosa!
Same as above ingredients except add
to the above ingredient list grind it into a smooth dosa batter, this batter you can spread it like a dosa.
MINT CHUTNEY
Ingredients:
A fist ful of channa dal
1 cup full of Mint leaves
2-3 sprigs of coriander leaves
1 tsp of oil
1/4 tsp sugar
salt to taste
3-4 green chillies
2-3 flakes of Tamarind
a pinch of asafoetida/hing
1/2 cup grated fresh coconut
Seasonings: 1 tbsp oil & 1 tsp of mustard seeds
METHOD
Take a pan or wok, heat oil add channa dal & roast till in a low flame
Meanwhile, pluck mint leaves 2 fistful or 1 cup & coriander leaves wash, drain & add it to the same wok where you are frying the dal
Fry Tamarind flakes too along with it
keep them aside so that they cool down
Grind them all together with salt, sugar, coconut & hing with adding water.
Grind them into a Chutney consistency, Then temper or season them with the above seasonings & is now ready to serve.