Hi everybody, Hope you all had a wonderful day today -
I would take this opportunity to wish you all a very Happy and Prosperous New Year ahead.....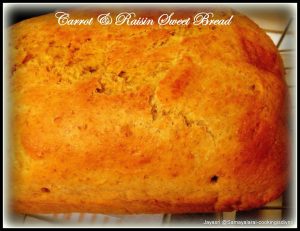 Don't wonder why am I posting a Bread recipe on a festival day, well of course, I did celebrate with a very light note, You have to be in India to get into the festive spirit that is what I think, I usually have somebody, friends of course to join me in all the festival celebrations.., today I had nobody, that was quite sad.., Anyway my kids enjoyed the food I made, I will post it on a later date...
It was really a beautiful day, lots of sunshine, think of carrots and you feel very summary.., when I see carrots I think of those cute little rabbits.. few days back I had called my sis, her 7 year old son never speaks with anybody on phone, he dreads it so badly, to just make him talk to me, she said Ammajechi (that's what all the kids call me at home!, I have little story for that, I will write about it someday) is really sad why don't you cheer up her with some jokes.., he really got excited was that my luck, I really don't know but enjoyed his jokes for at least 1/2 an hour, one of his jokes which he read in Chandamama was -
Teacher : Kids tell me why should you eat Carrots ?
Student : Sir, Because Carrots are good for eyes.
Teacher : How do you know that carrots are good for eyes ?
student : Because Sir, Have you ever seen a Rabbit wearing Glasses
:), Hope you liked it too.., that book was my favourite when I was a kid, and he reads it, isn't it amazing that book still is running but only a bit thinner I suppose so I was informed.
Coming back to the recipe.., as I usually bake a bread every week for my son particularly as he like to take sandwich in his lunch box, and he loves these home made breads. especially when you know if I allow him to eat Nutella, that is what he enjoyed the whole week. He said the bread so soft and fantastic.
Here is how I made it..., First of all as it was late in the evening, I was a bit worried about the dough rising so I decided I will bake this in my Bread Machine, so I started with all the procedures for the bread machine, but the end I did not want to bake it in there, I had never tried this out as I had only baked around 4 times in the machine.., I was scared that interrupting it would destroy my bread, so I just used it until the second rising, then switched off the machine, took it out slowly and placed it in my loaf tin, The bread was quite big, I think it was weighing 1250 gms or more. If you plan to bake this BM, watch out that it might touch the top. But, to my astonishment it turned out very well you can see for yourself.
CARROT AND RAISIN SWEET BREAD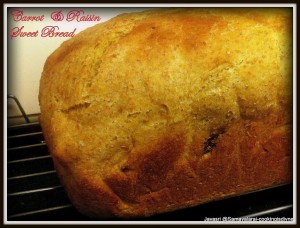 2 tsp Instant yeast
115 gms light Brown Sugar
221 gms Grated Carrots
1/4 cup Raisins
1/4 cup oil
1tsp salt
4 tbsp Milk powder
3/4 th Cup + 2 tbsp water
Set the Bread Machine to sweet Bread mode.
Combine flours, salt and milk powder well together, either sieve them together or mix by hand.
Pour water and oil into the loaf tin (Bread machine)
Then add carrots, Next add the flour on top of it covering the water.
Then make a little dent or hole in the flour, here add the yeast.
close the lid and start the process,
After mixing, it makes a sound allowing us to add more ingredients here I added Raisins and close the lid again.
It starts its process again,
Meanwhile preheat the oven to Gas Mark 5/190 degrees, Keep a bowl of water underneath the rack.
I allowed the Bread Machine to completely its second rising process, then I switched of the machine, took out the raised dough and placed it on to the Baking Loaf tin.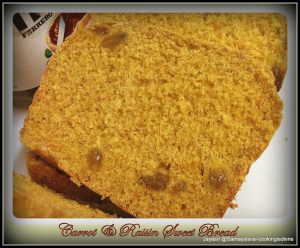 Left it on the counter for 15 to 20 minutes covered just to make sure it will come back its shape again.
I also covered the loaf tin with a aluminium foil loosely but fixed it to the tin well enough so it does not come off.
Then Put the tin into the middle rack and reduce the oven temperature to Gas Mark 4/180 degrees, I usually bake my breads around this temperature, (as i am still not able understand my oven so make sure you know your oven)
Covering with the foil ensures that the bread doesn't have a dark colour on the top because sugar in the bread tends to make the bread change the crust into a darker colour.
Bake for 45 to 50 minutes, to ensure the bread has baked to perfection after 40 minutes take out the foil and insert a long skewer into it, If it comes out clean then your bread has done, other wise leave it for an other 10 minutes and check again, if the skewer comes out clean your bread is done.
Take the bread out and leave it on the wire rack, after 5 minutes, turn over the loaf out of the tin on to the wire rack, leave it on its side or totally upside down.
This helps in bread from having a soggy base and further cooking, Leave the bread to cool completely before you slice the bread.
When the bread is still warm, it will still be in its baking process.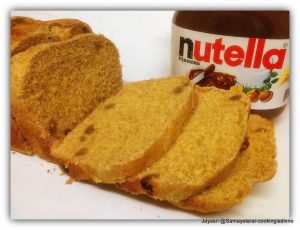 If you are going to bake by hand...
In a large bowl, First take yeast, a tsp of sugar and 2 tbsp of water and leave it for sometime, when it bubbles up, add Oil and then add the combined flours (which is already combined with salt + sugar + Milk powder)., Then add the grated carrots and 1/2 cup of water and start mixing it with the help of a strong spatula, then keep adding the water until it is well combined.
The dough might be a bit sticky use your Atta Grinder or food processor to knead the dough.
Or use your hand and knead the dough, as the dough might be sticky, dip your palm into the flour now and then and knead again.
Oil a bowl and place the dough and cover it with a cling film, after its first rise, punch down the dough then add the raisins and knead it into the dough, don't knead it too hard and spoil the air formed in it. shape the dough in the loaf tin and proceed with baking as above.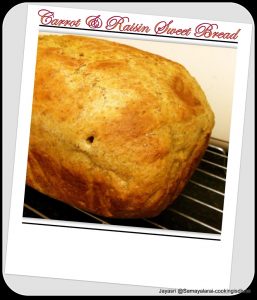 This bread was especially baked for
Magic mingle of Kalyani's #4,
she had asked us to use Carrots and Raisins as the challenge.., Hope she likes it and you too.., Try out and tell me if you liked it.., If you have any other variations do tell me I would like to try it out...
I am also linking this to