I keep going to
her
blog to see those goodies she is been creating from a long time.., Its's her patience in searching and trying to make, change and create her own signature of dishes she recreates in world of her own kitchen, and also tells about the persons, things, places, books, etc., about those dishes
she
tries out.
I had this
recipe
book marked from her blog quite some time back, but I kept postponing as this was more like our Potato buns, but I just coudn't resist to give my kids a treat!!, Oh! yes my kids love all these kind of things they love to eat than my authentic cooking most of the time. coming back to the recipe I have come to know that this is from Italy, as she tells us it is a sort of folded pizza like dough with a filling, when the dough is baked it swells up with a stuffing, this is what is called "calzone". I read about this in a book wich says it is a speciality of the resourceful bakers of Naples whose hungry customers were often had not much money to spare, this was basically a fast food.
I just altered this recipe in regarding the flour as I did not want to use All purpose flour so I tweaked this recipe a little bit.
CALZONE WITH MARINARA SAUCE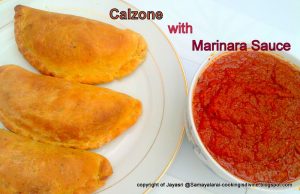 1 cup Quinoa flour
1 cup All purpose flour
1/2 cup soya flour
4 tbsp of olive oil
1 1/2 tsp dried yeast
1 tsp sugar
1/2 tsp salt
1 1/2 tsp dried Italian seasoning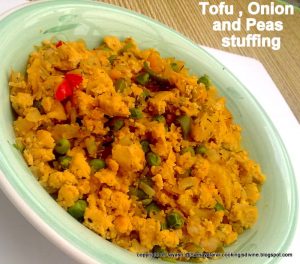 1 Block of Tofu frozen
1/4 cup of peas
3/4 cup chopped onions
2 cloves of garlic
1/2 cup red peppers chopped
1/4tsp of turmeric powder (optional)
1/2 cup grated cheddar cheese
salt and pepper as per taste
2 sprigs of parsley and thyme
Take yeast add salt and sugar with 4 to 5 tbsp of warm water and leave it in a warm place, when you see the yeast bubbling up that shows the yeast is still active add olive oil , flour, and seasonings mix well and by using water make it into a soft dough, knead well for 5 to 10 minutes then oil the bowl and the dough and leave it in a warm place until it doubles in size. meanwhile
Allow the tofu to come out from its frozen state and squeeze out the water content and crumble it. Take a wok heat a tbsp oil and saute onions and garlic once they are transparent and soft, turmeric then add the peas, chopped peppers until they are roasted then add the crumbled tofu, and leave for few minutes until they are kind of cooked then add the fresh herbs, salt and pepper mix well and keep aside.
Once the dough has risen, give it a little punch, then knead a little bit and make it into 8 to 10 balls as you require it to be big or small or to how many people you are going to serve!!.
Roll each dough into a circle of palm size or 6" in diameter (I did not measure), place the filling and top it with grated cheese in each one of the flattened dough at one side leaving the sides, then fold it from the other side and seal the semi circle properly so that they wouldn't open up, I twisted the ends like those pasties, Once all of them are filled and sealed [place them on a greased tray and leave them for a second rising for few minutes by allowing it to puff up, it actually puffed up so I could see the traces of my twists.
Place this in a oven and bake these calzones in 180 degrees/Gas Mark 4 for 20 to 25 minutes are until it becomes golden brown in colour.
HOME MADE MARINARA SAUCE
I do make tomato based sauce as this for pizza's, pasta's, Lasagne etc., but I make them fresh when ever I plan to dish out a recipe which needs sauces.., This is the first time I made so much sauce for one go and now it is stored in the fridge!!, Again this recipe is from her…., I just a tweaked it a little bit…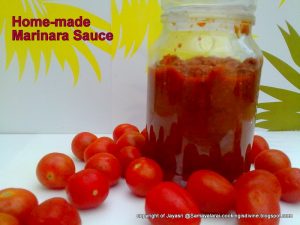 INGREDIENTS:
650 gms of Tomatoes
200 gms Tomato puree
1/4 cup passata
2-3 Onions
1 1/2tsp of Ginger-Garlic paste
1 Green pepper (Capsicum)
3 tbsp sugar
1 tbsp chilli powder
1 tbsp pepper powder
1 tbsp Italian seasoning
2-3 tbsp of oil
salt as required
METHOD:
On a stove top I burnt the capsicum/pepper and charred it and removed its skin and its pith, chopped the onions and with GG paste grinded them into a fine paste, In a wok heat oil add this ground fine paste and saute for few minutes until the raw smell of onions disappear, then add the puree, passata, sugar, chilli powder, pepper powder and allow it to boil for few minutes until it starts thickening.
Then in the end add the seasonings and boil for 2 more minutes and put of the stove.
Once it is cool store it in a air tight bottle or container and refrigerate it and use it as required.
I like to send this to Nupur's copy cat Adaptation, blog bite #3 , ends on may 25th check out her blog for details and have a go at it…
Hope you all enjoyed just like my kids, take care c u soon……………
Coming back again to tell you
I am linking this to Tried and tested event started by zlamushka and now being taken care with lots of love by Lakshmi of Kitchen Chronicles and is being now hosted by our Queen of MW that's what I call her Srivalli of Cooking4allseasons.