Hi everybody, I know I am really crazy and obsessed with baking, I would like to write too much as I am very short of time and want to post is as soon as possible as it is 11:32!!, and my computer has become very slow and keeps stucks now and then!!
This month's Bread Baking Day was hosted by
Cathy of Bread Baking Experience
..., which was started by
Zorra of Kochpotf
I  wanted to make this after I had a taste of this combination, wherein I couldn't stop eating.., it was so awesome...
BROI'CHE WITH VANILLA CRE'ME PATISSERIE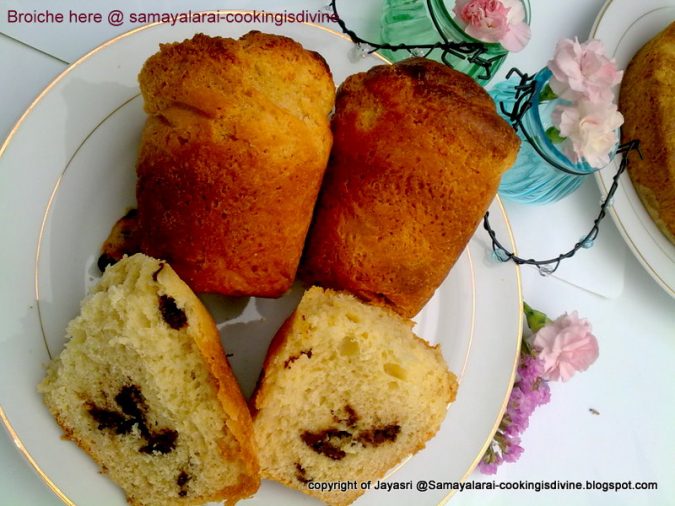 INGREDIENTS:
600 gms flour (white bread flour)
10 oz / 250 gms butter
4 eggs
1 tbsp Yeast
3 oz/100ml milk
1/2 tsp salt
30 oz/ 80 gms sugar
METHOD
Dilute yeast in the warm milk and leave it for some time so that it starts to rise, then Take flour, salt, sugar and mix well then add yeast and add eggs one by one in a bowl and beat it then  mix well with the flour and then add butter softened little by little and this dough would be very soft and very difficult to handle, allow it to rise.
Once raised put them in pots and allow it to rise again the second time then Bake them in a preheated oven at 160 degrees/Gas Mark 3 until well done, that is the skewer comes out clean.
The Best thing was my brioche couldn't go up very well and burnt slightly as you can see because it hit the top of the oven which I later noticed and had to change the stacks!!, what did I learn from this, that I should check out the rise of the dough when it is baking!!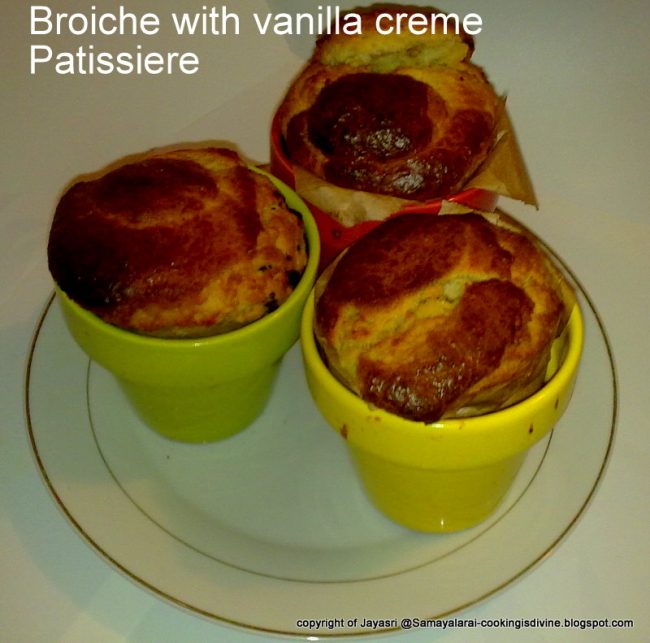 I have shown some of my fillings here in each pot
Green pot has a chocolate filling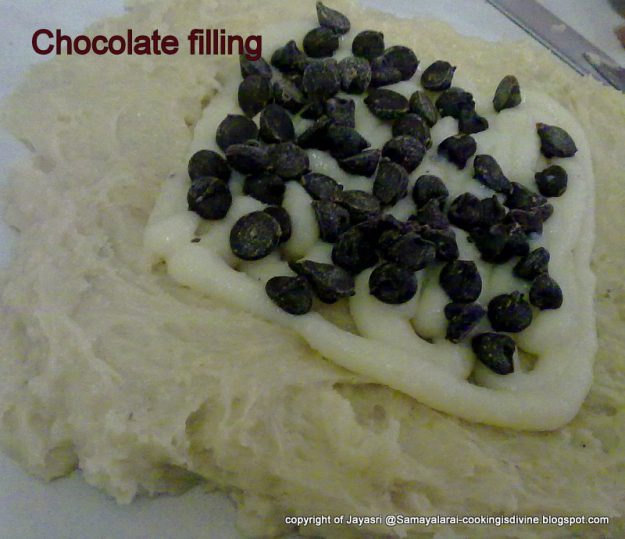 Pink has just the patisserie filling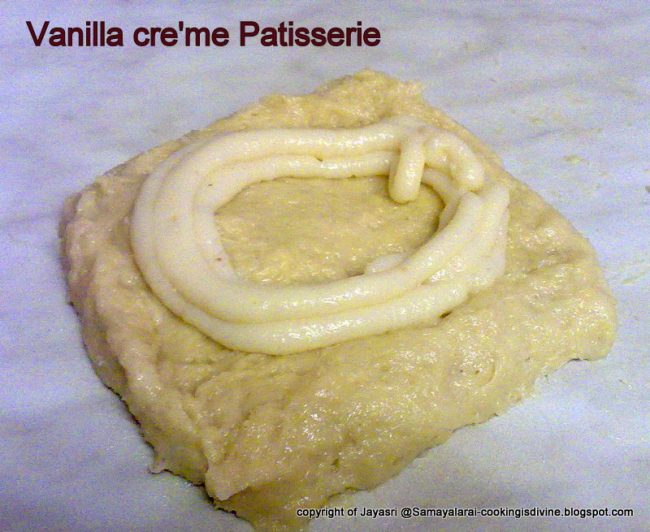 Yellow pot has Nut filling
All my fillings are getting ready to go into the pots for a raise....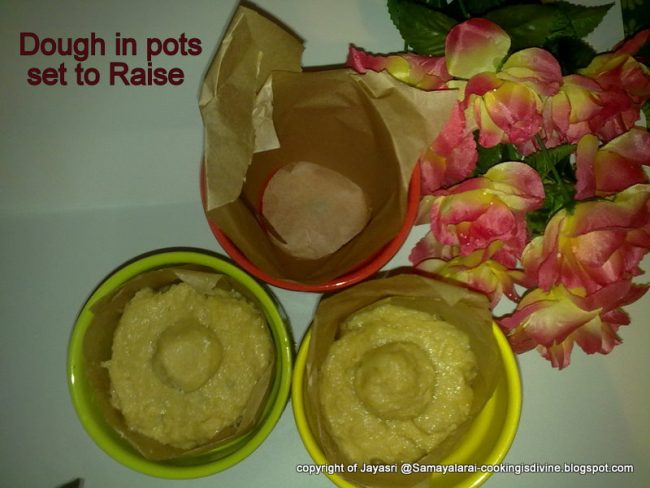 TO MAKE VANILLA CREME PATISSERIE
INGREDIENTS:
1 Pint Milk
1/2 cup flour
1/2 cup Sugar
3 Eggs
1 tbsp of pure vanilla extract
METHOD:
Boil Milk in a medium heat with vanilla extract, Break eggs beat it with sugar, whisk well and then add flour and whisk again, Pour boiled milk little by little then put it back on the stove, stir continuously until it thickens use it immediately or cover it with wrap and store in the refrigerator.
Ref: Joy of baking and videos in Google!! check out, you have many videos out there..., I did a little bit alteration like adding little less butter, and used flour to manage the dough as it was too difficult to handle!!
One more click of the Gorgeous bread...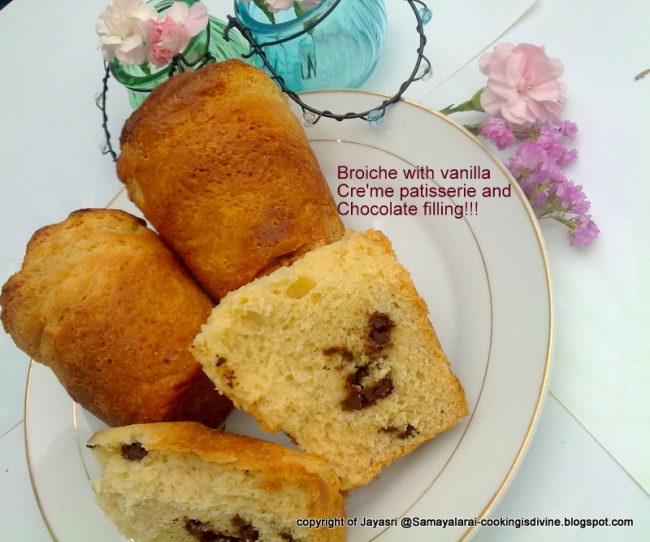 I have lost Vanilla cre'me patisserie photos, My card reader is not reading!!, once I get it sorted out maybe I would able to post it 🙁
Anyway, I don't think Cathy is going to accept my post as it is past midnight, My comp got stuck again, and I couldn't post it on time...,
Now, I will be able to write leisurely about my saga of this recipe, I had no pots today morning I bought these pots!!!, I had thought of getting dough ready and then I will go and buy some pot today, and then I noticed I had no plain flour at all, So, I did all my shopping in the afternoon came home by half three and started off with everything, having difficulty in raising the dough everything went well, and I baked them by around 10:45 in the night and I was ready with the post, I must thank my daughter who helped me in taking photos and got everything ready for me to post but with computer getting stuck I got into all sorts of problems and she helped with that too.., I owe this recipe to her!!, sorry Cathy I tried my best and I was not able to do it on time!!, maybe next time..
I would also like to send this to Yeast spotting and champa's Baking event.