style="border-bottom: medium none; border-left: medium none; border-right: medium none; border-top: medium none; clear: both; text-align: left;">Hi, I don't need to say much about what I have done of course as the name itself says, It was just a flash to combine all this, I had this broccoli and parsley, which I thought would get wasted away if I don't use them and I had a packet of Beansprouts, which I had bought yesterday, thinking I will make noodles, I knew that it was quite more for what I was planning to do!!, So, that's it, you must have known by now that I just combine lot of odd veggies together and cook!!, That's how the Beansprouts landed into this Dry curry!!, but the results were amazing, I was kind of worried, my kids don't fancy those sprouts much, but have to eat them when its mixed with something and can't really take it out!!, and of course parsley, as it has a sharp flavour, but I gaurentee, that you could never get any of that except for the broccoli!! which of course we love, and that's my favourite too..
BROCCOLI, BEANSPROUTS AND PARSLEY DRY CURRY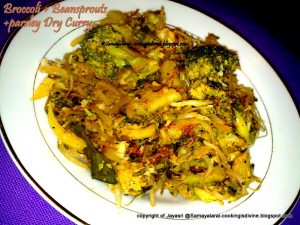 INGREDIENTS:
450 gms of Broccoli
150 gms of Beansprouts
1 Bunch of Parsley
1 Large Onion
2 tbsp of Chilli Powder
1 sprig of curry leaves
1 tsp of Mustard Leaves
2 tbsp of Oil
3 to 4 tbsp of Fresh grated Coconut
salt as required
FRY AND GRIND MASALA
1 Fist ful of Raw peanuts
1 tbsp of Sesame seeds (white)
1 tbsp of poppy seeds
1 tbsp of Dessicated coconut or Dry copra
METHOD
Cut the Broccoli into florets, give it a run through in a sieve in the running water and set it aside.

Wash Beansprouts drain and keep it aside

Clean Parsley and chop it finely and keep it aside

Take a wok dry Roast Red skinned peanuts and keep it aside, Once it is cool remove the skins or which I always do is use Dry Roasted salted peanuts which is readily available in the supermarkets.

Dry Roast sesame and poppy seeds and keep it aside and allow it cool

Once all the three ingredients are cool, Dry grind it with tbsp of Dessicated coconut and keep it aside, until futher needed

Take a Big wok, heat oil, once it is hot add mustard seeds and curry leaves, as it splutters add the veggies (Broccoli, Parsley and Beansprouts) and sprinkle water, now and then until they are well cooked, by closing a lid to the wok, careful with water, if it becomes too much you will see lot of water underneath the veggies, if you happen to have too much water, in the end just pull the vegetables around the wok and give a nice wide gap in the middle so the water settles down in the bottom, do not close the lid and allow the water to evaporate or just take the water and add it to your Rasam or Sambhar or if making chapatis add this water to it, do not throw it away or you will loose lot of nutrients, so be careful with water sprinkling and allow the veggies to cook in a low flame, with sprinkling water now and then to avoide the burning of the veggies!!, hope you understood what I was trying to explaining with so many words!! forgive me!!

Once all the vegetables are well cooked , and there is no water!!, add the chilli powder, salt and the Ground Powder, mix well and allow it cook further 5 minutes by closing a lid.
Take the lid mix well again carefully, as broccoli easily becomes mushy and looses its floret shape!! and add freshly grated coconut and leave it for another 2 minutes and now it is ready to Serve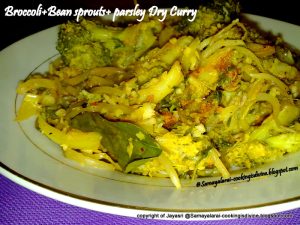 Hear take a another peak at my lovely stir-fry and serve it with chapatis, Rasam, Dosas, Pulkas or Sambhars, or however you wish, can also be served with just cooked noodles and it really goes well, as my daughter like it that way!!, Hope you enjoy, see you all again tomorrow!!, take care...