Hi friends, how are you all ?, wondering why am I posting a Bread cutlet.I thought let me at least post one reicpe in valli's Kid's delight event. I made a few but never had time to post, Hope she hasn't posted her round up and will accept my entries.
This is a simple version of
Bread Bonda
which I had posted earlier, the method is same but a healthier version than that, I did not deep fry them but roasted on them on a tawa just like making cutlets.
Few months back we had been to my friends house in London, she had made Poori and a Dry curry with peas and potatoes for our morning breakfast, the day before when I went to her house I had packed all my breads as I thought if I don't use them up soon it will be gone. After our morning breakfast we left the house and went around the shopping centre, we did some shopping and had some chat and came back home tired, everybody was hungry, we had to do something quick, and I saw my breads lying on the kitchen table and an Idea stuck to me, why not use this and make something out quick, but I did not want to use oil again so tried out like this and it worked or was it the hunger !!!???, well, whatever it was, it was sold out, when they were hogging on it, we made some Pani Puris after that session. So, we would get sometime to dish out something for dinner.
BREAD CUTLETS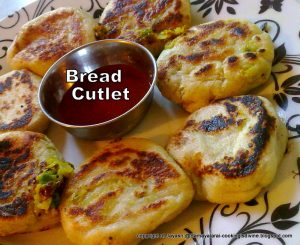 Slices of Bread as many as you require
water
oil
Any left over dry curry/palya
Or make a filling of your own, if you want to make it fresh.
Take one slice of Bread at a time, as I shown in making Bread Bonda, follow the exact same procedure, put the filling in fold all the sides properly. Heat a tawa pour some oil just as how you make cutlets put them on the tawa, and toast them both the sides using oil just as how you see in the picture and serve it hot and immediately with some sauce of your choice.
You can use whatever you want as your filling it will definitely turn out well.