Hi everybody, I keep disappearing now and then!!, my friends keep asking me, why I haven't posted anything!!, that doesn't mean I dont cook!!, I do a lot of cooking, as I love it so much, I always try to do different everytime, I had a busy last week, I had a German girl staying with me on a school exchange programme.
Well, I didn't make these Bread Bondas when she was here!!, Oops!! that would give her stomach a hard time with all those spices we use in our cooking, well, I enjoyed rather I should say all of us enjoyed her stay, she was a nice lovely girl, at least she knew to talk to us in her bit of English, and as my girl is studying German she was able to translate some of the words which she was not able to understand in English, and vice versa !!, (of course with my daughter's help)!!, so I did a lot of soups!!, pasta and pattis shall I call that cutlets, pies etc.,, The best thing was she liked my cooking, and once or twice I bought this vegetarian ready made food like fish fingers and pies which she didn't like!!, well, totally we had a lovely time, took her around to Bath and shopping malls, which she enjoyed, yesterday she went back to Germany, my S was totally upset, as they have been friends from last year, when she stayed with them!!, where she was taken care of by her family with so much care, thanks to both the families, for giving such love and care for my three kids, who loved and enjoyed their stay in Germany!!
Coming back to the recipe, The first time I made this I was 19 years old!!, from then on I keep making it now and then but not too much even though it is good to eat, but bad to your cholesterol levels, as this is fried in oil !!, When I was working in a computer school, we used to go on trips so the first time I made my collegues all loved it so much, so whenever we went for a trip this was my contribution !!, Here goes the recipe..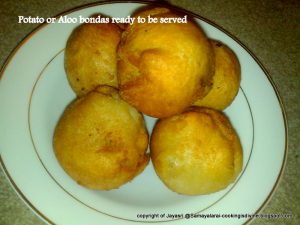 It is a very simple recipe, you just have to make Aloo dry curry/palya and Bread slices, so if you have a loaf of bread with 15 slices you will be making 15 Bondas!! that's it, sounds nice isn't it ?, If you are making it to a party you would exactly know how many you can make for how many guests you have invited, It is absolutely Grogeous and very filling too!!
To make this you need Aloo dry curry/palya,
1/4 bunch of corinader leaves washed and chopped finely
1 sprig of curry leaves washed and chopped finely
Salt as required
A pinch of Asafoetida
SEASONING:
2 To 3 tbsp of oil
1 tsp of mustard seeds
1 tbsp of channa dal
1 tbsp of Urad dal
4 to 5 Green chillies (use chillies accordingly to your taste buds)
METHOD
Wash and Pressure cook the Potatoes, in a medium flame for 2 whistles, As their are different kinds of potatoes and cook very differently, you should know your potatoes and how they cook, I am writing this with the potato I had, Peel the skin off and mash them well.
Take a wok, heat oil, add mustard seeds once they splutter, add the chillies, then as they change white in colour, add the dals and once they too change colour add the curry leaves.
Immediately add mashed potatoes so that the curry leaves don't wilt away and aroma should be quite fresh then add salt, a pinch of asafoetida and chopped fresh coriander leaves mix well. close the lid for few minutes in a low flame, so that the salt and spiciness is well absorbed by the potatoes.
Open the lid and leave for few more minutes in low flame again it should be quite dry this Dry curry can be used in making Aloo Bondas using Gram flour too.
Once the Aloo Curry is ready keep it aside to cool, then take Bread Slices sprinkle water on it as shown below in the picture
Then once it is slightly wet do not make it too wet then they crumble and become too soft to handle and very important is they absorb a lot of oil!!, squeeze the water out pressing like this in the picture below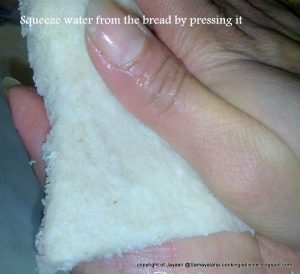 Now you can see the pressed or squeezed bread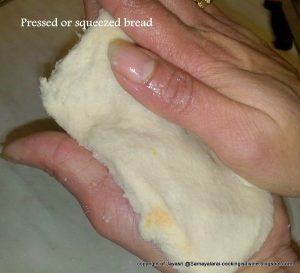 Then take the Aloo curry and place it in the centre of the water squeezed bread do not take too much as you need to fold it completely so their will be no opening anywhere!!, otherwise it will break open and the curry will come out and oil will start spluttering everywhere be careful!!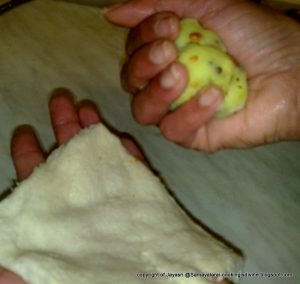 Place the ball of potato into the bread and fold in well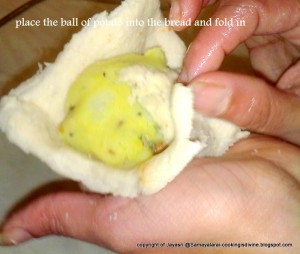 Fold in the potato balls with the bread completely as shown below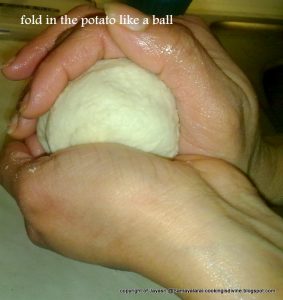 Just like this!!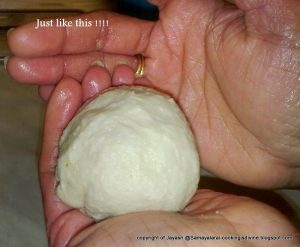 The Potato Balls are ready now just like this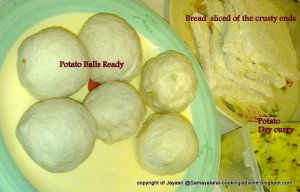 Now they are ready to fried in oil as you can see, turn them carefully, keep pouring oil on top of the Bondas which are not immersed in the oil if you have not taken lot of oil in the wok, so when you turn them around they don't break up!!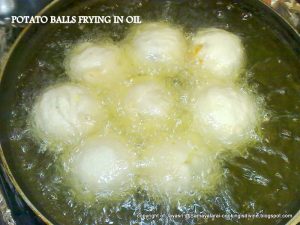 Once the Bread Bondas are well and golden in colour, take them out and dry them in a kitchen towel so the oil gets absorbed as shown below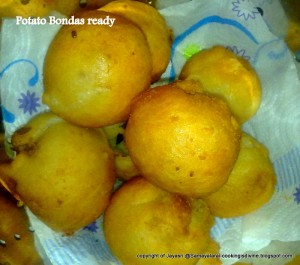 Now take a look at my lovely Potato Bondas which are ready to be served on its own or with side dish of your choice.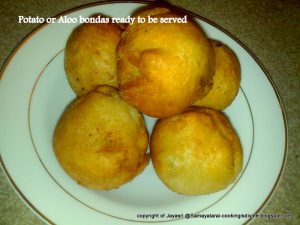 Hope you enjoyed my lovely Bread Bondas which were one of my Greatest relishes...., see you again soon with a healthy dish!!