This is a dry curry which i learnt from a Mauritian Hindu couple Mr & Mrs. Prem who i made friends with in the supermarket here. They are such a wonderful people who were so delighted when i told them that i was a Hindu, They have moved in here quite a long time ago, They have two girls who are already married and have a grand child as well. I met one of them her is Asha and now she is in India, doing charity work in Hospitals and orphanages, Basically she is Journalist and has married a Gujarati, She was talking about the weddings and life style in India, and she loves everything about India !!, and lo ! there she is on a six months tour to India, she wants to enjoy the Blissfulness of the culture, tradition, food, hospitality of the Indian people. I heard from her parents she is really enjoying her stay in India.
Talking about them I had my friend's son come to visit me from Chicago & he had brought a friend from New Orleans that boy is an American boy, who also is visiting India in August just because he has come to know about the culture, tradition and food of course !! everything about India from his friends who are doing their engineering in Bangalore, which has impressed him a lot and wants to see India ASAP !!, He was saying that his friends told him that if you ever wanted to study then you have to study in India as people there, are very competitive and no nothing, but immerse themselves in education and want to top than the others !!. I wished a very Best of Luck to both of them and his tour to India be a very long lasting one in his memory lane !!,
Okay let me get back to my recipe thanks to Mrs.Prem for sharing me the recipe with me and hoping to add many more recipes from her cook book, & for this lovely dish i learnt from her, everybody in the house liked it, as I thought my eldest also said that some where it tasted like mango rice, that is when we mixed it with rice and ate it !! Like a Manga Saadham or Mango Rice.
BOTTLE GOURD DRY CURRY (MAURITIAN STYLE)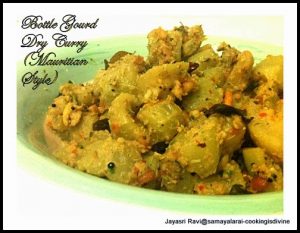 BOTTLE GOURD DRY CURRY (MAURITIAN STYLE)
Serves : 3 to 4
cooking time: 30 minutes
Ingredients:
1 big Bottle Gourd
1 cup dry peanuts
2 to 3 pods of Garlic
1 Medium sized Onion
1 tbsp Jeera or cumin seeds
3-2 Red chillies (Guntur-Badgi)
4 to 5 tbsp of oil
SEASONINGS:
2 tbsp oil
1 tsp mustard seeds
1 tbsp channa dal
1tbsp urad dal
1 sprig of curry leaves
METHOD:
Soak peanuts for an hour or so .
Then with the other ingredients except for curry leaves grind everything with the nicely soaked peanuts into a smooth paste add little water if required and make it into a paste.
Take a wok add 2 tbsp of oil and fry the ground paste in a low flame continuously stirring when you find it getting stuck to the wok add little oil until the raw smell goes out of them, Peanuts also give out oil so it might not be too difficult.
I was adding little by by little oil and frying them in a low flame as I did not want to add too much oil, actually she asked me to fry with more oil as we do in gravies where the oil separate outs from the gravy. As I did not want to add more oil I did it like this.
Meanwhile in a separate wok take 1 tbsp of oil, when oil is hot add all the seasonings one by one and curry leaves and then the cut Bottle Gourd and allow it cook in a low flame.
Once when the Bottle Gourd is completely cooked add this fried Ground masala paste to it and mix it well, leave it in the wok for few more minutes so that the paste gets absorbed by the gourd and overall gives a good flavour.
Now it is ready to serve with hot rice or as a side dish to anything you choose to eat it with !!.
NOTE: When cooking Bottle gourd do not add any water at all as the Bottle Gourd itself has so much water in it. and starts giving out water, when you are cooking the subzi, leave the subzi with very little water in it say around 2 tbsp of it so when mixing the gravy it combines quite well with the Gourd and then you can cook until the water is completely drained off, do not keep on mixing as the gourd might get smashed.
As I do not want to use lot of oil I thought next time when I am going to cook this dish I will fry onions, garlic,chillies cumin seeds first in a little bit of oil and then grind it with the soaked peanuts then I might use less oil !! or I will use already roasted peanuts in them but of course I think it wouldn't give the same taste as the original recipe !!.
I also thought I will try doing the same method cooking with other vegetables like Ridge Gourd & Chow Chow too. I think it will definitely taste good.