You must be wondering why I have given the name as wheat bran muffins because these muffins have more of wheat bran taste.., Nevertheless to say that they are the healthiest muffins, Consuming 25 gms of Wheat bran everyday per person will get all the sufficient RDA required. They were a bit moist but to tell you we enjoyed it...
I basically made this recipe from kat from study food, she is basically a student and loves cooking and baking., she loves and tries all kinds of cuisines.., I was so surprised to see all her creations..., this recipe she has adapted from here but has tweaked it to her liking, she uses Peach juice, which I did not have and uses 1 egg which I have substituted.., I found this recipe to be quite a healthy one, which I could just grab for a good breakfast for my daughter with a glass of milk and apple, who doesn't eat anything otherwise in the morning!., My twins took it school for their lunch box as an extra treat..
Here goes the recipe..., hope you like it and try it...
EGGLESS BLUEBERRY & WHEAT BRAN MUFFINS
Makes 12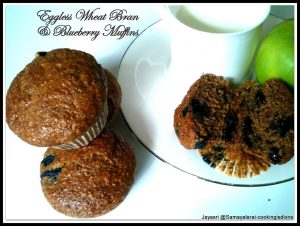 1 and 1/4 Cup Whole meal Self Raising flour
1 Cup Fresh Blueberries
1/4 tsp pinch of salt
1/2 tsp Cinnamon
1/2 tsp Nutmeg
1/2 Cup Brown Sugar
1/4 Cup Honey
2 Banana
1/2 Cup Milk
1 tsp Baking Soda
4 tbsp Oil
1 tsp Vanilla Essence
1 tbsp Flax seed powder + 3 tbsp water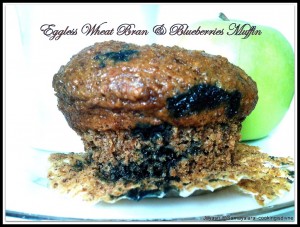 Soak 1 tbsp of Flax seed powder with 3 tbsp of very warm water
Preheat the oven to 180 degrees/ Gas Mark 4
Oil Muffin tins are use a paper liners as I have done..
Sift the flours, soda, salt, cinnamon, nutmeg and sugar., As the Bran is difficult to sift you will be left with bran when sifting just mix it with all the other dry ingredients throughly
Next peel the bananas (I used medium sized ones) chop them then blend them in a food processor/ Mixie ( I used my Indian mixie) with the flax seed powder, then add milk, Oil and honey and blend them again add vanilla essence well combined - so your wet ingredients are ready.
In a large bowl take all the dry ingredients make a well in the middle pour the wet ingredients into it and fold the flour into it until everything is completely incorporated into it then add the blue berries and fold in.
If you find it the batter very thick keep adding a tbsp of water to it.n (I added around 2 tbsp warm water).
Fill your Muffin tins with the batter and bake it for 25 to 30 minutes depending upon your oven temperature.
A tooth pick inserted after 20 minutes will tell you if it done or you need to leave it for few more minutes.
Once well done take them out of the oven and cool them on a rack.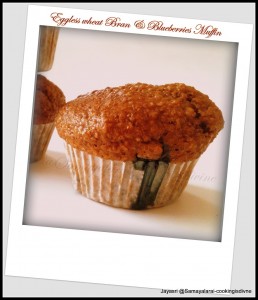 Enjoy these healthy Muffins for a wonderful breakfast, I made these muffins for
Taste and Create
and also for
Moms Crazy Cooking
in which this month she featured Blue Berry Muffins