Hi friends, I have been wanting to Start this Event from a very long time. Hoping you would all enjoy this event.
When I post recipes from other blogs, Some unique and wonderful recipes that attract me to try out and enjoy making and sharing it with my family gives me such an immense pleasure, not only just cooking or baking the recipe, sometimes shows me into a new whole world about the cuisine, creation, the looks and of course the best in all the wonderful taste which it imparts in your mouth tingling your senses and make you think about that blog and go back for it more and more right ?.
Well, I don't know if it does for you or not, but it does for me :)), (of course just joking I know you also enjoy it like me).
I love every blogger here in this world of food blogging, Food is something which doesn't have a Full stop, that is why I think food business always thrives, recession or whatever food industry always survives right ?
Oops I am going away from the topic..
So, what was I saying, As I said I love trying out recipes from other blogs and I love to participate in these
Tried and Tested
event,
Bookmarked recipes
and all the events which go around bringing out the blogger friends to try out recipes from other bloggers is what attracts me the most. I wanted to start this event because I have come to know that we have so many bloggers and it will take ages for me to try out something from every blogger out there, this Idea I thought would be Interesting to you all too..., who love to try out recipes from other blogger friends.
In this thought I wanted to start an event similar to these but with a little variation and wanted to call it Bloggers Marathon, that is I will Introduce one blogger each week and we have to cook at least one recipe from that blogger's web site, and the most important thing is, It
must be an Original Recipe,
that is the recipe must be blogger's
OWN recipe
, but, the recipe posted in their blogs can or might have been made by tips from their
family, friends and books
,
but not been tried and tested by any other blog.
Hoping that you might have understood what I have been trying to tell you, Let's get into the Marathon then...
As I have always told you that after I started my blog I was kind of really introduced to this blogging world by my dear friend Raji of Raks Kitchen, I always feel very happy when she visits my blog and leaves her comments, through her I got introduced to this world of blogging, I have a few people to name like that, and it is such a wonderful thing that I have made friends with lots of you and hoping to meet you all one day :)).
I would like to start my Blogger Marathon with
Raks Kitchen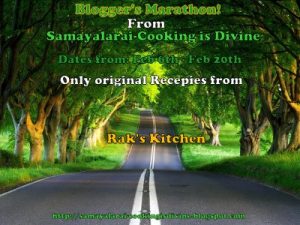 Here are the Guide lines:
1.Post as many recipes as you want, any archieved recipes is fine link this page to it,
2.Only vegetarian recipes, eggs allowed
3.Only Original Recipes, Should not be tried and tested from any other blogs.
4. Use the Logo above, if possible to spread the word around.
5. Use the Linky below to attach your posts
6. Post your entries between 6th to 20th of February
7. If you have queries please mail me at cookingisdivine@gmail.com


Hey I forgot something else, non-bloggers send me your created dish and mail to me I will publish it with your name, see if you can possible send me a click of your dish which I can post too...
Note: If you find hard to find vegetables and fruits etc., like some non-availability of them for lots of reasons you can substitute and make the dish but please stick to the procedure and the Ingredients of the original recipe as much as possible.
Looking forward to all your recipes from her kitchen to yours and to mine.
Hoping you will enjoy this Event and try to reach as many Bloggers Kitchen as possible
Thank you... c u soon... with an other blogger in a fortnight's time......
and a very big thank you for the bloggers who have updated me about what all I have missed out in my guide lines.
UPDATED ON 16TH FEB
Hi sorry friends, there was some problem with linky tool, It is working now please do send your entries to the link below
Thanks for your patience
Thumbnails so far....